I would like to take a moment to recognize our March Students of the Month. This Freshman is incredibly motivated to be successful. He is always willing to put in extra time and effort to improve on his work. He's great at staying focused on his work during class. Congratulations to Brayen Morey. This Sophomore is a good kid, who will do whatever he is asked to do. I wish I had about 15 more of him in my room. He has a great personality and is fun to be around. He is always willing to help. Congratulations to Garrison Cowan. This Junior is quiet, diligent - even when the work is hard, and good-natured. She is a kind and caring friend. Congratulations to Rachel Homan. This Senior has always had a kind word, a happy greeting, and a smile on his face. He never fails to lift others up. His well thought out answers offer keen insights beyond his years. His work has often given pause for reflection. Congratulations to Logan Stevens. Mr. Stamper, NLHS Principal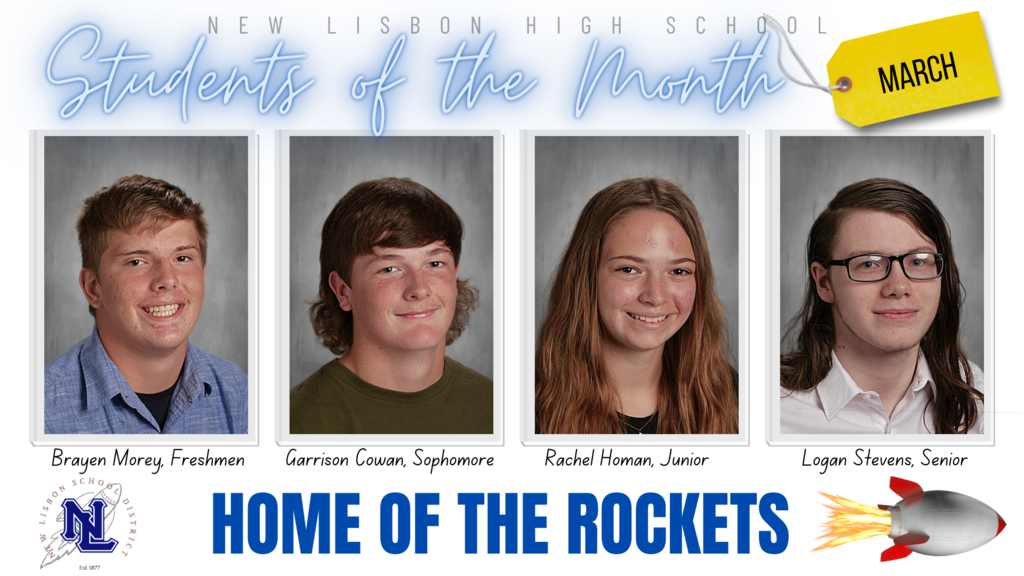 Only 4 days until our referendum voting takes place. Please remember to vote on Tuesday, April 5.
https://5il.co/16guw

The April edition of Building Readers is ready for download! Exciting tips and tricks to get your little one reading more and enjoying books. This newsletter is sponsored by the New Lisbon Schools Media Center.
https://5il.co/1656d
Ms. Turner, Educational Media Director

UPDATE: Softball Sport Photos have been moved to Friday, April 1. Please remember your order form, uniform, and payment. Thank you. Order Form:
https://5il.co/wiqg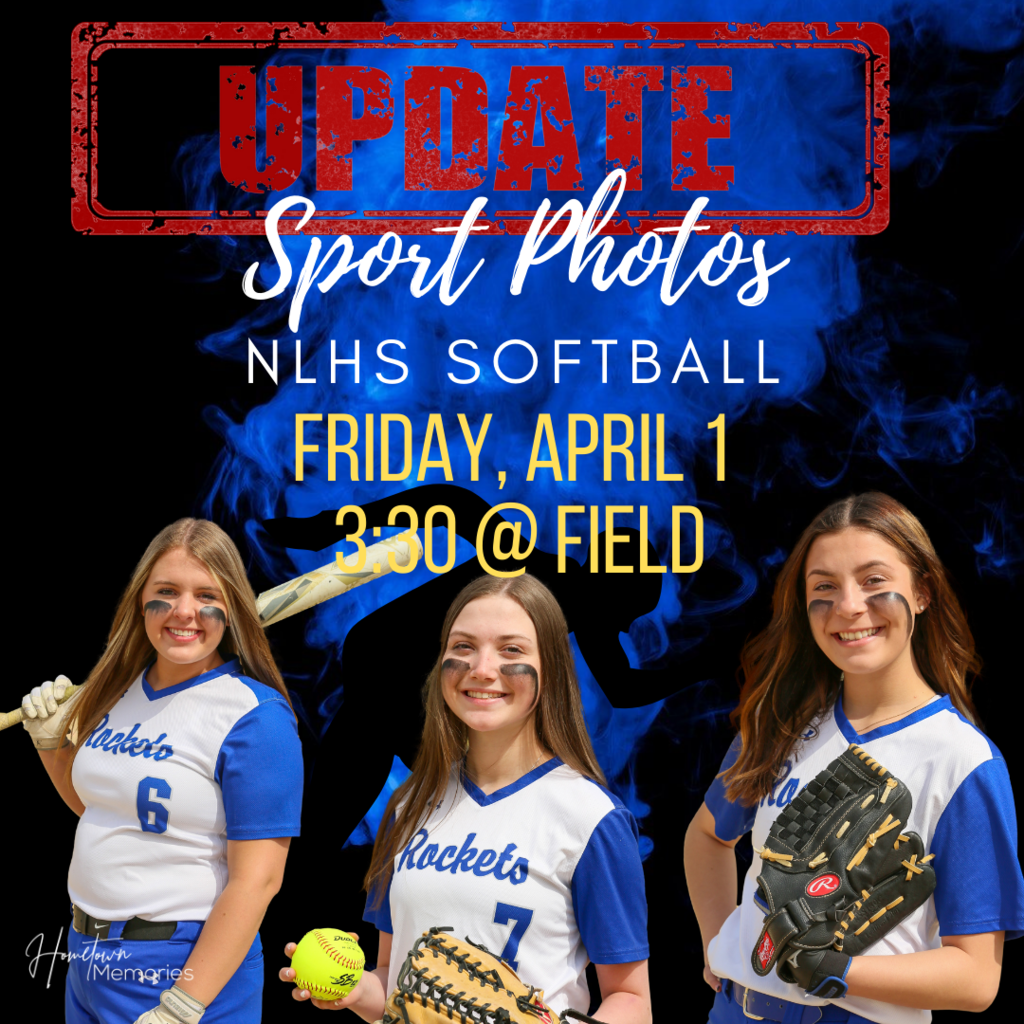 ATTENTION ROCKET FANS: The softball and baseball games for tonight are CANCELLED due to impending weather.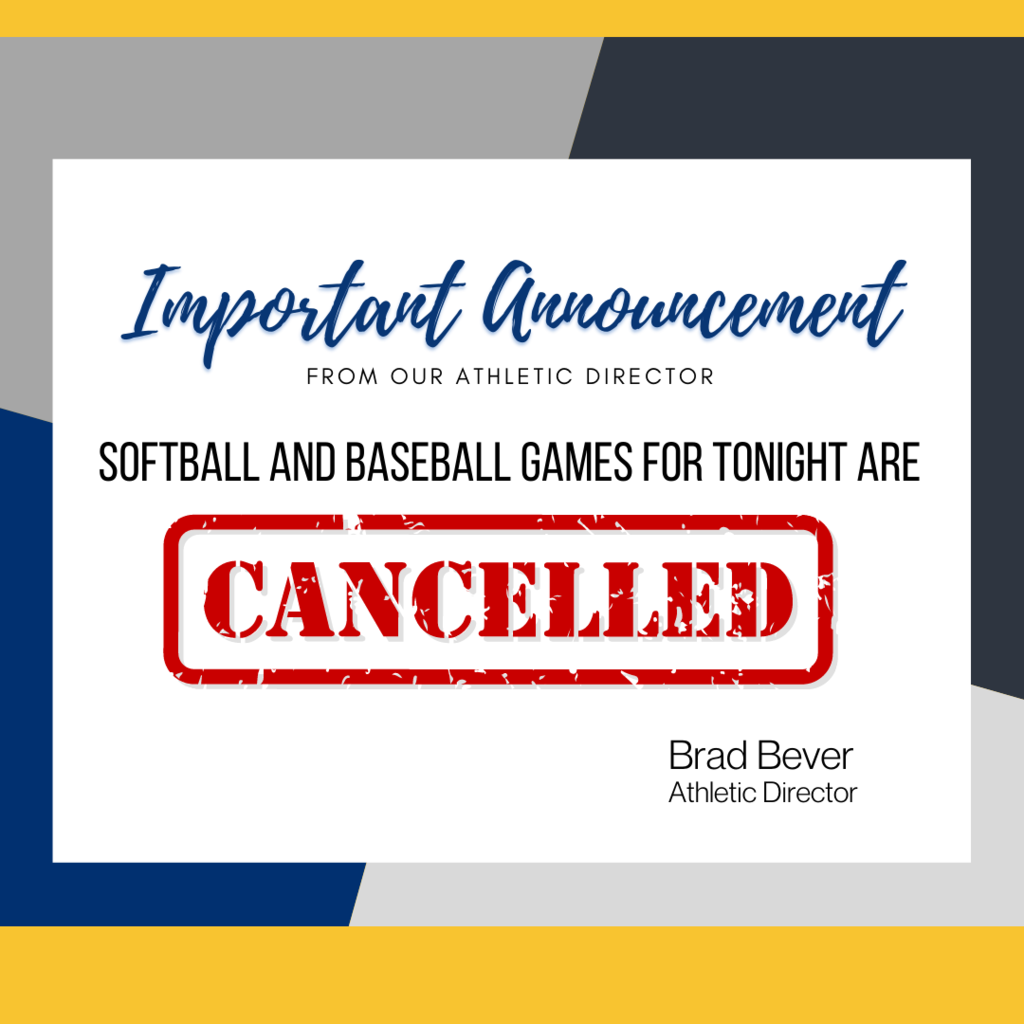 Save the dates! More information will be provided as each date gets closer. Questions about graduation should be directed to Ms. Mecikalski or Mr. Buchholz. Questions about the Scholarship Banquet should be directed to Mrs. Jones or Ms. Braun. 1. Scholarship ceremony – Wed., May 18 (more info later) 2. Last day for seniors – Wed., May 25 3. Graduation practice – Thurs., May 26, 10:00 - meet in the HS Commons a. Elementary marching at 9:30 – seniors be here by 9:15 with cap & gown and meet in the HS Commons 4. Graduation – Saturday, May 28, 10:00 am, football field (weather permitting) a. Pick up diplomas in concessions stand on the athletic field 5. Downtown parade after the graduation ceremony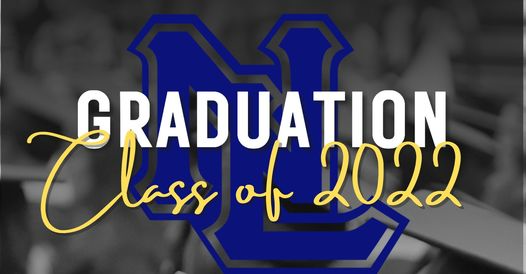 Four-Year Old Kindergarten Spring Round-Up/Registration 👉Friday, April 8, 2022 👉9:00-11:30 am and 1:00-2:30 pm 👉Located in the 4-yr. old kindergarten classroom, #109 👉Children must be 4 years old on or before September 1, 2022 to be eligible to participate in the 4K program in the fall of 2022. 👉Please call the Elementary School Office at 562-3700 ext. 1102 to set up a time to register your child. For any questions regarding the 4-yr. old kindergarten program, please call Christy Toelle at 562-3700 ext. 1109.

REMINDER: Take a Hit for Charity dodgeball tournament is tomorrow! We have five teams competing to donate $500 to a charity of their choosing. Games start at 5 p.m. and concessions will be available. ***NOTICE: Date on poster was original date. This event has been rescheduled. Miss Adank, NLHS G.I.V.E. Advisor

MARK YOUR CALENDARS! Coach Lowe has scheduled softball sport photos for Wednesday, March 30. Order form:
https://5il.co/wiqg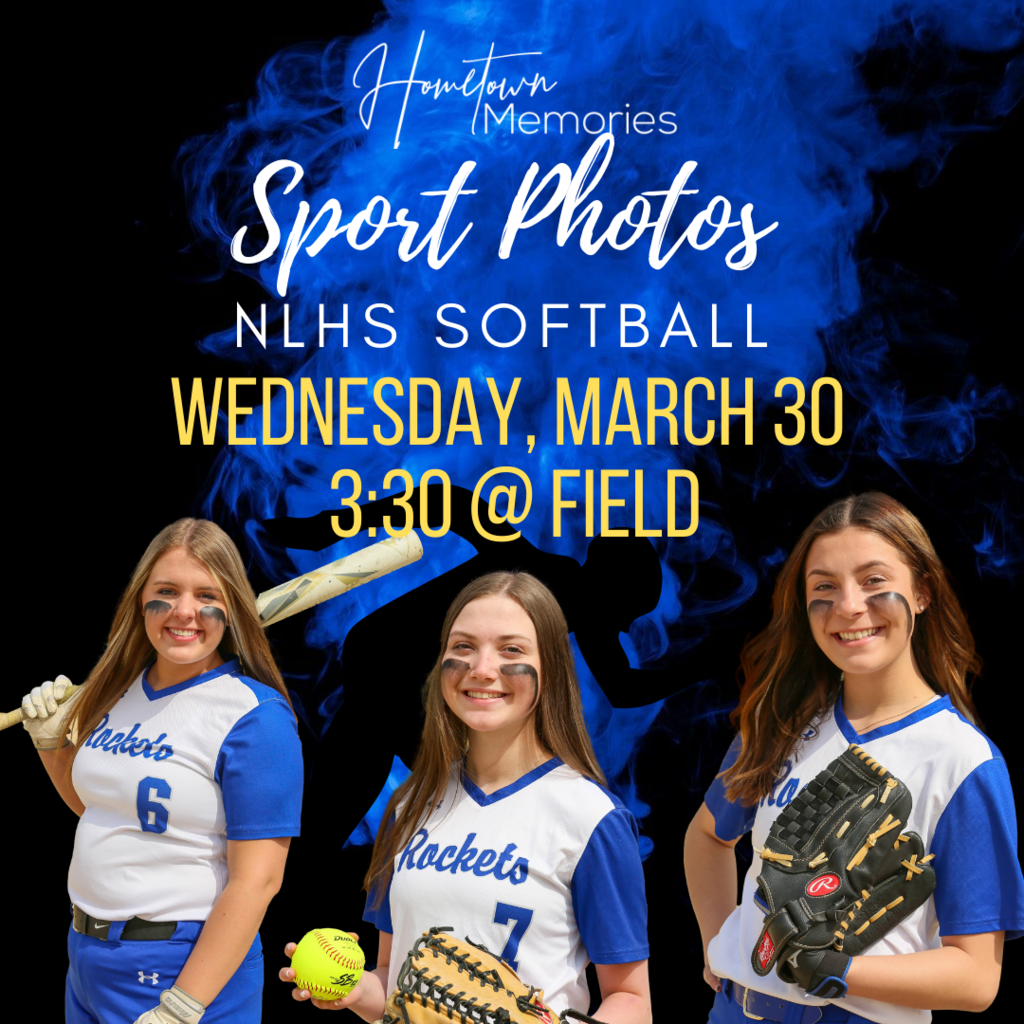 DID I WIN A DOOR PRIZE? Attention Rocket Nation! You can find out if you won a door prize tonight right from your phone! Simply click on the link below to access our list of winners.
https://tinyurl.com/fc4ht94d
Winners may pick up their prizes outside of the high school office area. This link will also be posted on our LIVE FEED on our website for any friends/family that do not have Facebook. Please let them know. Link is for DOOR PRIZES ONLY. Go ahead and try it out….you'll have a sneak peek at what is available for tonight. **REMINDER it takes about 5 minutes for the document to update once winners are added. Keep checking back as document is updated throughout the night.**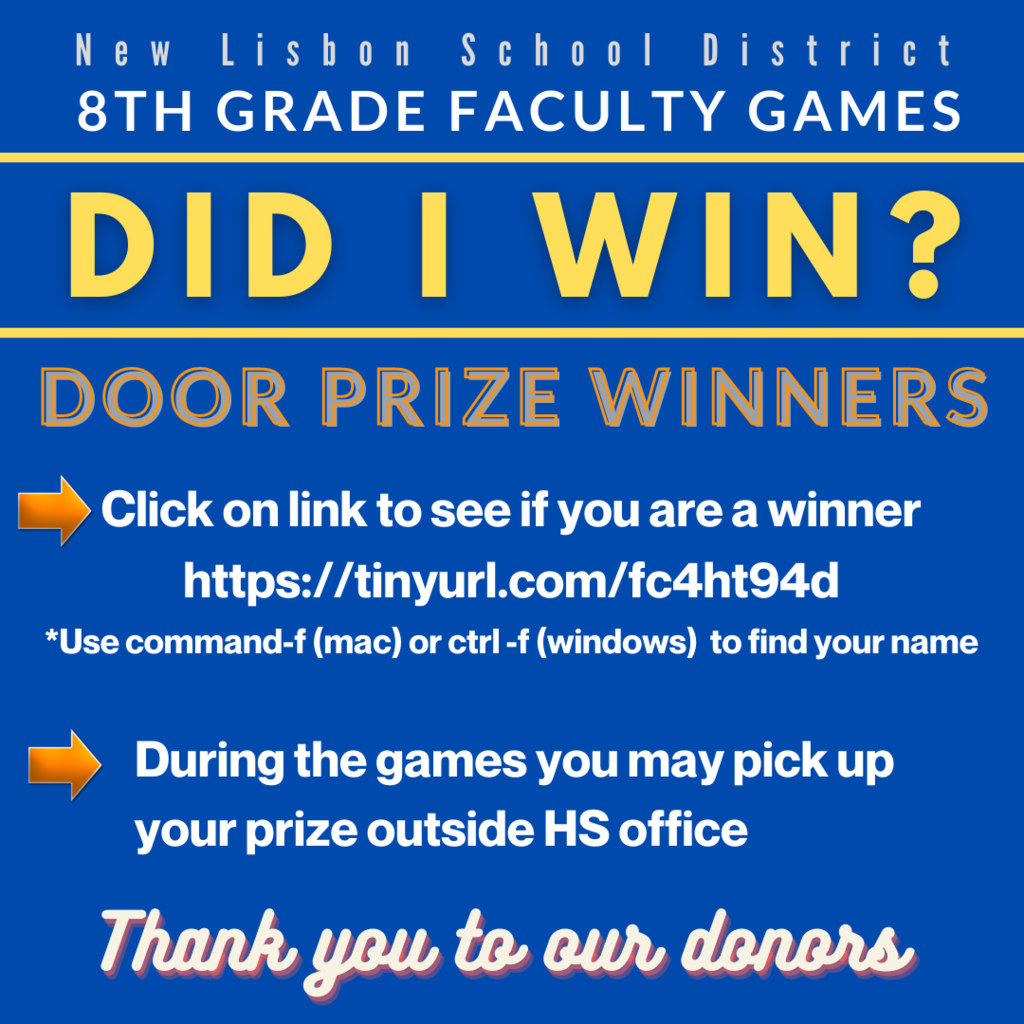 REMINDER: There is NO SCHOOL tomorrow - Friday, March 18. It's an Inservice Day for staff. Enjoy your long weekend and we will see you back on Monday. 🚀


The School District of New Lisbon Board of Education is proud to introduce Mr. Scott Hickey as its next Superintendent. Mr. Hickey is the current Elementary Principal in the District. He was formerly a high school principal and curriculum director in Montevideo, Minnesota. Mr. Hickey received his Superintendent's license through Hamline University. "We are excited to welcome Mr. Hickey into his new role," stated School Board President Colleen Woggon. Mr. Hickey voiced his appreciation, "I am honored to continue leading in this District and helping students grow." Mr. Hickey will begin his new position on July 1, 2022. Dr. Englebretson, who has accepted a Superintendent position with the Elkhart Lake-Glenbeaulah School District, will assist in the transition.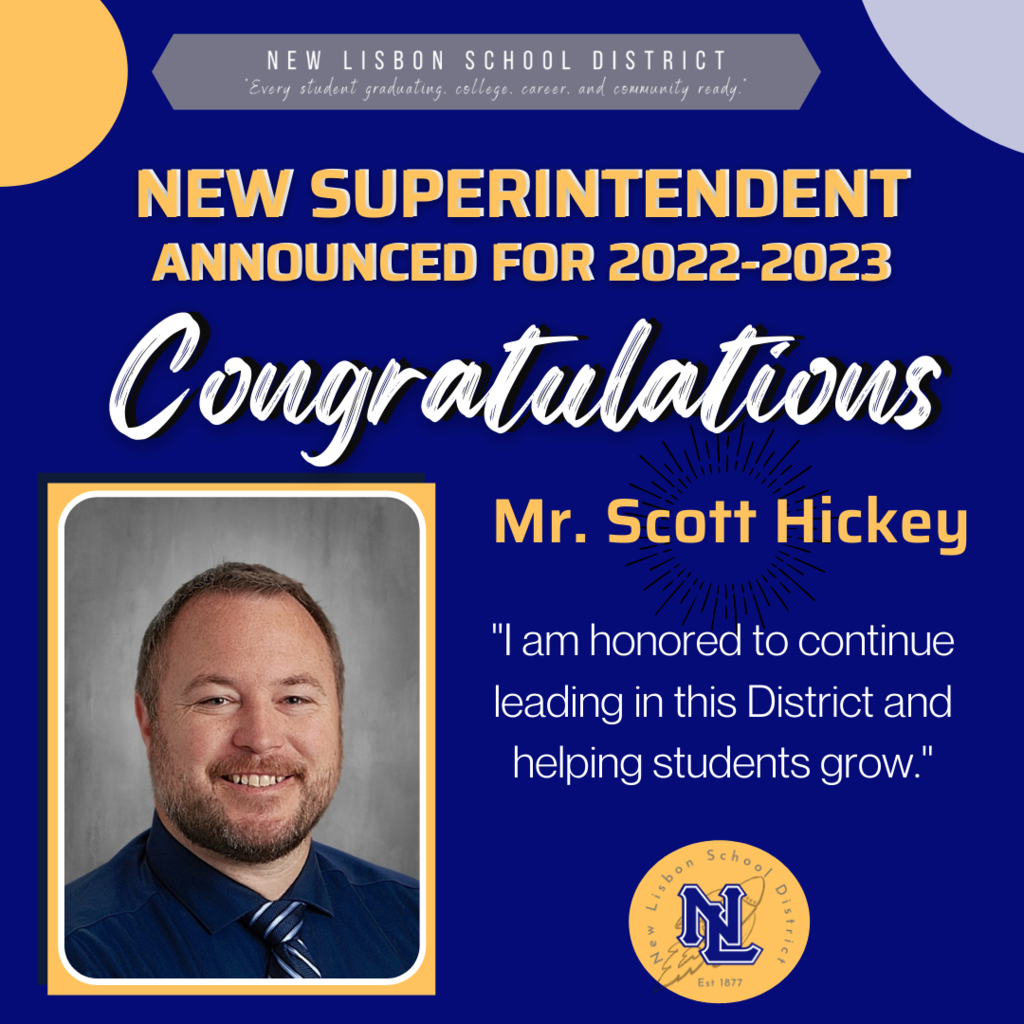 UPDATE FOR SATURDAY Masks are no longer required for track meet at UW-Platteville on Saturday.

ATTENTION TRACK ATHLETES: Coach Bigalke has just announced the NLHS Track & Field sport photos will be next Wednesday, March 16 at 3:45 p.m. Athletes will meet at the track. Please bring your order form/payment if ordering prints. Order form:
https://5il.co/wiqg

NLHS VAC 🎨 ART STUDENTS GOING TO STATE! 🏅 **Anyone receiving a 1st will be going to state at UW Madison on April 1st! *Devan Minard and *Gwyn Duray received 1st on their long term and on site projects in the personal adornment category. *Matthew Bennett and *Sabrina Wolf received 1st on their long term and on site projects in the personal adornment category. *John Rothrock received 1st on both of his long term and on site projects. *Hailey Roberts received a 1st on her long term and a second on her on site project. *Tasha Reynolds received a 1st on her long term and a second on her on site project. *Chris Hart received a 1st on his long term and a 3rd on his on site. *Faith Woggon received a 2nd on her long term and an honorable mention on her on site. Mrs. Costello, VAC Advisor

And the winners of the 3rd Grade Invention Contest are..... Ellie Johnson, Mrs. Shankle's room Austin Dummer, Mrs. Johnson's room Clara Thompson, Miss Soltvedt's room Congratulations and great job to all!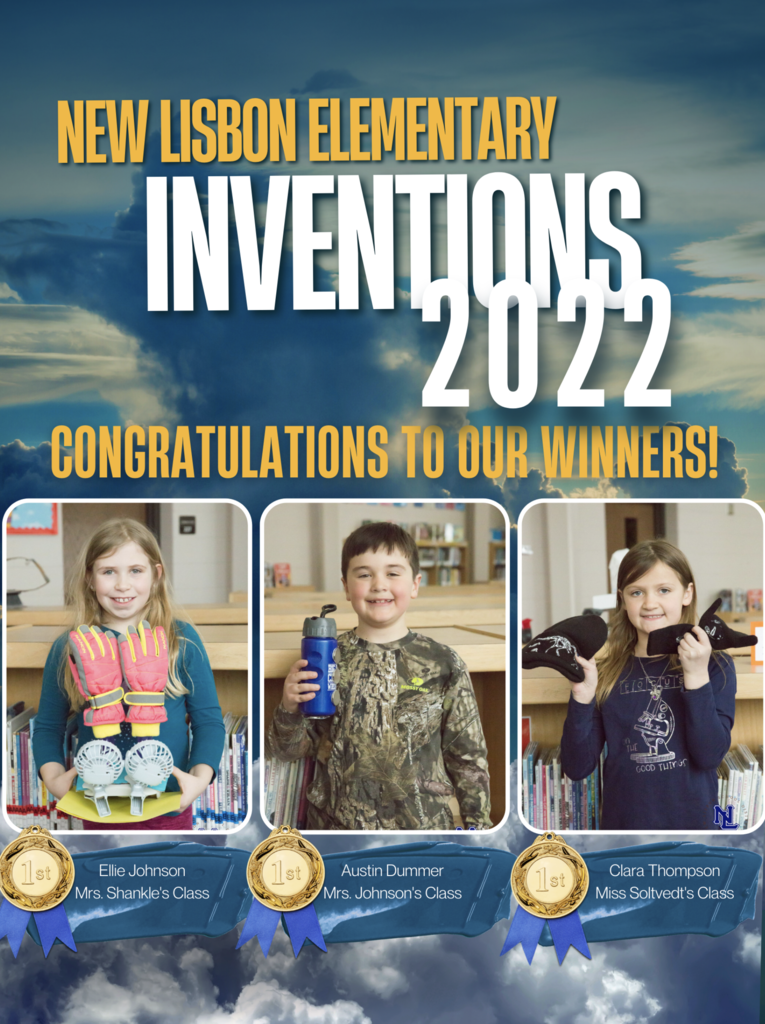 Board of Education meets Monday, March 15 at 7:00 pm. All are welcome to attend.

TONIGHT!! The night we have been waiting for! Get your cowboy boots on and join us! The New Lisbon FFA will be ready for you and promise plenty of laughs. Come cheer on your favorite team. Date - Friday, March 11th Time - 7:00 pm Location - NL High School Gym Questions? Contact Mrs. Dorn at
c.dorn@nlsd.k12.wi.us
!