🎃October🎃 BUILDING READERS is now available for download. Great strategies and tips to help your child learn to love reading. This monthly newsletter is sponsored by the school library. 👉Download your copy:
https://5il.co/zt3d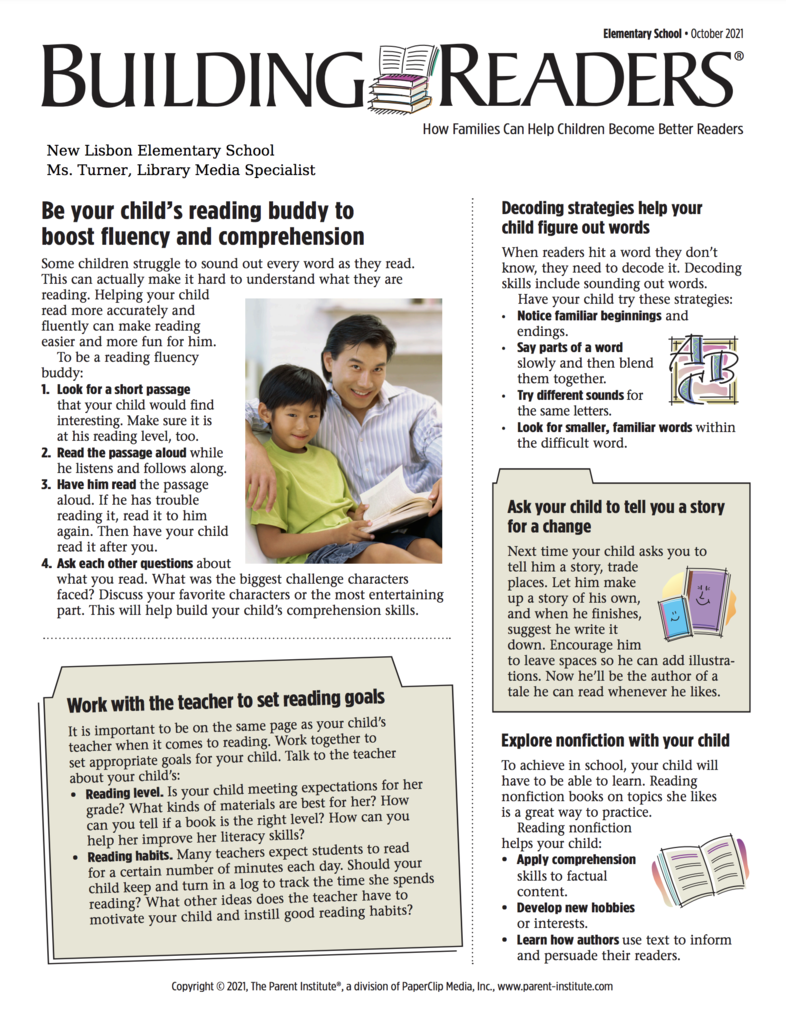 The School District of New Lisbon would like to thank Trinity Lutheran Church in Hustler, assisted and co-sponsored by Thrivent Financial, for their generous donation of school supplies. Thank you for thinking about our students, and providing the strong community connections necessary to help our students succeed.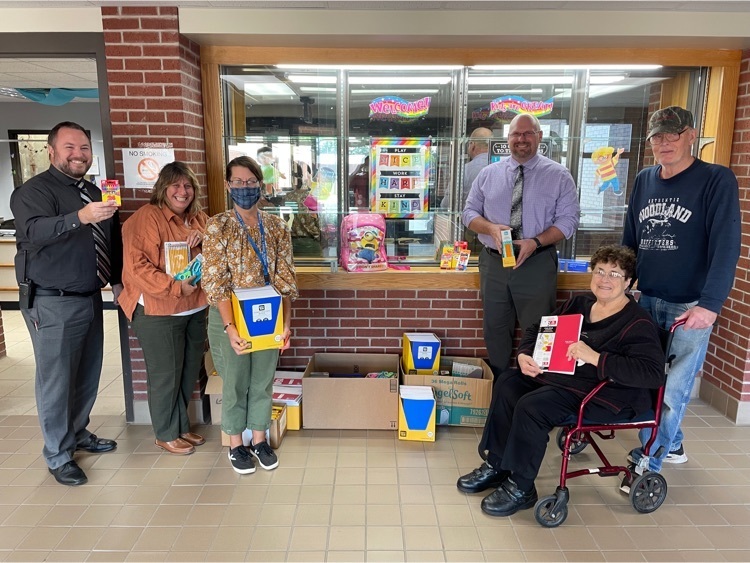 Job opportunities! Call Jenny Dvorak if interested.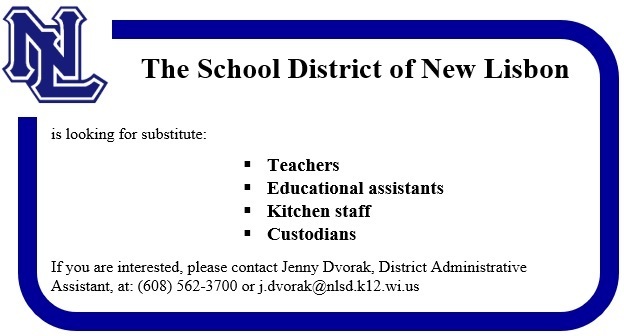 REMINDER: Please check your email for Parent-Teacher Conference information. Remember to sign up for your session with your child's teacher.

The School District of New Lisbon would like to thank Leer Inc. for their generous donation of $1,500 for student activities. Thank you for thinking about our students, and providing the strong community connections necessary to help our students succeed.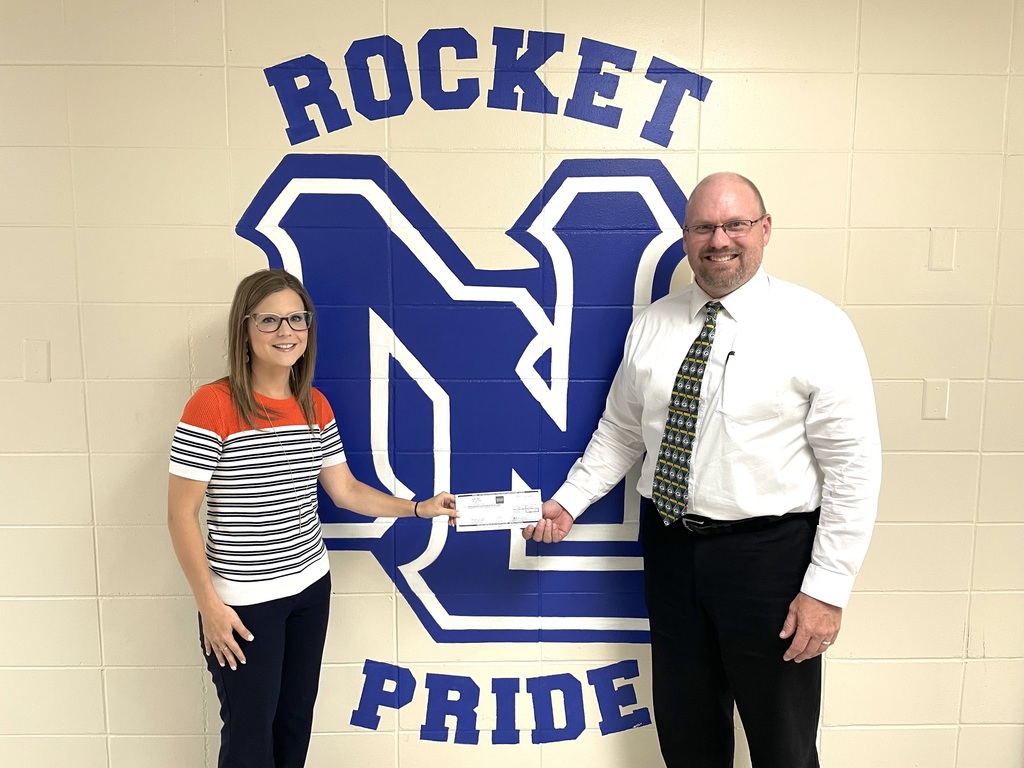 The School District of New Lisbon would like to thank Leer Inc. for their generous donation of $1,500 for student activities. Thank you for thinking about our students, and providing the strong community connections necessary to help our students succeed.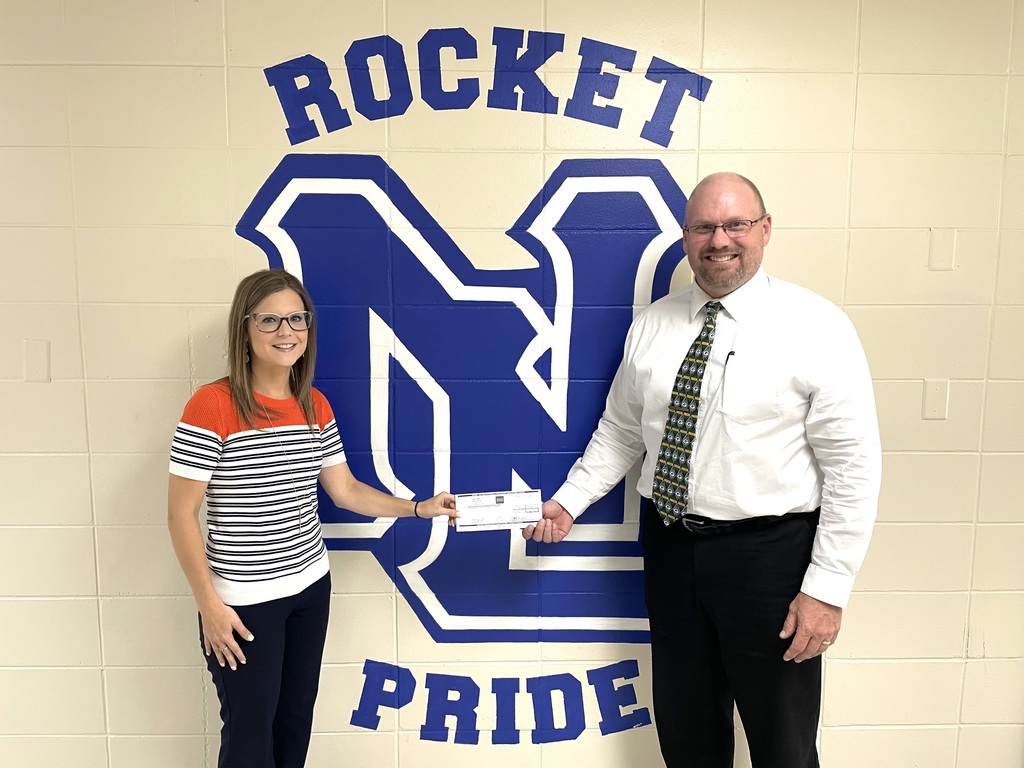 REMINDER: The PTC fundraiser ends 9/28/21.

TAILGATE PARTY TONIGHT before the NLHS football game! The grills will be fired up and ready to serve you. Don't forget to purchase a famous Mrs. York's Cookie! All proceeds help support the trip to Washington, D.C. in the spring of 2022!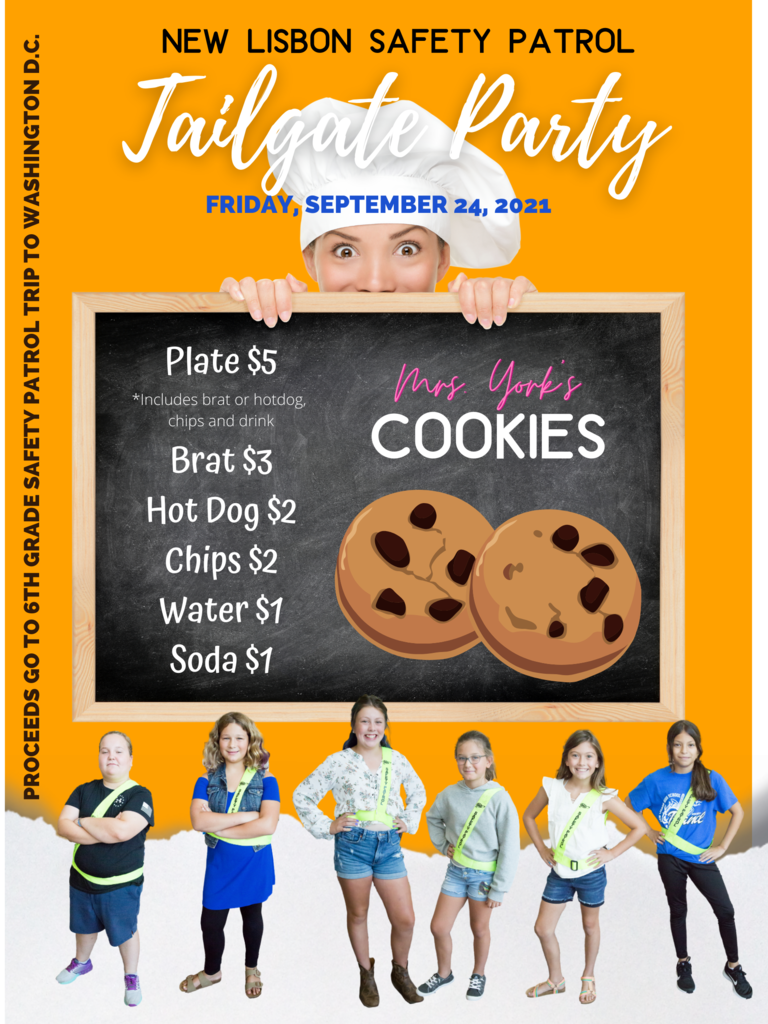 ATTENTION all alumni choir members! You are cordially invited to participate in the alumni choir to sing the National Anthem at our Homecoming game on Friday, October 8 at 7:00. Anyone interested should contact Mrs. Walker at
s.walker@nlsd.k12.wi.us
or Mrs. Rood at
b.rood@nlsd.k12.wi.us
to reserve your spot. A brief practice will be held prior to the game at 6:00 in the choir room. Any questions please ask one of our choir teachers. Thank you.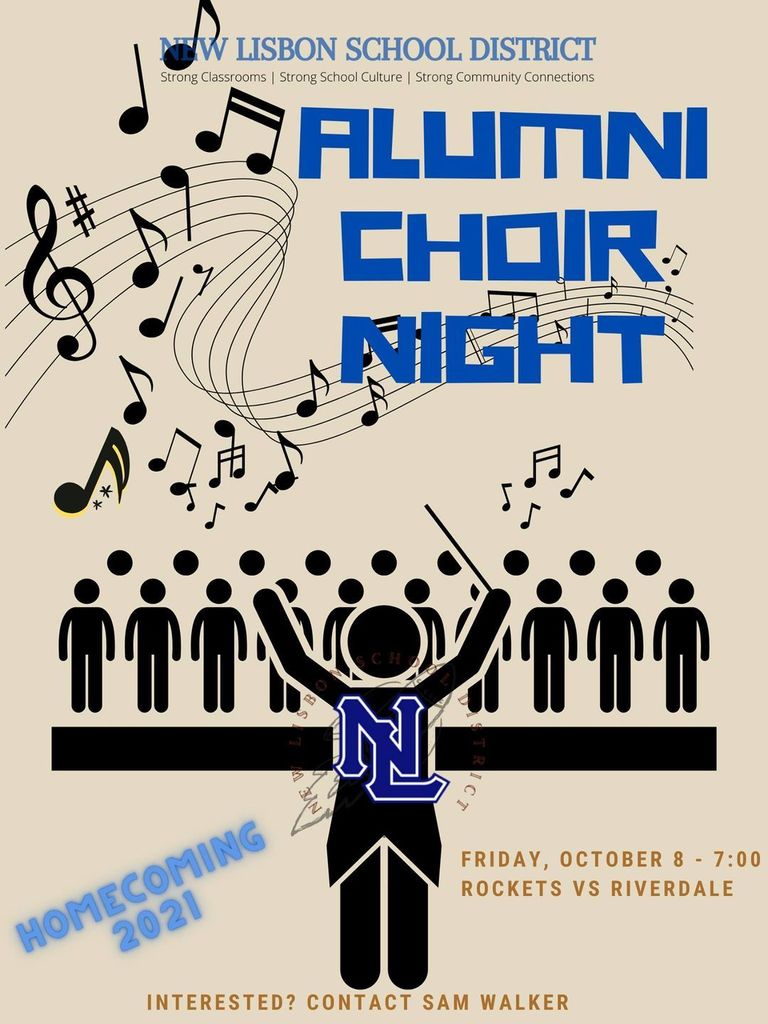 ATTENTION LOCAL BUSINESSES! You are invited to join our Rocket Homecoming Parade on Thursday, October 7 at 1:30 p.m.! We would love to have you! Contact Cindy Costello if you are interested. 562-3700 ext 1320.

Join us for an alumni pep band this HOMECOMING at the Athletic Complex Grand Opening on Friday, October 8th. If interested, send an email to Martin Spicer, and we will get a music folder ready for you, and any equipment that you might need:
m.spicer@nlsd.k12.wi.us

ATTENTION ROCKET NATION! All donors, alumni, and all Rocket fans are cordially invited to our GRAND OPENING CEREMONY of our new athletic complex on Friday, October 9! We would like to give a HUGE shoutout to all of our donors who made this dream come true. 🚀 AND a huge THANK YOU to 💙Mr. Dennis Birr 💙for his hard work, endless hours, and dedication to this project. #athleticcomplex #RocketPride 🚀 Badgerland Commercial Roofing Inc Bank of Mauston Ben & Rachel Morey Bob & Marge Jasinski Family Brian Bailey Brian Granger (G-Line Fencing) Brown Bus Service, Inc. Bruce & Mary Jensen Carl & Ellen Paradise Christy Adams-McGuire Class of 1972 Class of 1981 Class of 2015 Class of 2016 Class of 2017 Class of 2018 Class of 2019 Class of 2020 Community Closest Community Connection Class Craig & Valerie Johnson Douglas & Sonja Haske Ethan Wetley F&M Bank of Tomah Fun Company George & Mary Anne Klinker Giampalo Family G.I.V.E. Hardware Hank Herbert H. Kohl Charities, Inc. In Memory of Alvin & Ella Granger In Memory of Arbin and Ethelyn York In Memory of Curtis Tiber In Memory of Edwin Georgeson In Memory of Harland Turner In Memory of Janice Jessen In Memory of Ray Ferdon In Memory of Ronald McNew, John McNew, Amanda McNew In Memory of Verne & Marie Arndt In Memory of Wayne Morey Jack & Paula Heesch Jared Roeker Insurance Agency Jeremy Haske John R. Richmond Johnson & Block Accounting Jon & Debra Turnell JUSTAGAME Fieldhouse/Sports Impressions Kevin Haske Kevin, Austin, Bradley and Allie Simpson Lange Plumbing, Inc. LEER, Inc. Logowear Mark & Debby Hansen Mill Haven Foods, LLC Minnesota Twins New Lisbon Booster Club New Lisbon High School Yearbook New Lisbon Lioness New Lisbon Support Staff Union New Lisbon Youth Baseball Otis and Anne Larson Phil & Margaret Budde Randy & Anne Fenwick Robert Hopper Royal Bank Rudig Jensen Silver Star Health Wabash National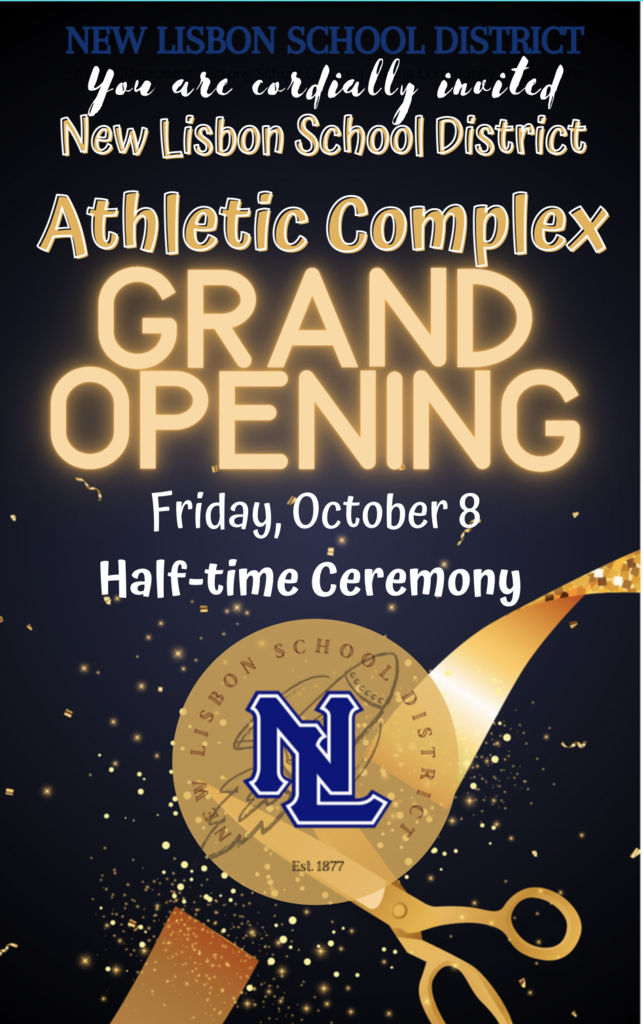 Thank you to Walmart in Wisconsin Dells for the generous donation of school supplies! Roger Bailey we appreciate this gift so much! #strongcommunityconnections 🚀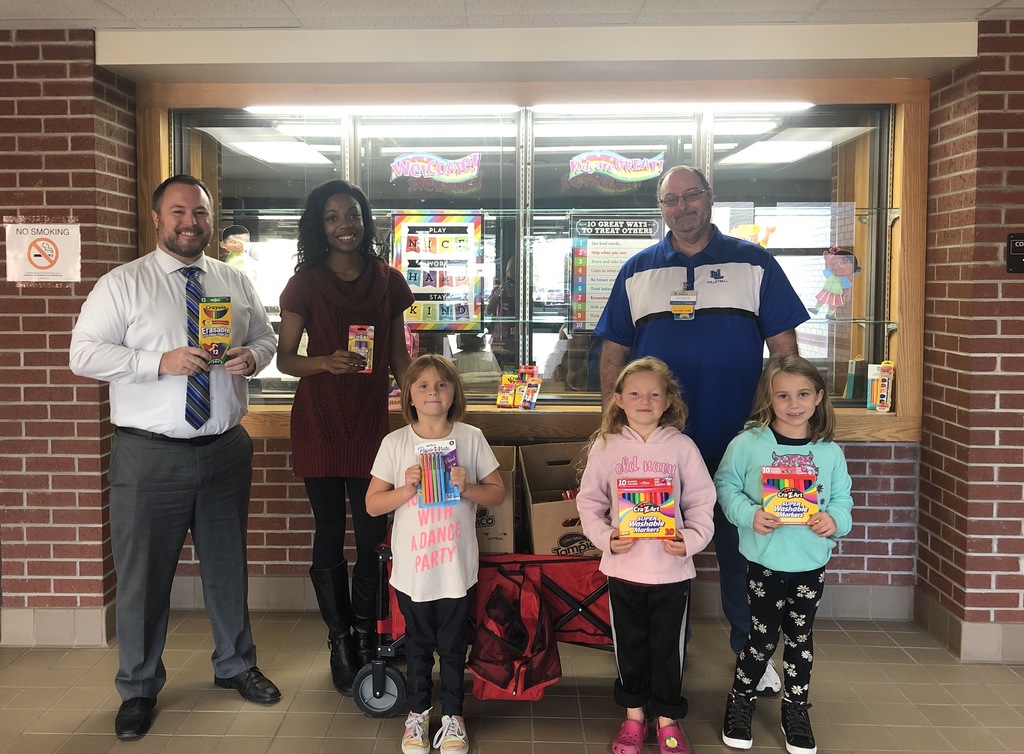 HOMECOMING 2021 is October 4 - October 9! 👉Dress up days for ALL GRADES listed on graphic! 👉Sporting events listed and available on our website. 👉Homecoming Court will be announced Wednesday. 👉Homecoming Parade will be Thursday, October 7 @ 1:30p.m. 👉There is NO BONFIRE this year. 👉NO SCHOOL on Friday, October 8. 👉A delicious TAILGATE PARTY will be available before the game. 👉Grand Opening Ceremony for our Athletic Complex will be held during half-time of the NL vs Riverdale football game! 👉Homecoming Dance on Saturday, October 9 from 8:00-11:00 p.m.. Public is welcome to attend the Grand March at 8:30 p.m. We will provide more information as needed! If you have any questions, please contact your child's office. 562-3700.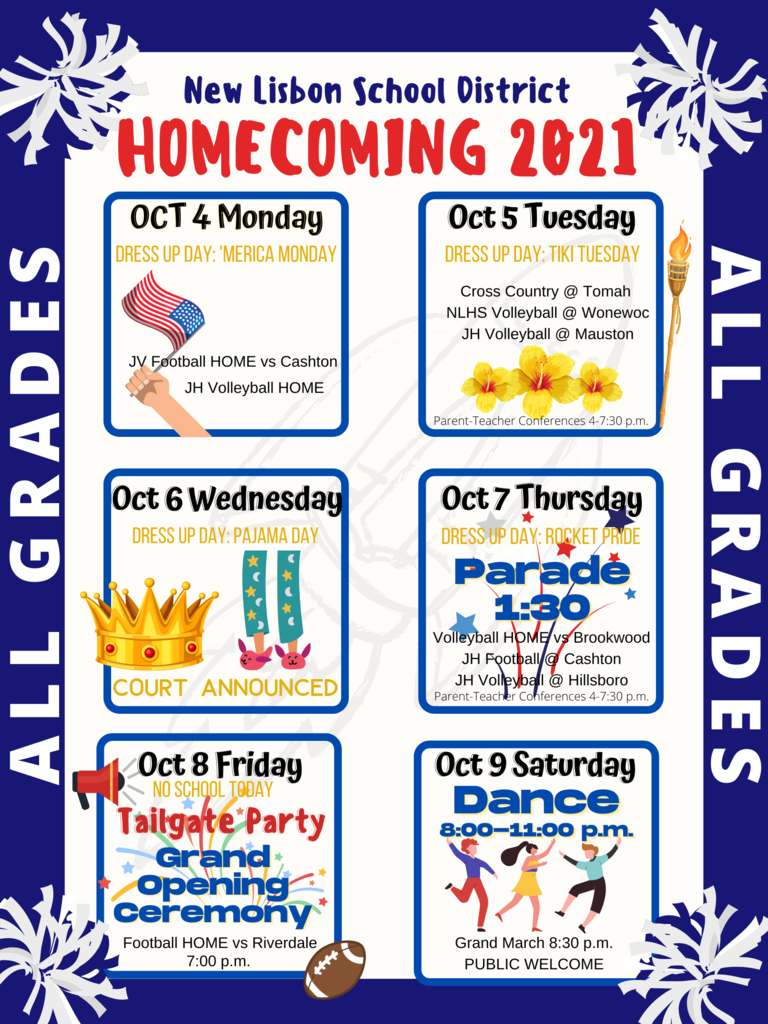 Dear Students and Parents, Order your "New Lisbon" Letter Jacket on Wednesday, September 29th during lunch in the commons from 12:27-1:01. At that time a representative from Meca Sportswear will be available to personally size each student and to answer any questions. Sizing samples will be available to assure a proper fit. Celebrate your achievements and show your school spirit with these traditional school jackets. Meca Award Jackets are crafted from top quality materials and will last for years. A brief description and pricing information is listed below. School Jacket: Your award jacket features a top quality Melton wool body, with a quilted lining for warmth, leather pocket trim, and genuine leather sleeves. Custom designed in your school colors with color-coordinated details and personalized lettering. Personalized items are the student's name embroidered on the right front chest. Cost is $220.00 which includes name embroidered on right chest, graduation year on the sleeve, one sport or activity patch on the sleeve, Rockets patch on the back of the jacket, shipping and tax. Additional charges: Sew on additional school awards is an additional $6.00 per piece. Please bring the awards along with you at the time of the order. Additional sport or activity patches are $12.00 each (one is included with the cost of the jacket.) All personalized items in the above jacket description will come sewn on the jacket, so your jacket will come ready to wear. A deposit of $100.00 is due at the time of order. Please have checks made payable to Meca Sportswear. Master Card, Visa, Discover and American Express are also accepted. Please feel free to call me in advance with any questions you may have at 715-379-0279. Sincerely, Brandon Ellefson Meca Sportswear Sales Representative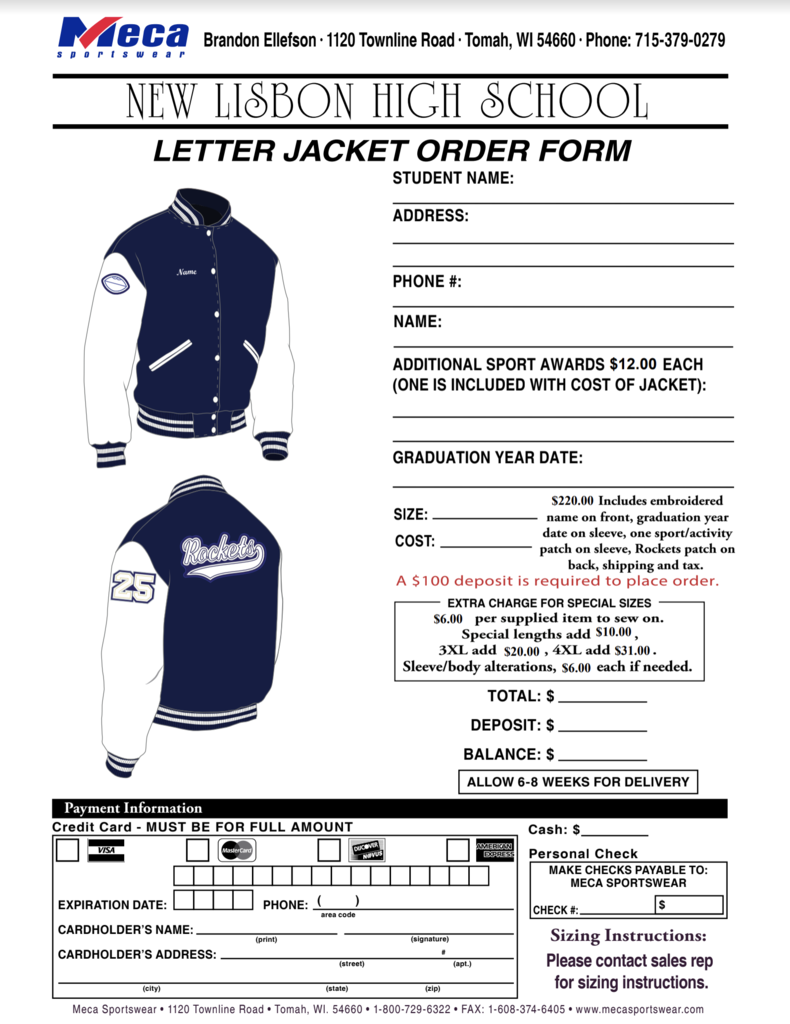 SCHOOL PICTURES TODAY Tuesday: Staff, Grades PREK, 3, 4, 5, 6

Mrs. Dorn's 8th grade Exploring Ag class spent the hour using Vernier sensors to determine if liquids were acids or bases. Eighth grade students are learning that agriculture is so much more than just tractors and fields. There is a ton of science involved too!

Congratulations to our August Athletes of the Month! Cross Country: Rachel Homan; Football: Marcus Forsythe; Volleyball: Sabrina Wolf.

Congrats to the Lady Rockets 🚀 today at their home invitational! The varsity volleyball team took second place in the tournament, losing the championship match in a close 3 (25-20, 28-30 and 11-15). They worked hard as a team and continue to improve every game! Nice job, ladies!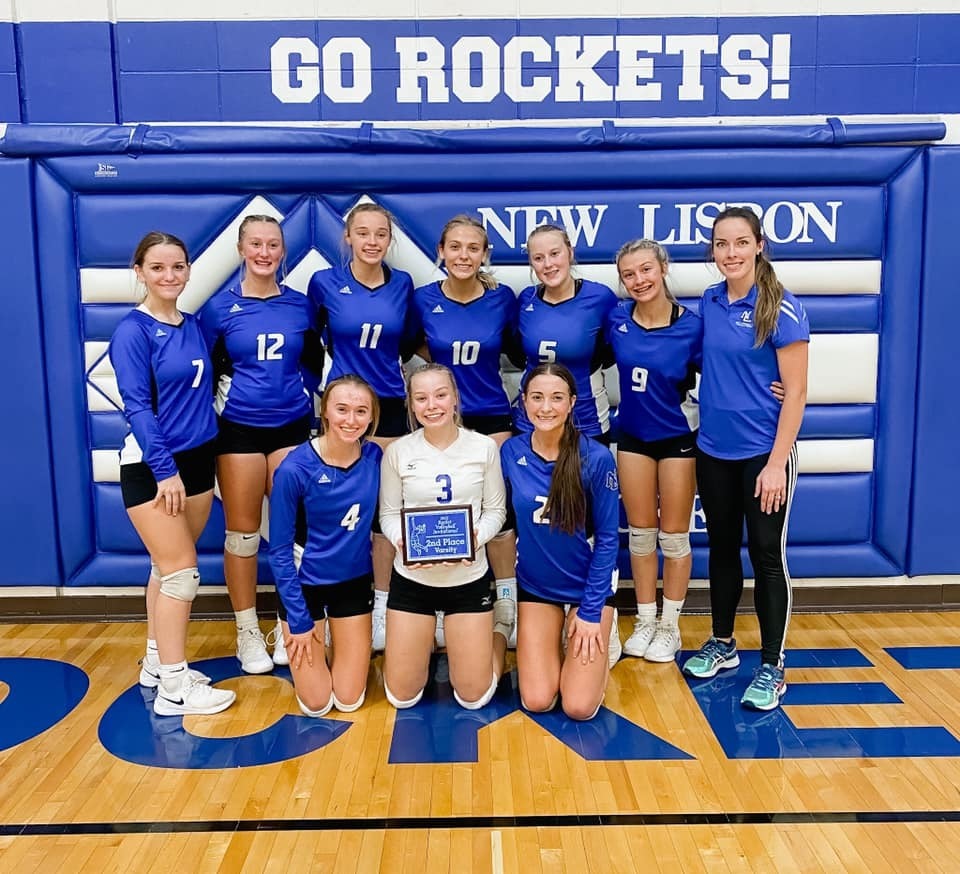 Order your Homecoming Apparel! Orders and money due to Leah Faber Thursday, September 23rd. Checks payable to New Lisbon Schools. Order forms can be picked up in either office. OR download your copy here:
https://5il.co/z8w4