Coach Pfaff would like to congratulate Brayen Morey for reaching his goal of 25,000 shots during the off-season. This is the 2nd year in a row he has accomplished this. Hard work pays off!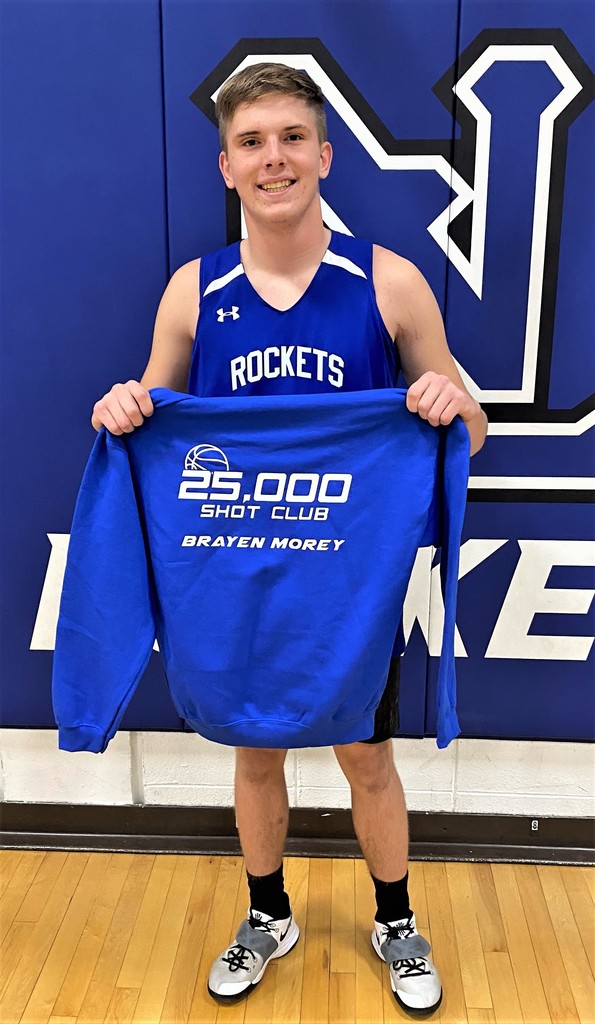 17 New Lisbon Students got the opportunity to participate in an excellent hands-on field trip experience at the Wisconsin Operating Engineers Training Center in Coloma on Wednesday, Nov. 16th. Students got the chance to tour the 400 acre state-of-the-art training center, received an overview of the Destinations Career Academy Pre-Apprenticeship Program as well as talk to a Contractor to find out how to become an Operators Apprentice and the steps and requirements needed to become a Registered Journeyman Operator. Students favorite part of the day was the Hands-On Experience with machine Simulators and getting the chance to operate both large and mini excavators. Ben Morey Technology & Engineering Teacher School to Work & Youth Apprenticeship Coordinator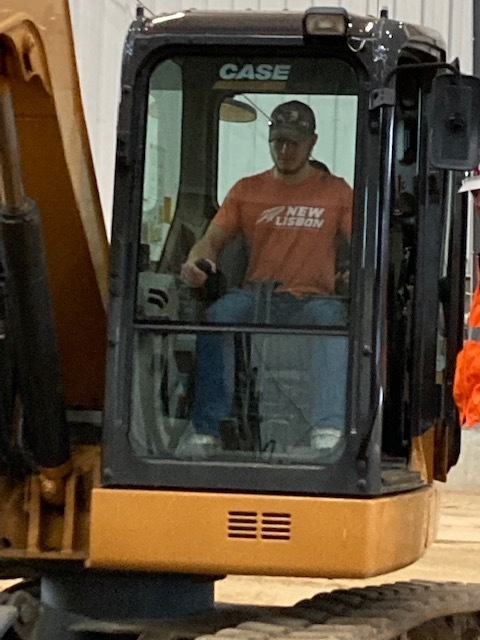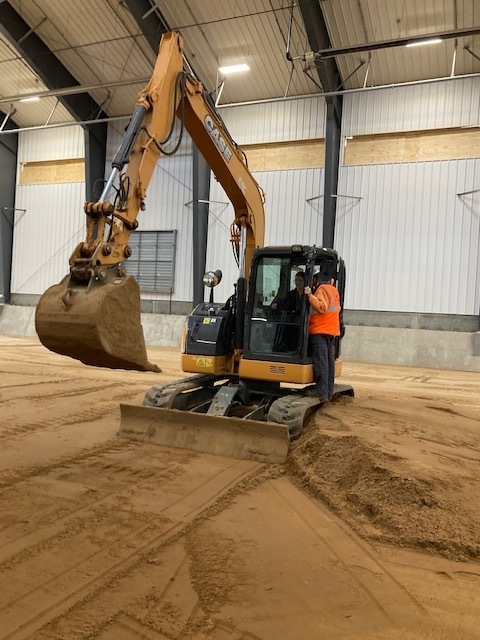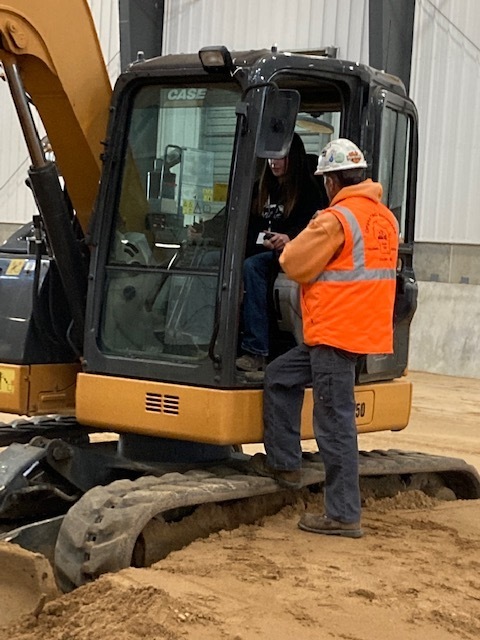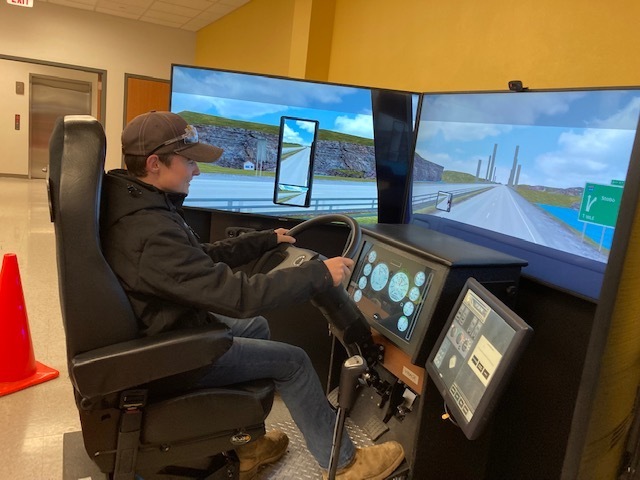 Thank you book sponsors for our November book! Ms. Schwab's classes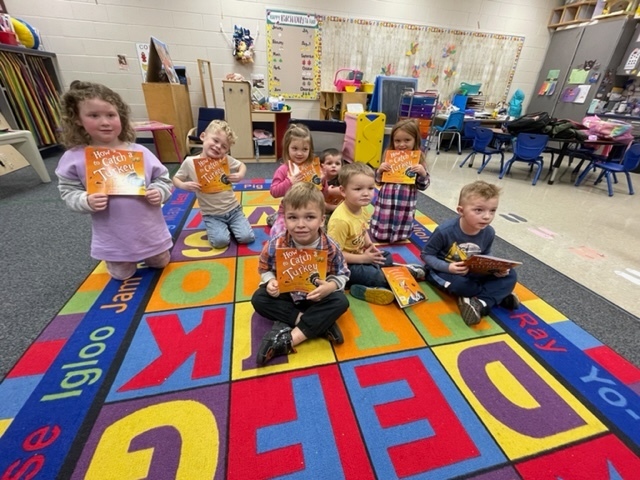 Coach Pfaff and the Boys Basketball team would like to thank Seth Tully at Castle Rock Realty, Hare Funeral Home and the Hooterhaus for sponsoring our newest set of warm-ups this year.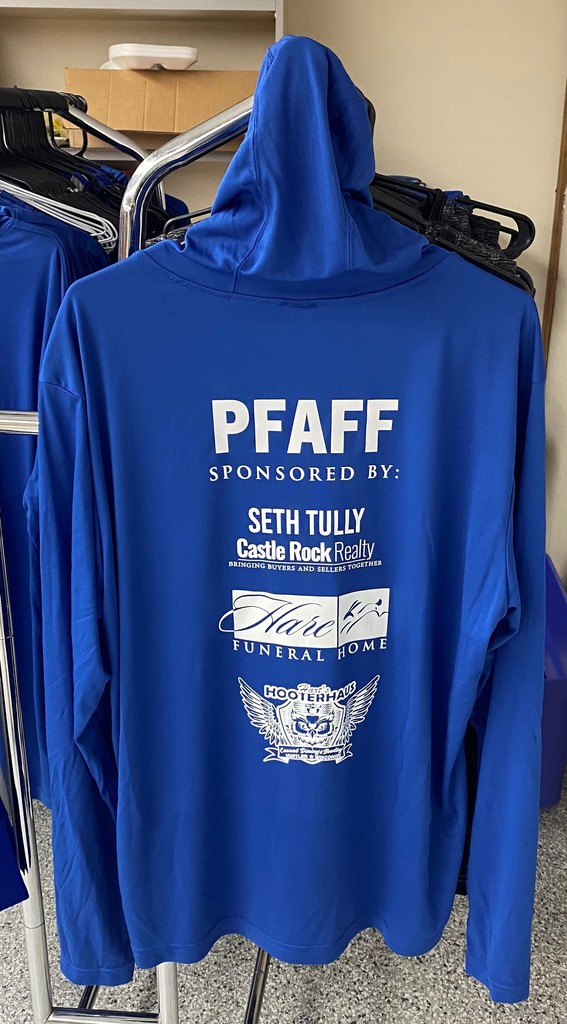 The New Lisbon Rocket Fishing Club needs mentors who love to fish and working with youth. There is usually a maximum of 3 students to one coach. If you are interested in working with the Fishing Club, please contact advisor Julie Mecikalski, at 608-562-3700, ext. 1371.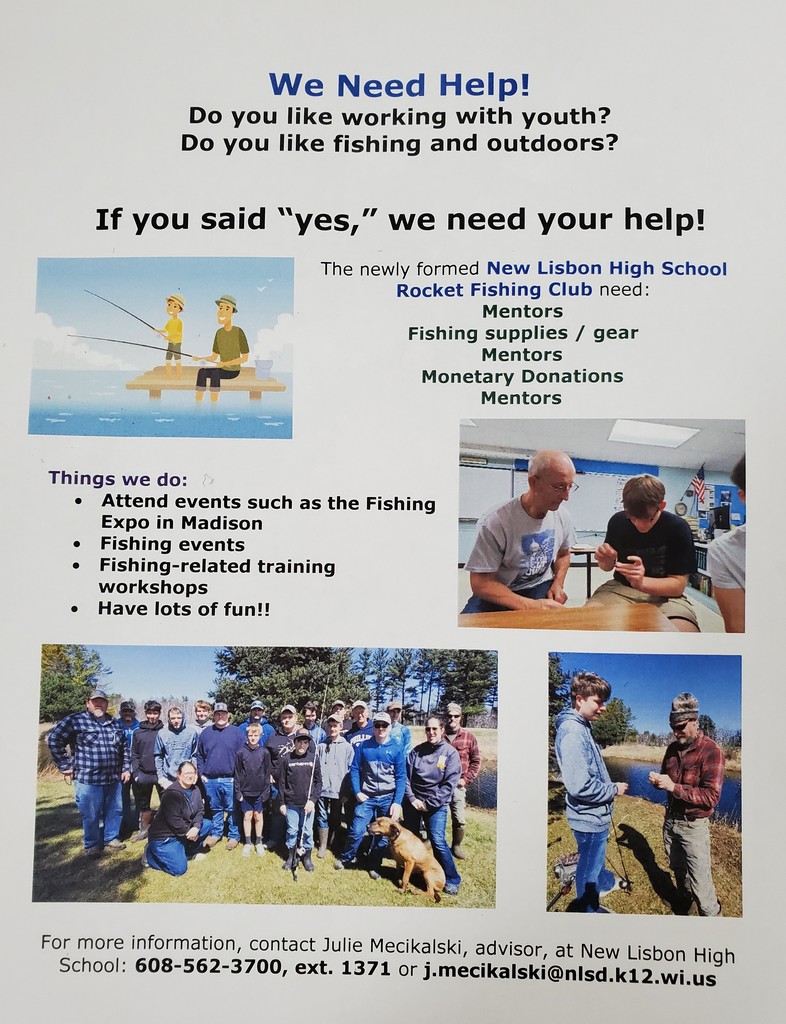 Members of the Rocket Fishing Club are very grateful to have received a donation of several fishing gear items from Sue Coggins. They plan to use the fishing rods while participating in statewide ice fishing competitions.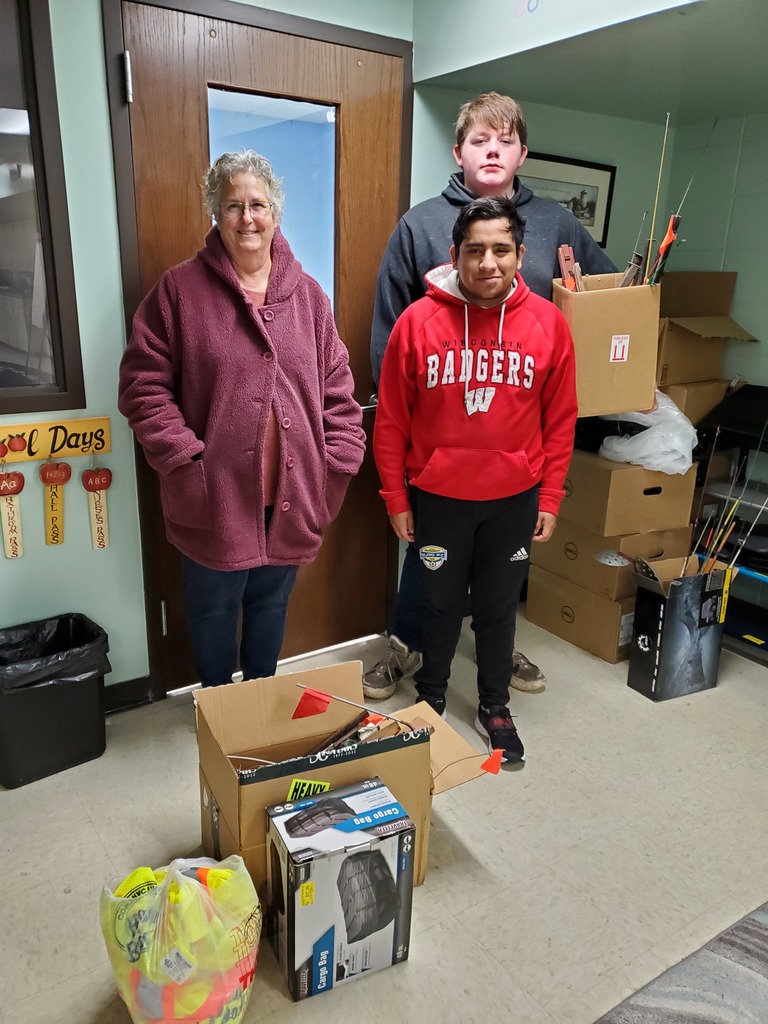 The New Lisbon School District would like to congratulate the Lynxx Networks for winning the Wisconsin Athletic Service Award. This award is presented to a person (business) who is recognized in the school and community as a supportive leader and who assists in maintaining athletics as an integral part of the total educational program.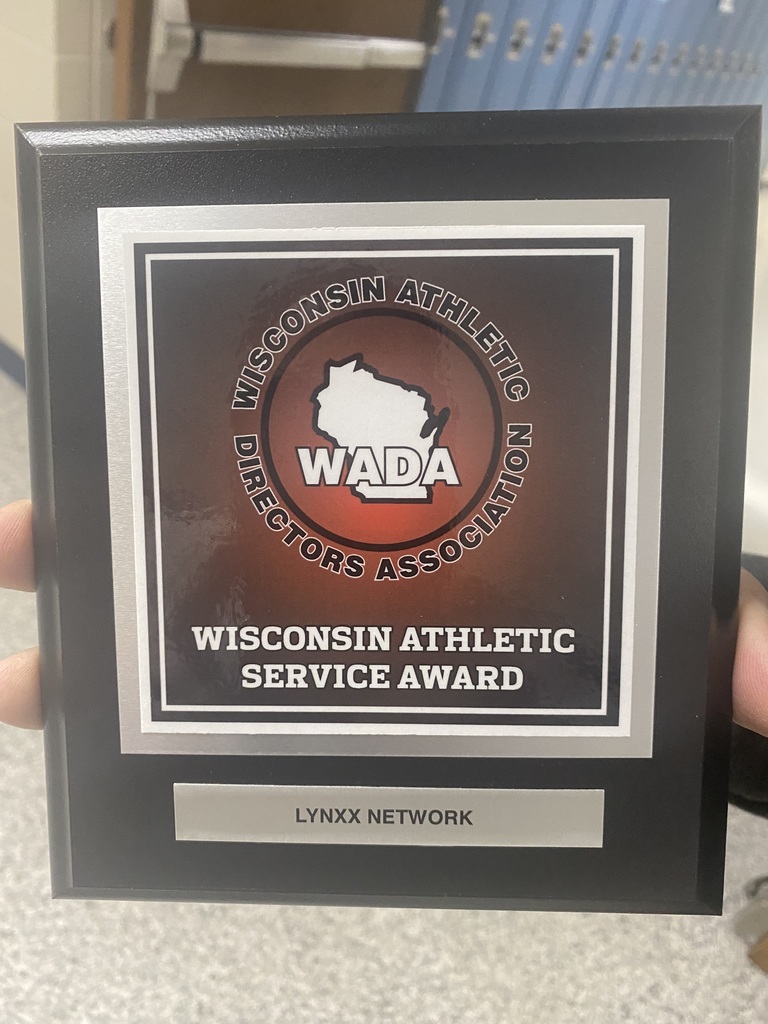 High School October Students of the Month. Senior-Rachel Homan Junior- Carson Welter Sophomore- Brayen Morey Freshman- EiJirauj Thao

Long-Term Paraprofessional Substitute needed.

We had a few changes to the Fitness Center November schedule. Here is the new one.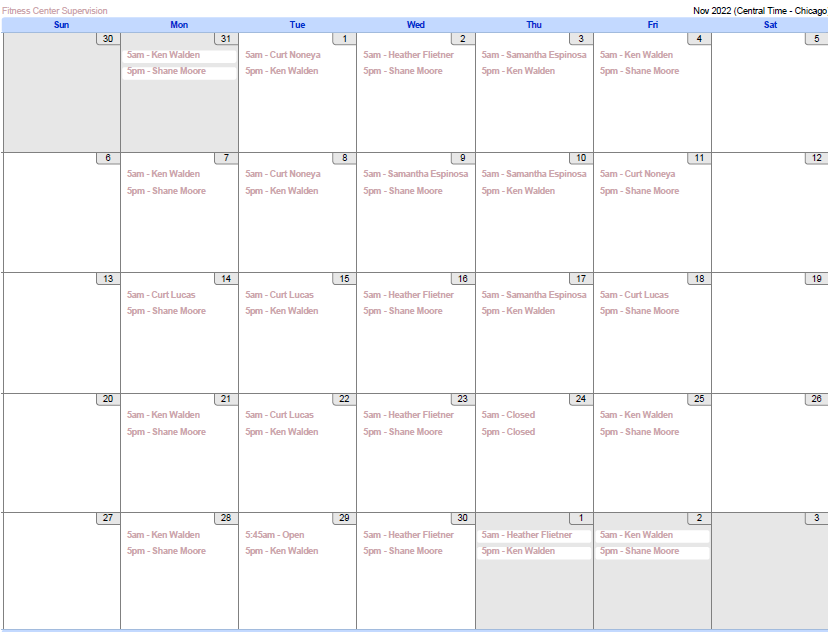 Tenacity is the quality of showing determination and working through hardship. It is often when we are challenged and keep working, that we experience the most growth. 154 high school and junior high students were honored today for their display of tenacity during the first quarter. They got to enjoy a caramel apple buffet. Keep up the good work!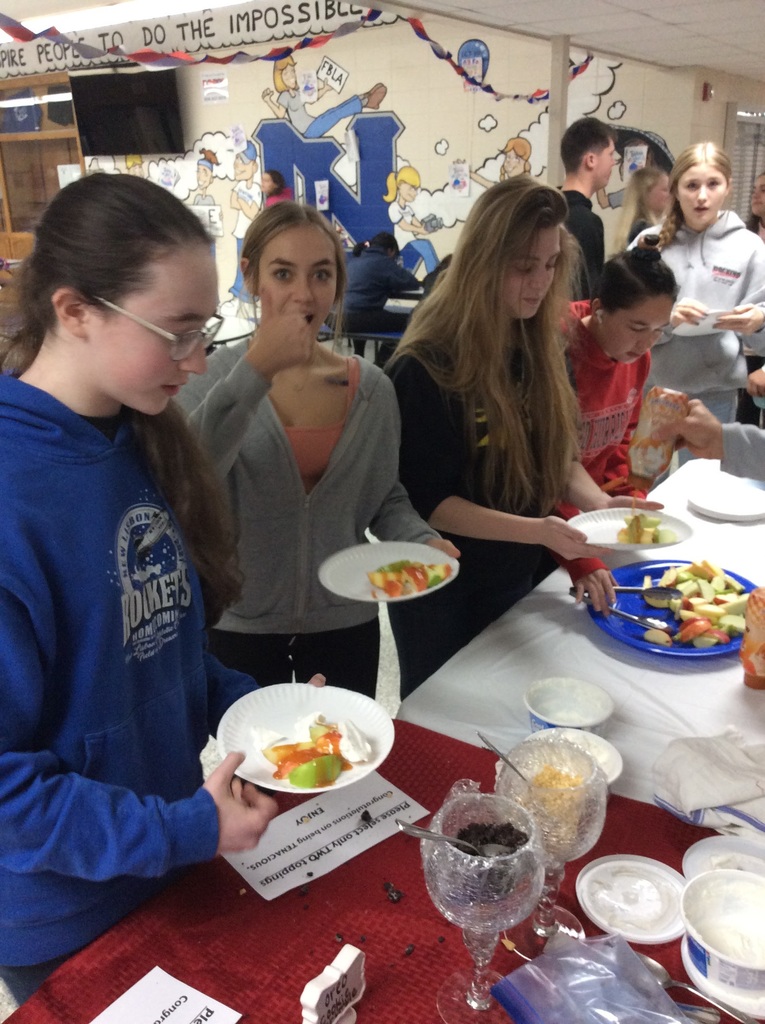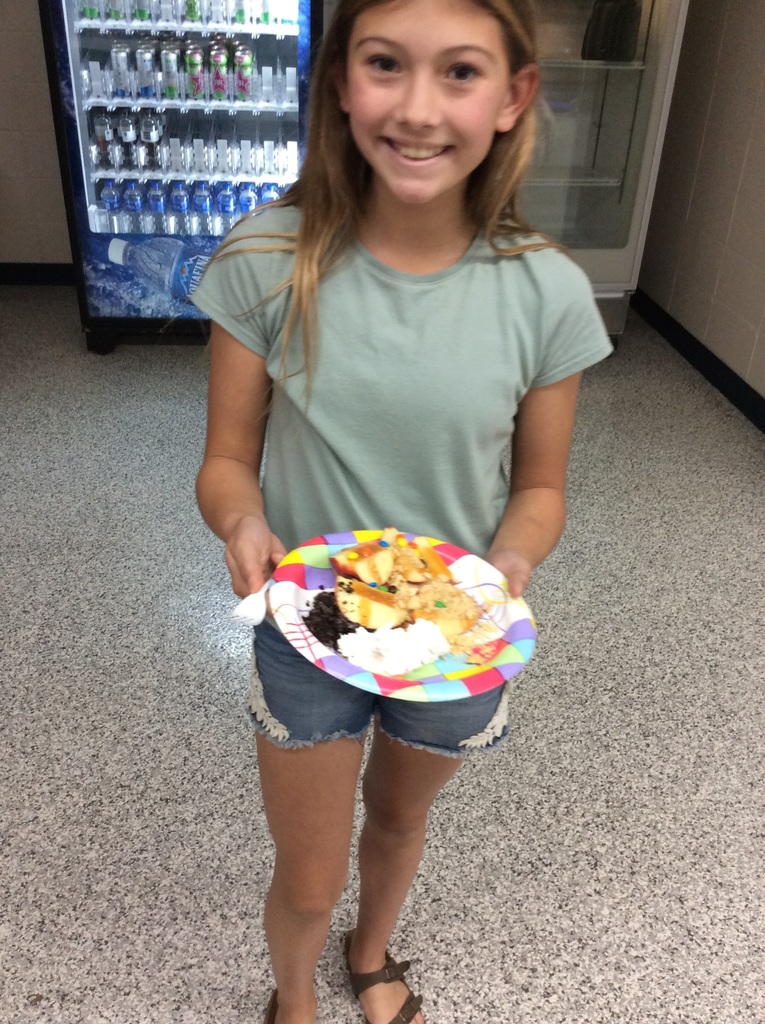 Big thank you going out to Kurt and Heather Lucas for installing our new cabinetry in the kitchen, they are awesome!!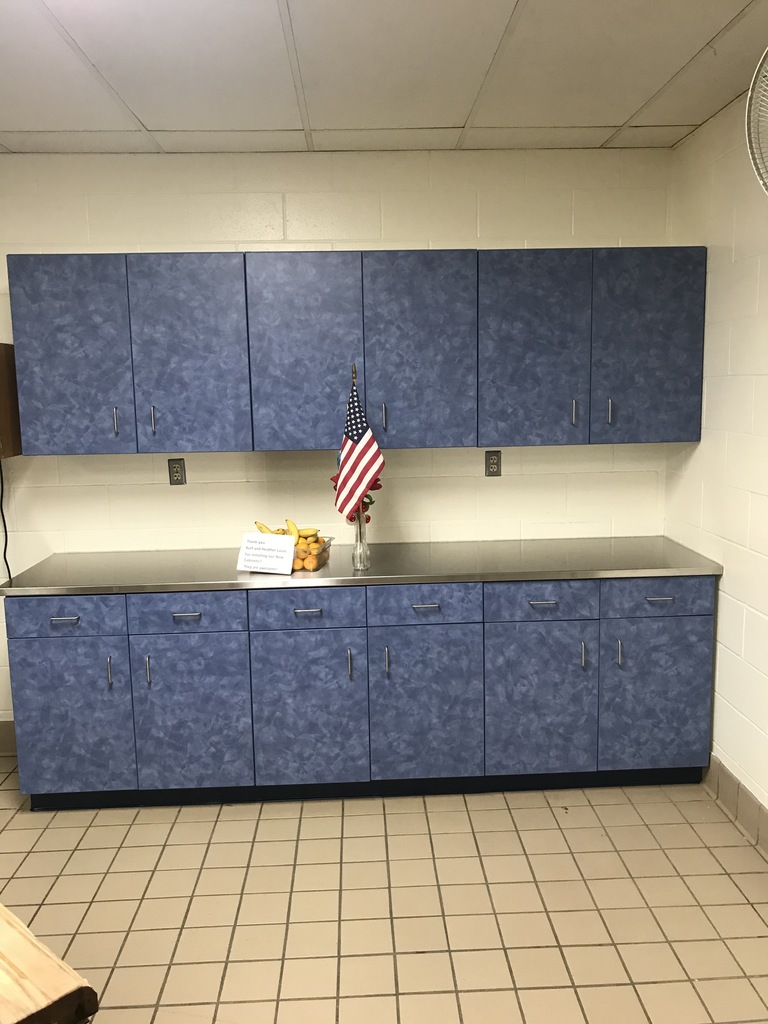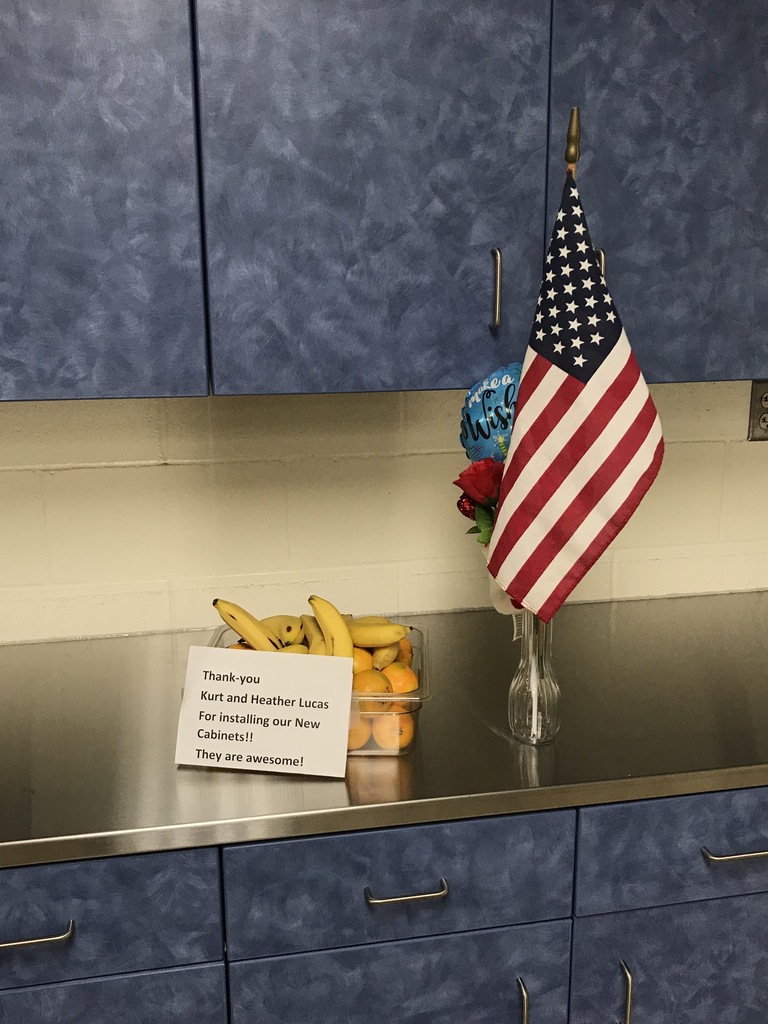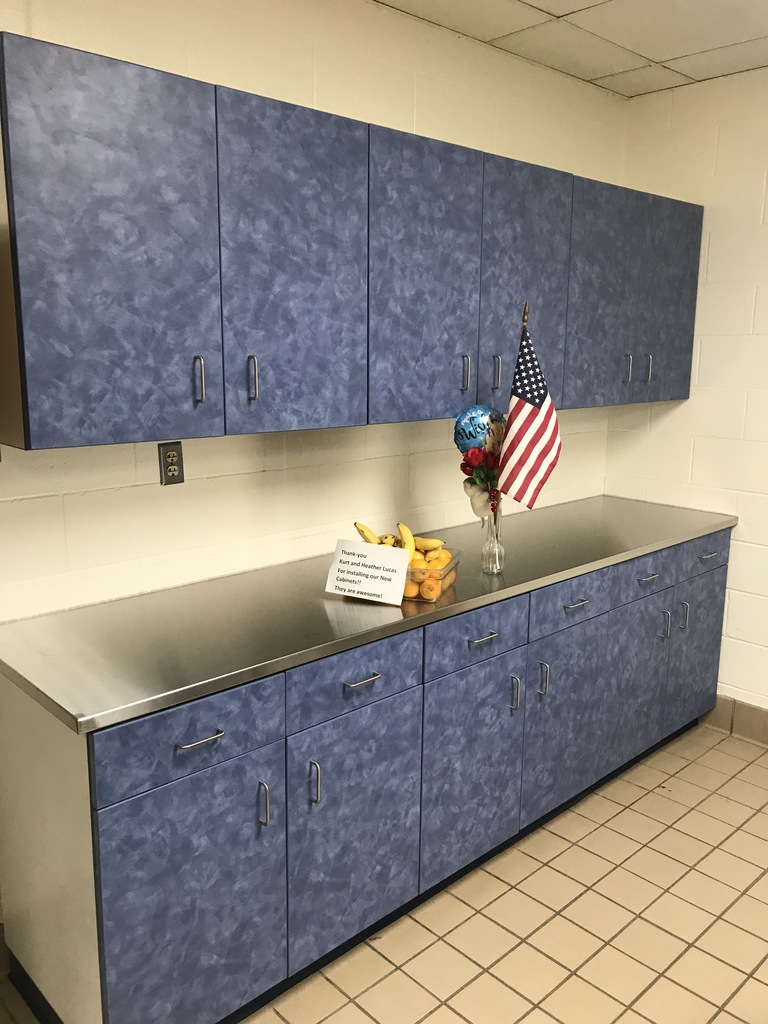 Check out the New Lisbon Booster Club Apparel! New Lisbon Apparel makes a great Christmas gift for all ages! All orders are delivered to school and will be handed out before Christmas break!
https://newlisbonboosterwinter.itemorder.com/

20% of New Lisbon students (that's 1 in 5) have already missed 3 or more days of school this year. 8% of New Lisbon students have missed 5 or more days of school this year, which is on pace for chronic absenteeism. If you need help with your child's attendance, please reach out to your building principal or a trusted teacher at school. Attendance matters!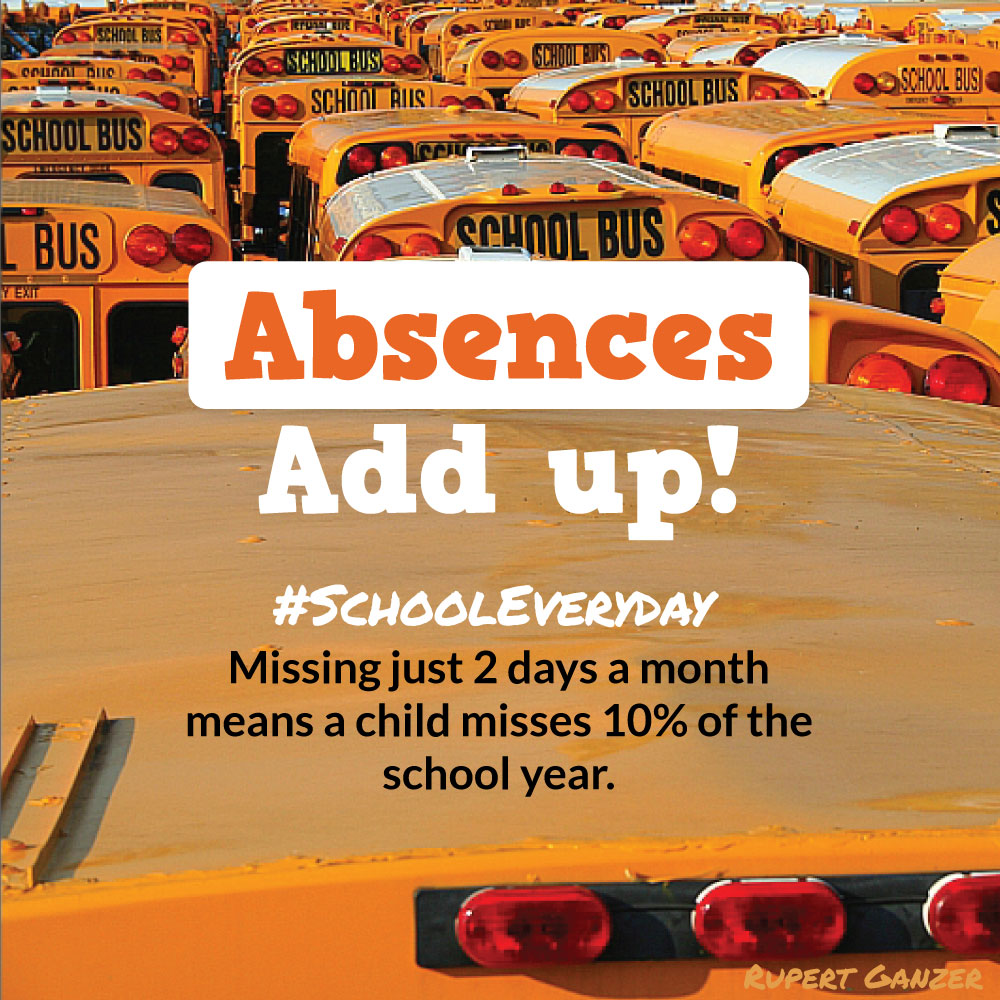 The Mississippi Valley Gifted and Talented Network hosts different events to highlight students' talents and connect with students from other schools in the region. Over the past two weeks, some 5th and 6th grade students attended two of these events. On October 25th, two 5th grade students participated in the regional 5th grade Performing Arts Fair in Hillsboro where they shared their talents of magic and piano. They also heard a short performance from a professional concert violinist. On November 8th, four 6th grade students used their math skills to compete against 16 teams at a Math24 competition in Tomah. Their hard work paid off as they placed 6th overall. We are proud of all the great things our students are doing.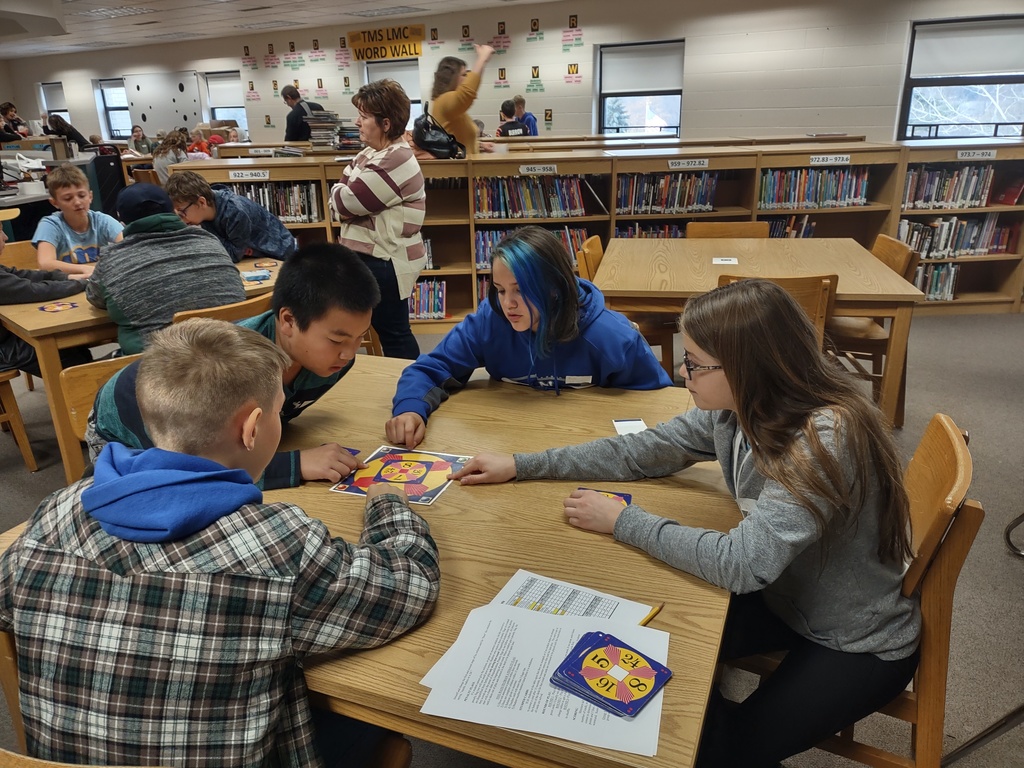 Students and Staff: Please consider wearing Red, White, and Blue this Friday to honor our Veterans.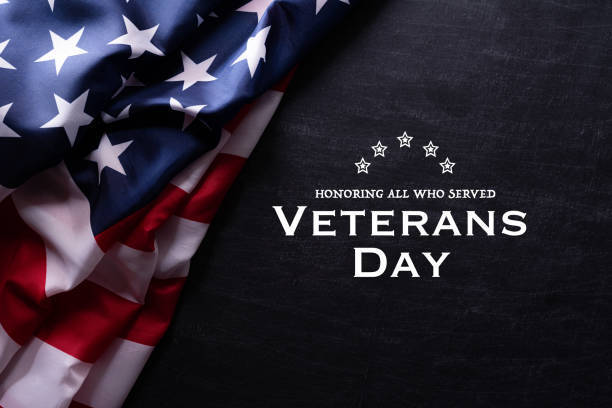 GIVE is still looking for Dodgeball teams for their annual Take a Hit for Charity dodgeball tournament on Friday, November 11. Games will start at 4:30 p.m.There will be a sign-up sheet available here and on Facebook or sign up forms will be available in the high school office or from Ms. Adank in room 317. Anyone is welcome to participate or to come and watch! Hope to see you there!
https://drive.google.com/file/d/175K5TEfMR-OTJAuizwuOvYAskgieLAe7/view?usp=share_link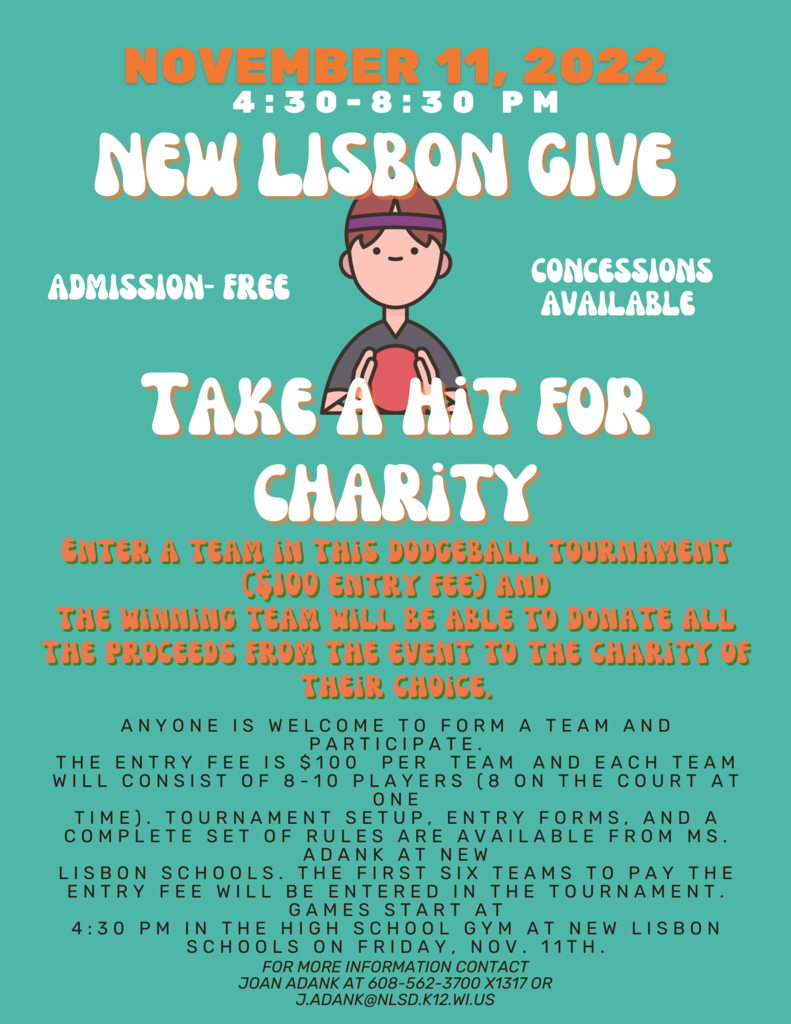 On Tuesday a few of the High School band students were busy at an Honors Band in Wonewoc Center! These students worked for six hours next to Hillsboro, Royall, and Wonewoc Center students and ended the day with a concert. We are so proud of the hard work they put forth!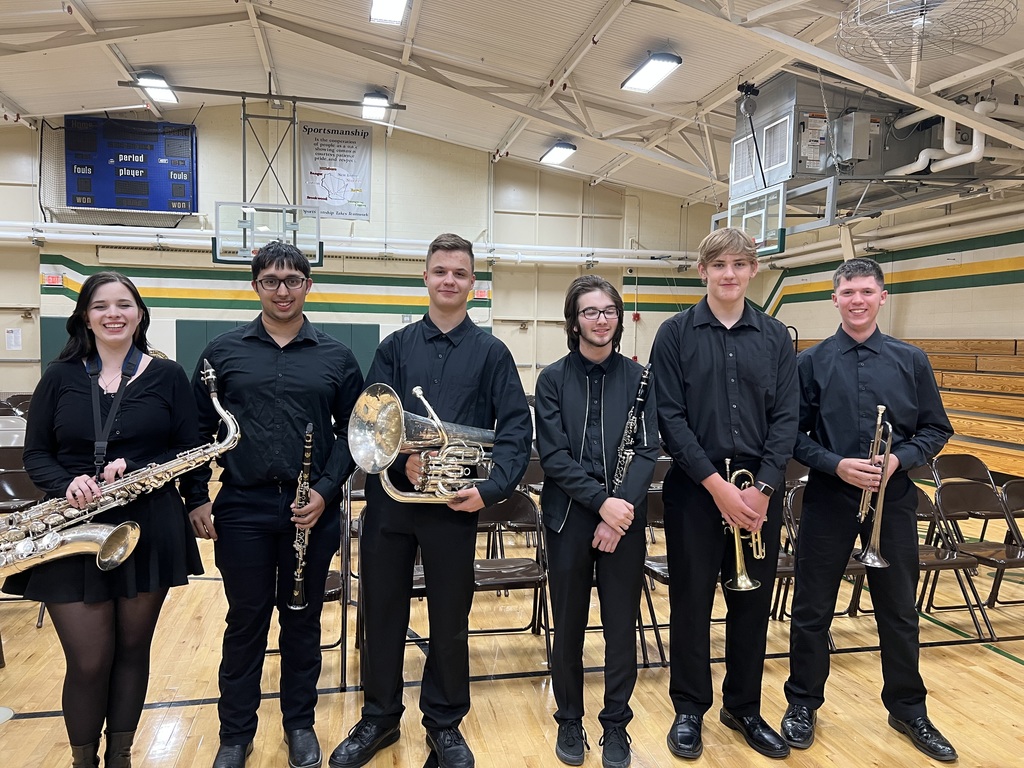 Updated: Fitness Center Schedule for November.