FINE ARTS DAY 2023 New Lisbon Schools will be exhibiting the talents of students from all grade levels. Pre-K through 8th grade will be displayed in the multi-purpose room and high school work will be displayed in the high school commons and gym. There will also be an area near the multi-purpose room for parents to sign up their students for summer school if it has not been done on-line. WHAT: Instrumental, Vocal and Forensics performances, Visual Art, Tech. ed. And FACE displays WHEN: Wednesday, April 26th 2:00 p.m. – 3:30 p.m.(performances) 2:00 p.m. – 5:00 p.m. (displays) WHERE: Multi-purpose room, Commons, High School stage and gym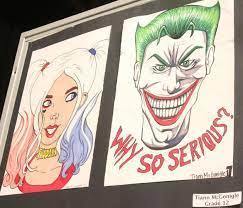 Attention all New Lisbon School District High School Students, you are cordially invited to the Class of 2024 Junior Prom. When: Saturday April 29th, 2023 Time: 7:30pm until 11pm Grand March: 8:15pm Cost: $10.00 per person at the door If you are planning to bring a student from another school, please stop in the high school office and pick up a guest permission slip. Mr. Stamper needs to sign off on the form so plan ahead!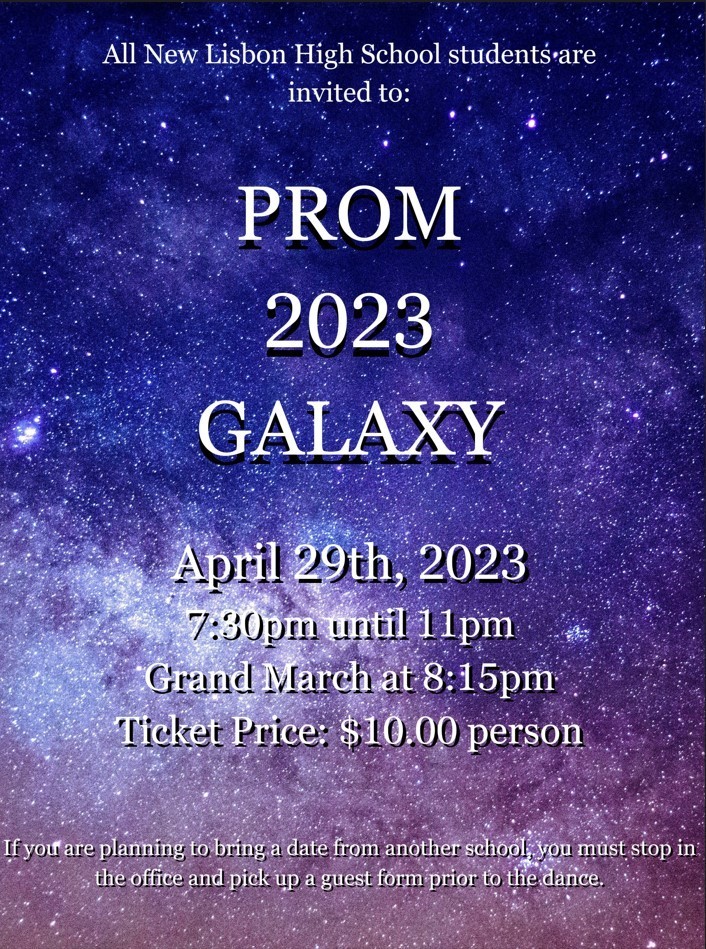 Congratulations to the following students who were selected for induction into the National Honor Society: Kayl Emery Ethan Forschler Claire Haske Rachel Homan Jacob Jax Josye Keltner Brayen Morey Dylan Stickney Alayna Willard Sam Zebell Janiah Pfaff The induction ceremony will be on April 26th.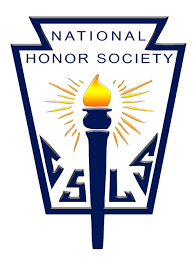 Your voice matters! Help us plan for the future. If you haven't already, please take a few minutes to complete the Elementary Stakeholder Feedback Survey for grades k-6 by Wednesday, April 12. bit.ly/3HRBPi3 Thank you for your input.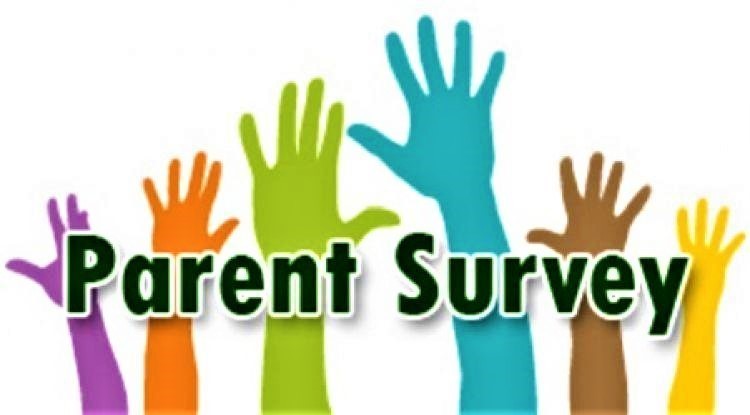 GIVE is hosting a blood drive on Wednesday, May 3 from 9 a.m.-2 p.m. Students and community members are invited! Students who are 16 can donate with permission from a parent or guardian and students 17 and up can sign up for themselves. Walk-ins are welcome, but it is preferred that donors sign up for an appointment using the information below. Questions can be directed to Joan Adank at
j.adank@nlsd.k12.wi.us
.

A big shout out to our New Lisbon PTO! They are helping to support the Safety Patrol's trip to Washington D.C. We are so thankful and grateful for your donation!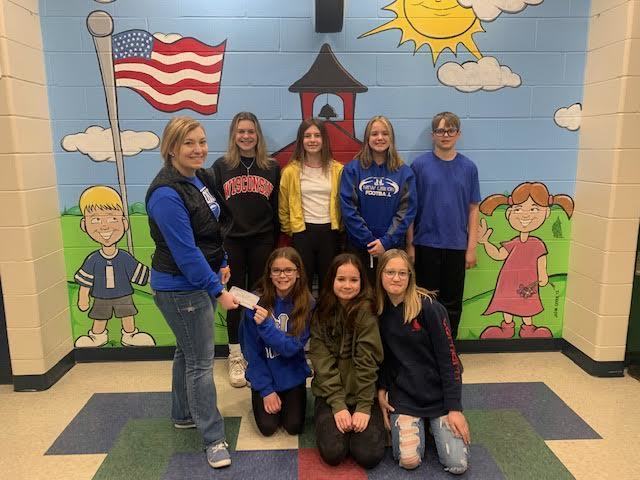 Congratulations to our Junior High Students of the Month for March.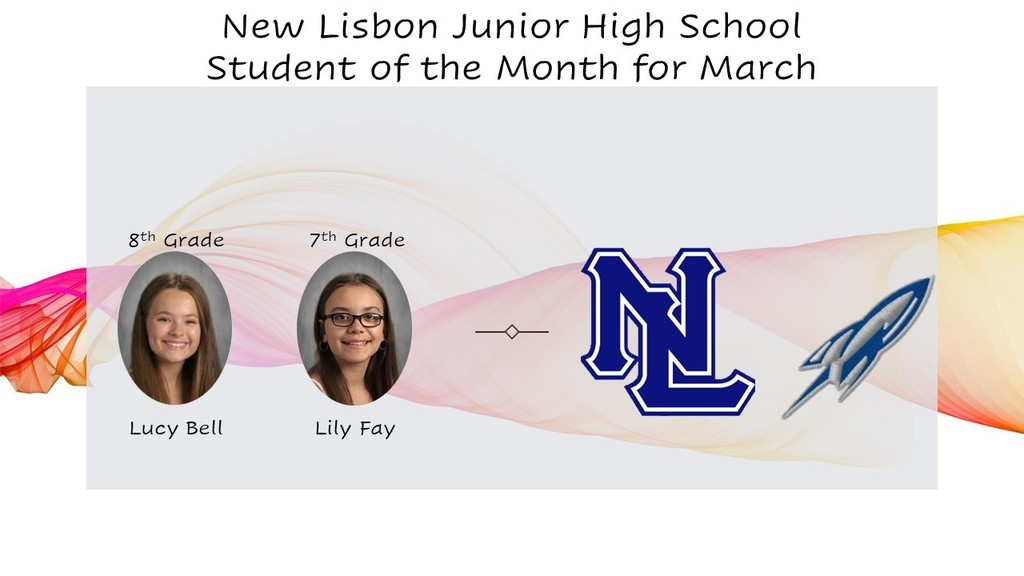 STATE BOUND SINGERS! Congratulations to all participants of last night's large group solo and ensemble. We have 4 events advancing to the state level at Viterbo University on May 6th. The remaining solo and ensemble events will be taking place this Saturday, April 1st at Royal High School. Good luck to all participants!

The 2023 Yearbook will be arriving soon. We do have a limited number of yearbooks left for purchase. Do not call the school to verify a yearbook order. Please call Jostens at 1-877-767-5217. If needed and if copies are available, you can purchase a yearbook should there not be one on record for your child. Or please click on this link
http://jostensyearbooks.com?ref=A09372800
to place your order. The online offer will be live until the yearbooks ship to your school or we are sold out. Thanks.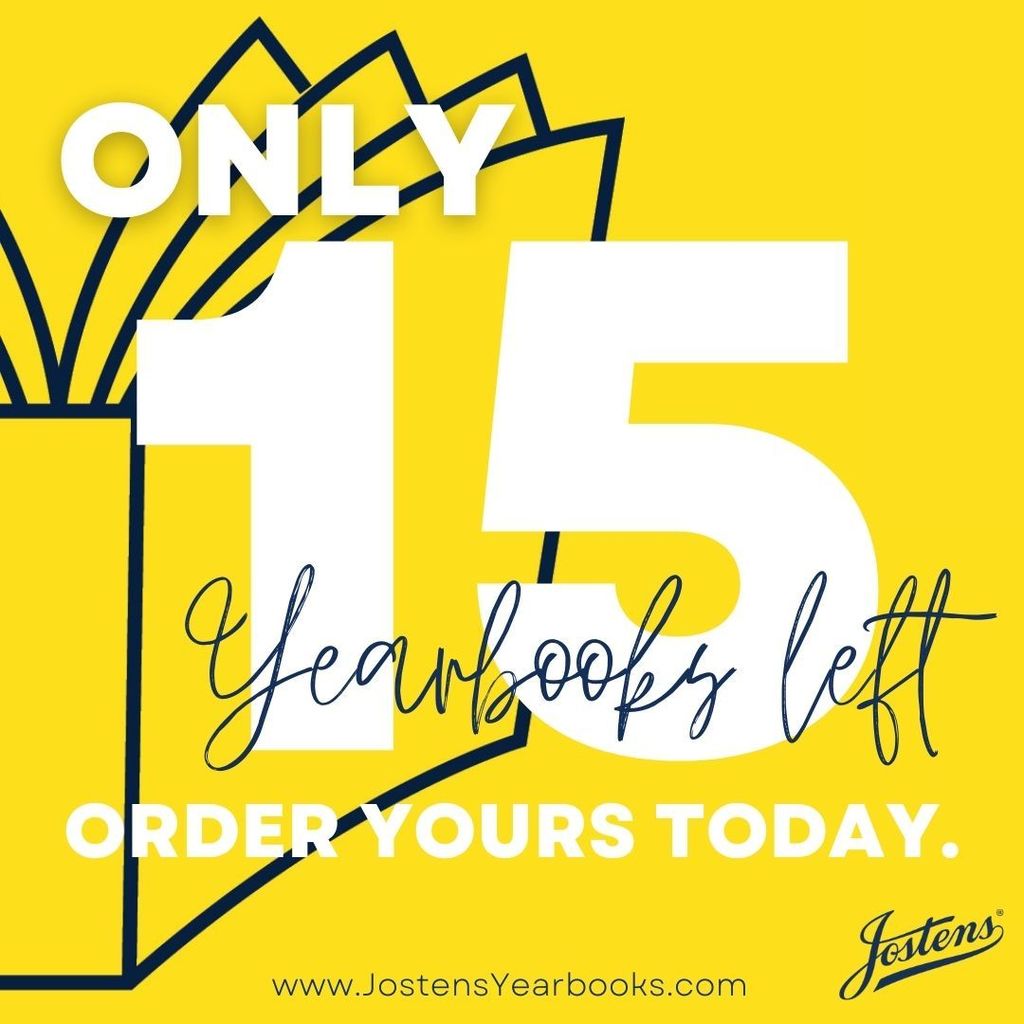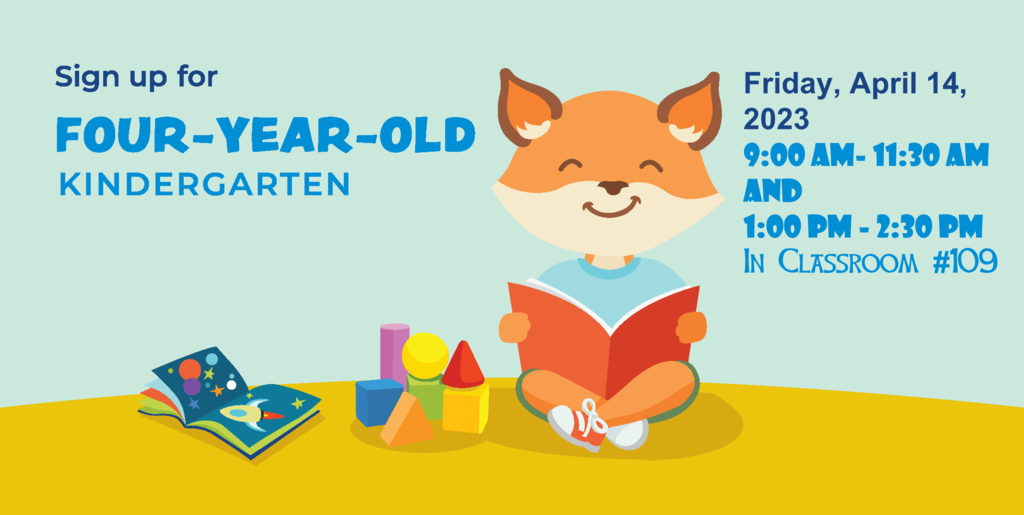 Students Grades K-2 are invited to the first New Lisbon Carnival for Learning to be held on Thursday, April 27th from 4:30-6:00 PM! Please RSVP by Friday, March 31st. RSVP forms were sent home with your K-2 grade student earlier this week. Additional forms are also available in the elementary school office. We look forward to seeing you at the carnival!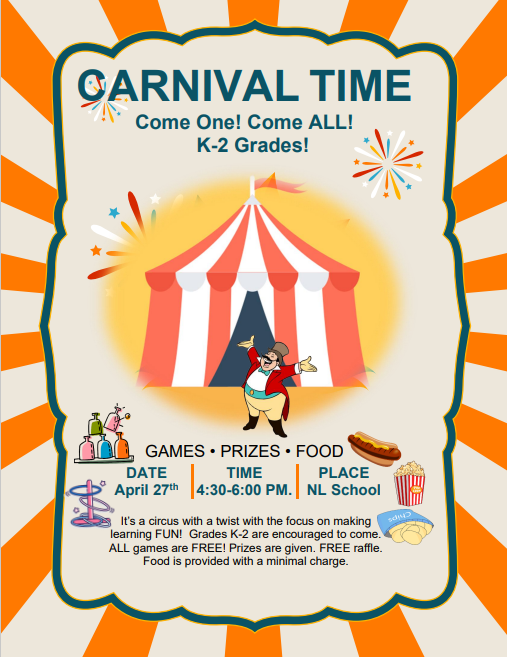 Congratulations to Ashton Pfaff for receiving honorable-mention All-State recognition from the Wisconsin Basketball Coaches Association. Ashton was also selected to participate in the WBCA All-Star Game held this June at the JAG in Wisconsin Dells.

Strep throat is now affecting more of our students in the last week. This link provides symptom information to look for with their students as well as a treatment course. Strep throat is contagious, so if you suspect your child is ill, please keep them home for 24 hours after beginning antibiotics and/or until they are fever free for 24 hours without the use of medication.
https://kidshealth.org/en/parents/strep-throat.html?scrlybrkr=4853a417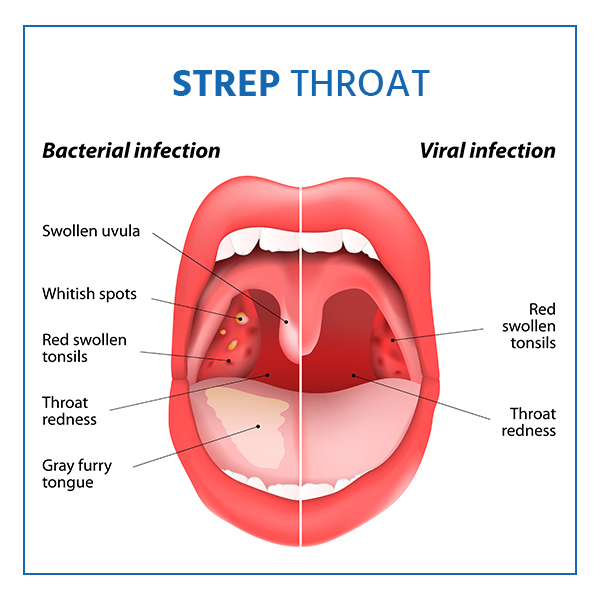 The New Lisbon School District is going to donate $274.60 to the Heavenly Hats Foundation!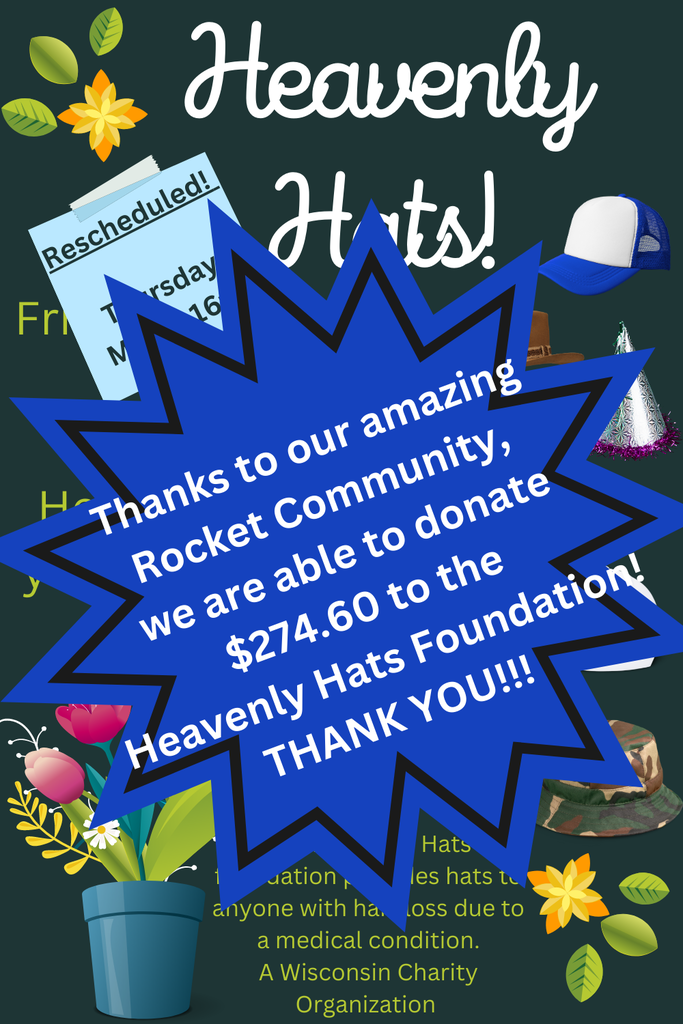 Junior High and High School held their first Annual Rocket Community Cereal Drive. Students who donated a food item or participated in community service, such as the snow shoveling club, were rewarded with a sundae party.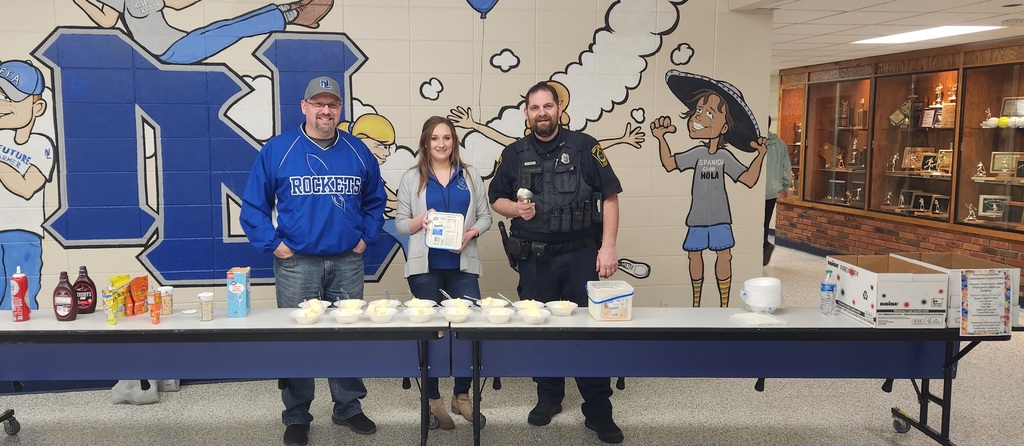 Officer Kevin and Officer Jason came to visit kindergarten today with Officer Alpha, New Lisbon's canine officer! Thank you for the visit!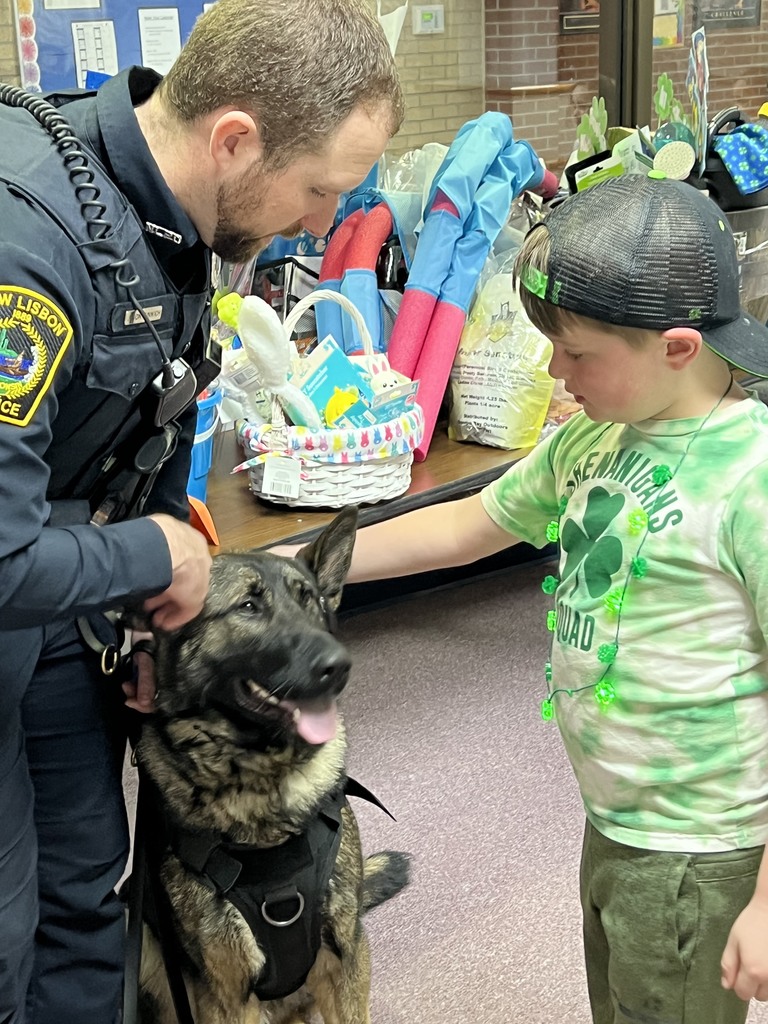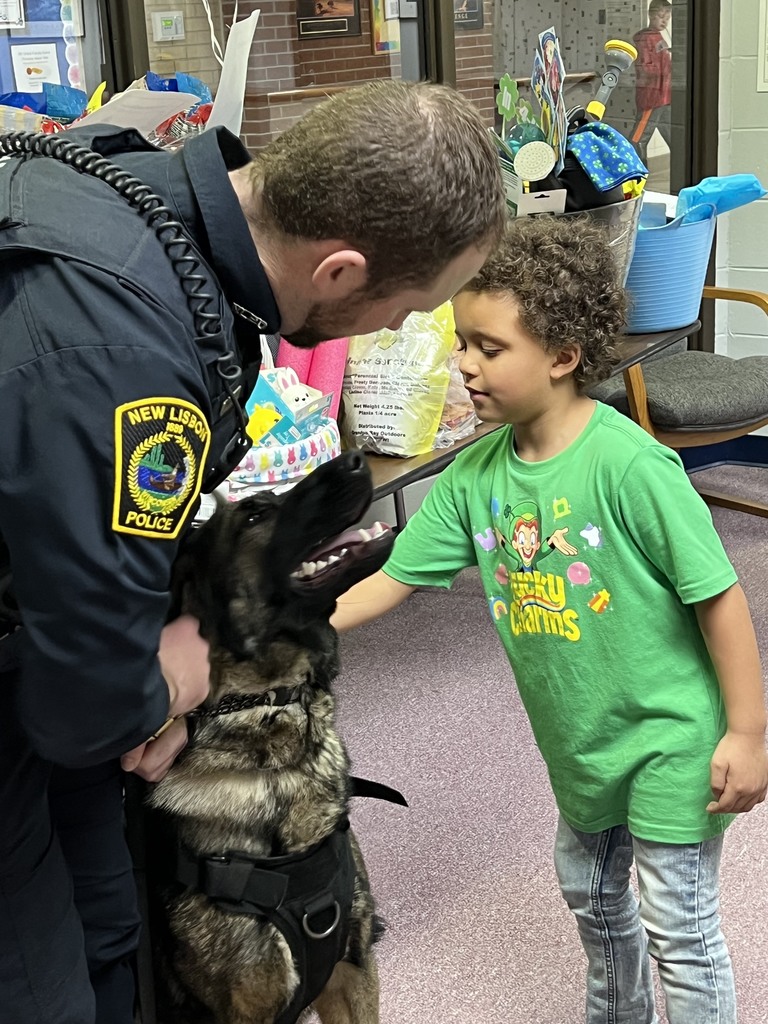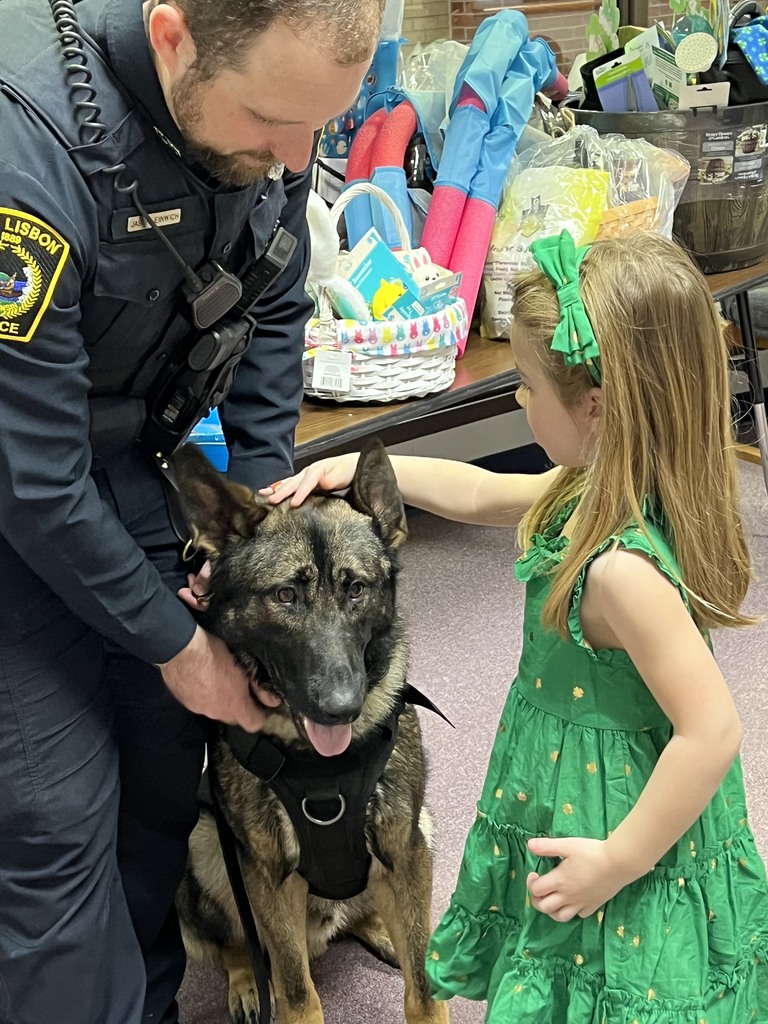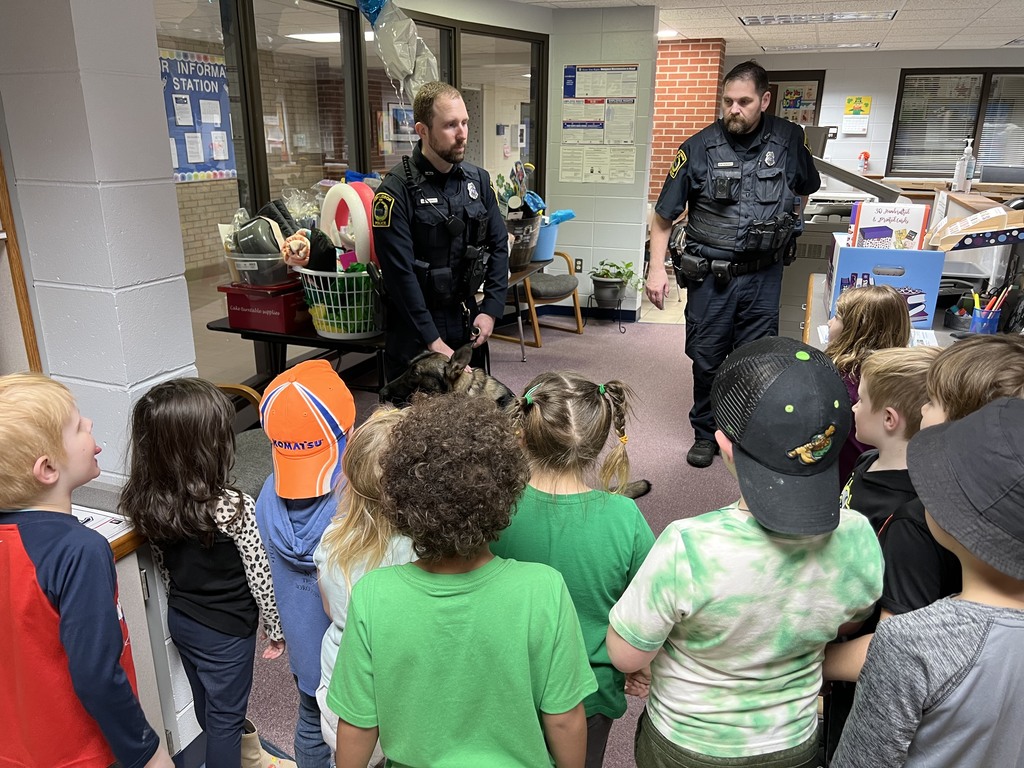 Here is our final recipient from the 2022 graduating senior class: Sabrina Wolf! We wish all of our graduating seniors the best of what life has to offer! Come out tonight, March 16 and support our 2023 graduating seniors who are ready to change the world! Tonight's festivities support these scholarships and our community. We hope to see you at our 39th annual 8th grade faculty games TONIGHT, March 16th! Doors open at 5 PM where you can then browse the absolutely fantastic classroom themed baskets, baked items, enter in our beautiful silent auction items, grab some dinner with concessions, and endless opportunities for entertainment. Each ticket enters you into a door prize drawing which impresses year after year! WE WILL SEE YOU SOON!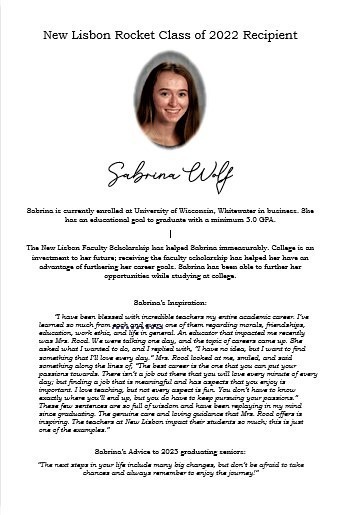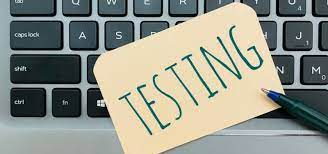 McKinney's lead designer Kari Dvorak shared her expertise with students in Architecture and Interior Design on an informative field trip today. Students learned how effective communication and organization plays into a successful career. They were also exposed to many trades that are involved with the home building and design process. Thank you to McKinney's Home Decorating for letting us visit your beautiful business! Rachel Morey Family & Consumer Science Education New Lisbon Junior High/ High School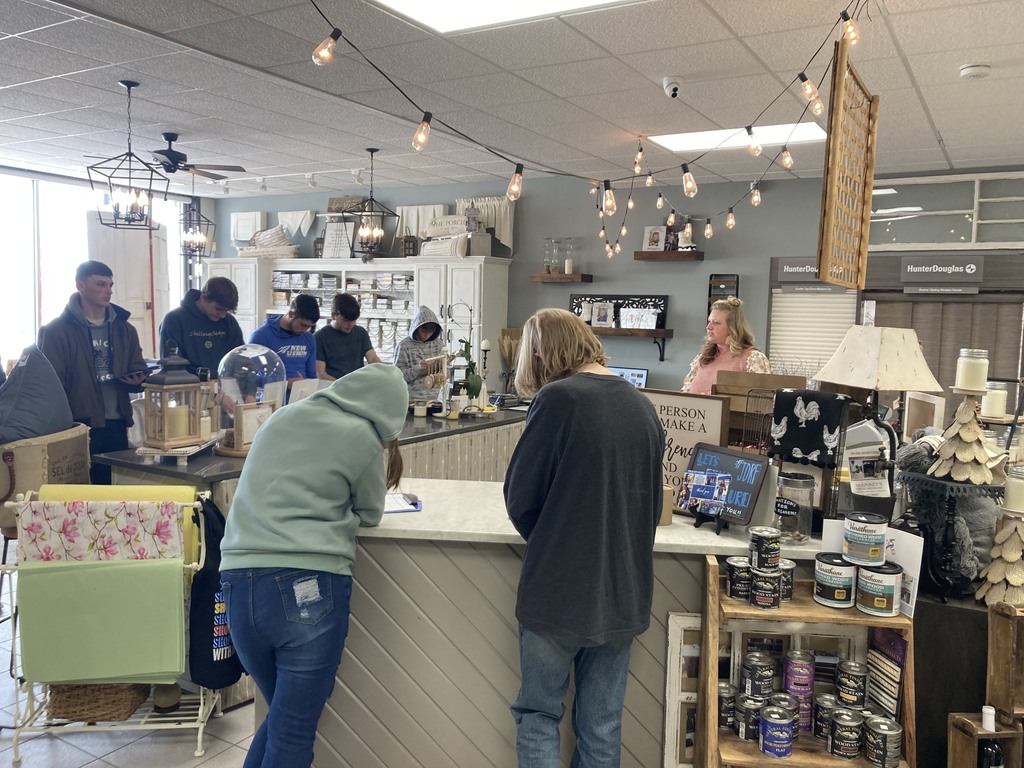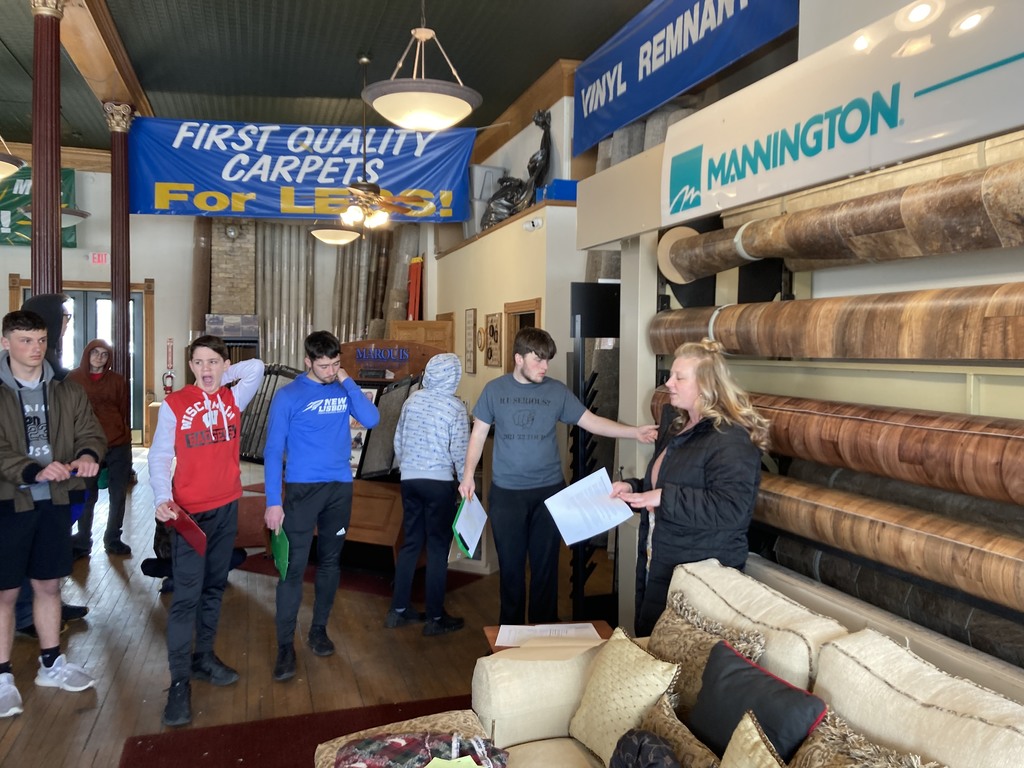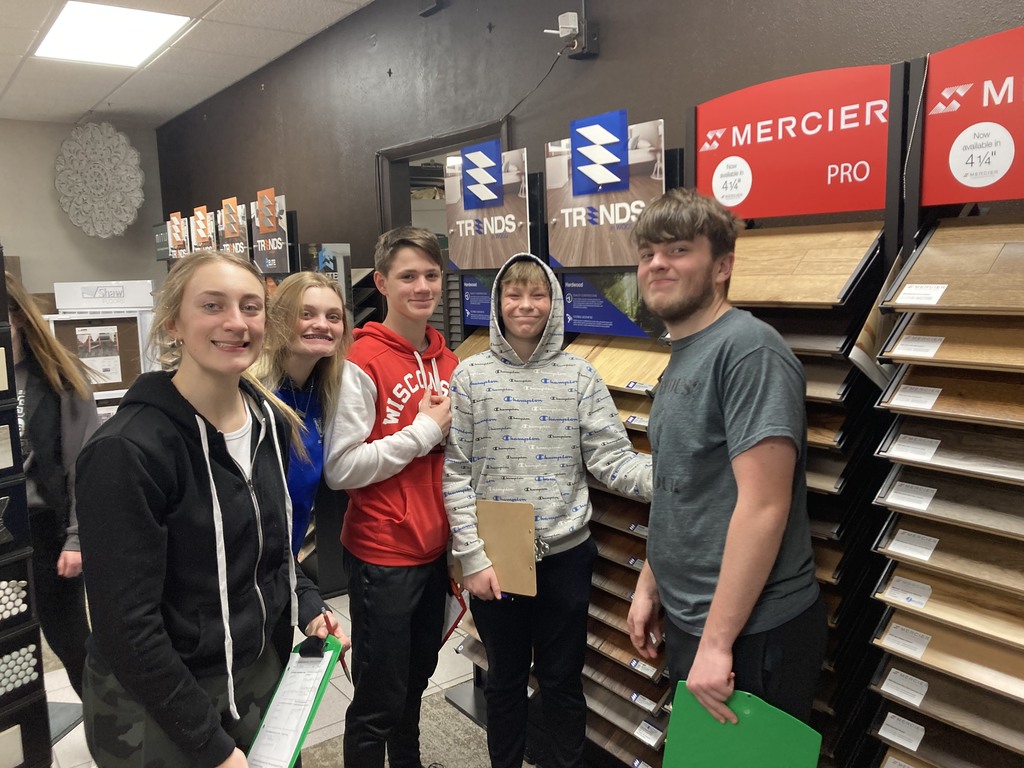 Meadow Valley Log Homes has graciously donated a Log Bench to the Silent Auction to be held during Thursday's 8th Faculty Game. A huge thank you to Meadow Valley Log Homes for supporting New Lisbon Students!