As we received such a generous $10,000 donation today from Mill Haven Foods and Silver Star Health for the New Lisbon Schools Education Foundation, one can't help but reflect upon the amount of work that went into our new athletic complex. We are so appreciative of our generous donors and community for all working together to make this dream come true. We loved watching the progress and we were incredibly impatient waiting for the day we could send our athletes out to perform. As you know, our Boys Track Team took the Scenic Bluffs Conference Championship, had six individual conference champions, and this week had 5 Scenic Bluffs Regional Track & Field Championships and are advancing 12 athletes to Sectionals this Thursday. We know the athletes loved having their own track to practice and what a difference that made in their level of performances. It's been an incredible journey. Thank you, Rocket Nation. For a complete list of donors, please visit our Education Foundation page:
https://newlisbonwi.sites.thrillshare.com/.../educational
...
https://www.youtube.com/watch?v=nnlsX1RSiVs&t=200s

COOK QUALIFIES FOR NATIONAL RODEO FINALS Krista Cook competed in her last Wisconsin High School Rodeo State Finals and has qualified to compete at the National Finals Rodeo in two of her events! She is the 6 time State Champion in the Light Rifle event, sharing the title as Co-Champion this year. She also qualified in the Goat Tying event, securing a 3rd place finish for the season! Krista represented NLHS well throughout her rodeo career and will compete at Nationals in July. Rhonda Cook writes, "Thank you to NL Schools and the community for always supporting our girls in their participation in Wisconsin High School Rodeo."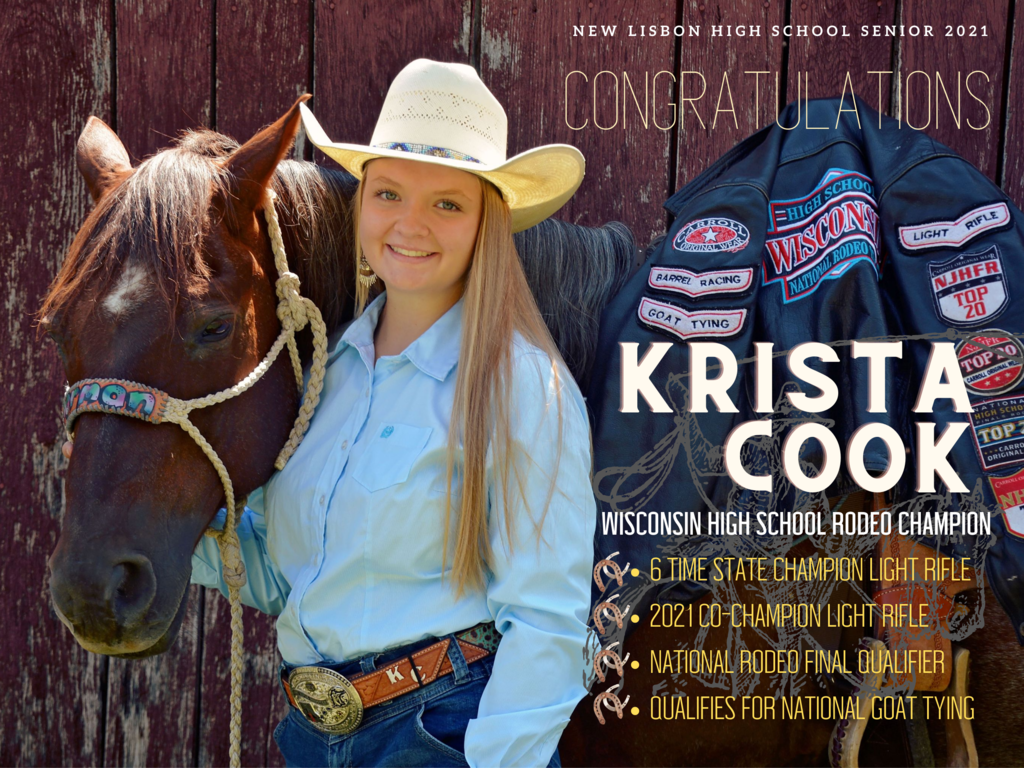 ATTENTION ALL HS VOLLEYBALL PLAYERS Open Gym Is now on the following days from 5-7pm in the HS gym! June 17th July 1st July 15th July 29th August 12th Monday Night JAG league schedule coming soon!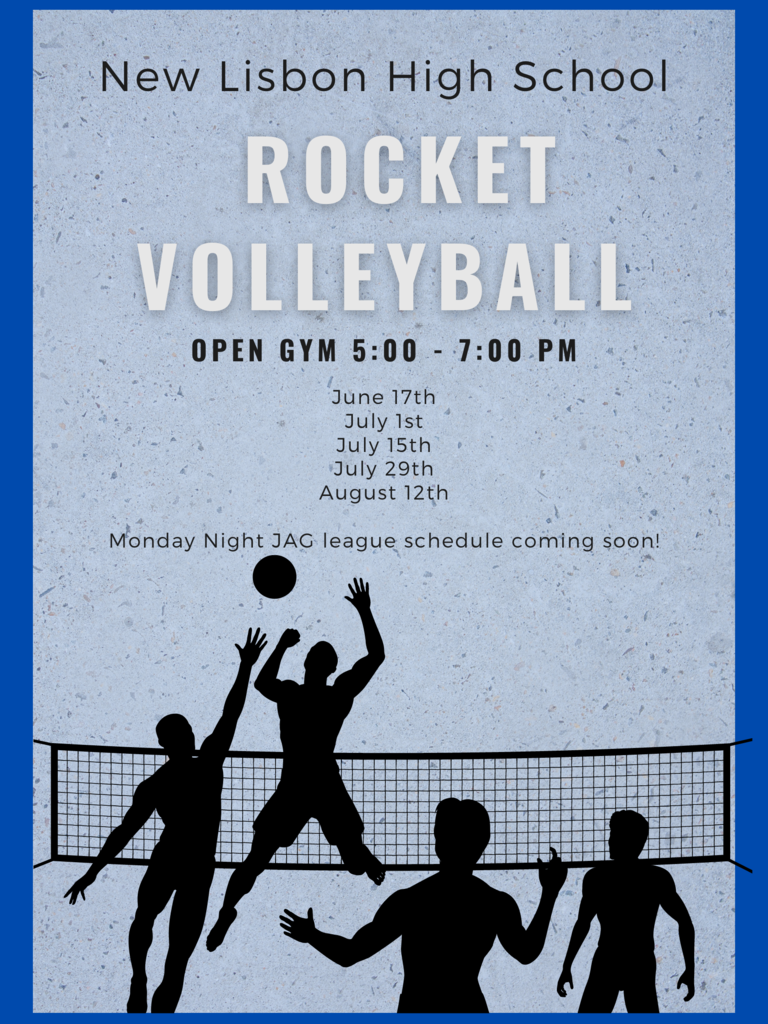 Mark your calendars! Mrs. Walker has scheduled Summer Rec Sport Photos with Hometown Memories! Always a great memory keepsake for all ages. Order forms are available from Mrs. Walker, our website in DOCUMENTS -> ATHLETICS or here
https://5il.co/u0qq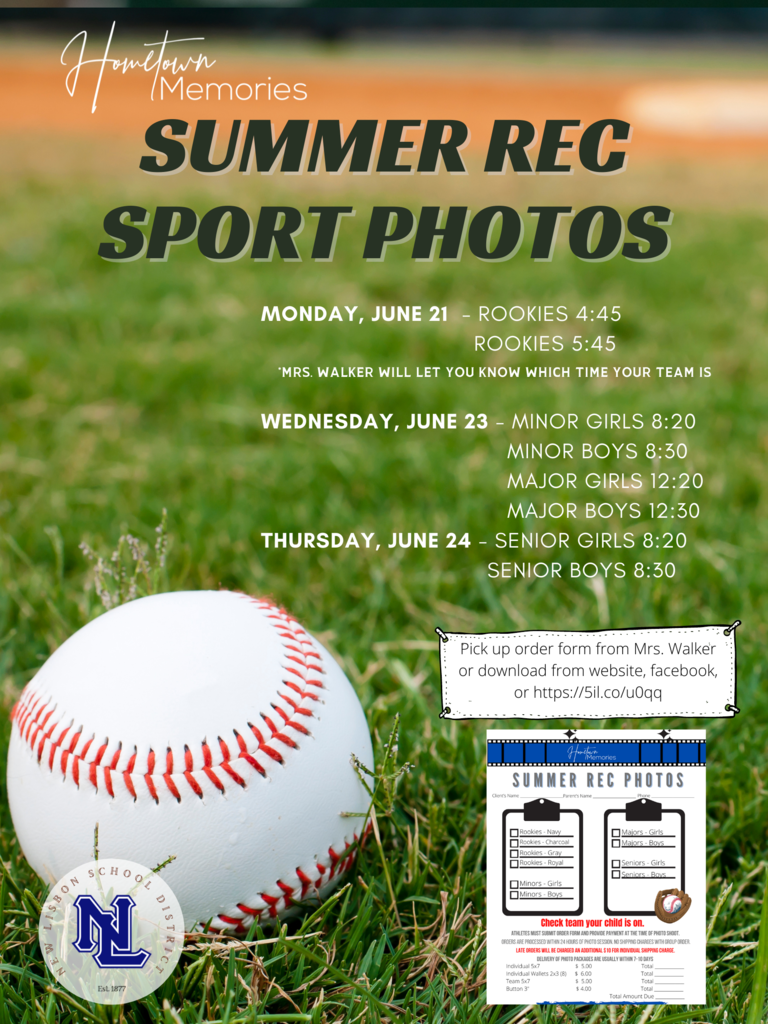 BIG NEWS! We now have translation options on our updated website for all of our Rocket families. Whether your native language is English, Hmong, Spanish, or Chinese you will now have the option to choose. Simply choose your preferred language in the upper right-hand corner. 🚀 #OneCommunity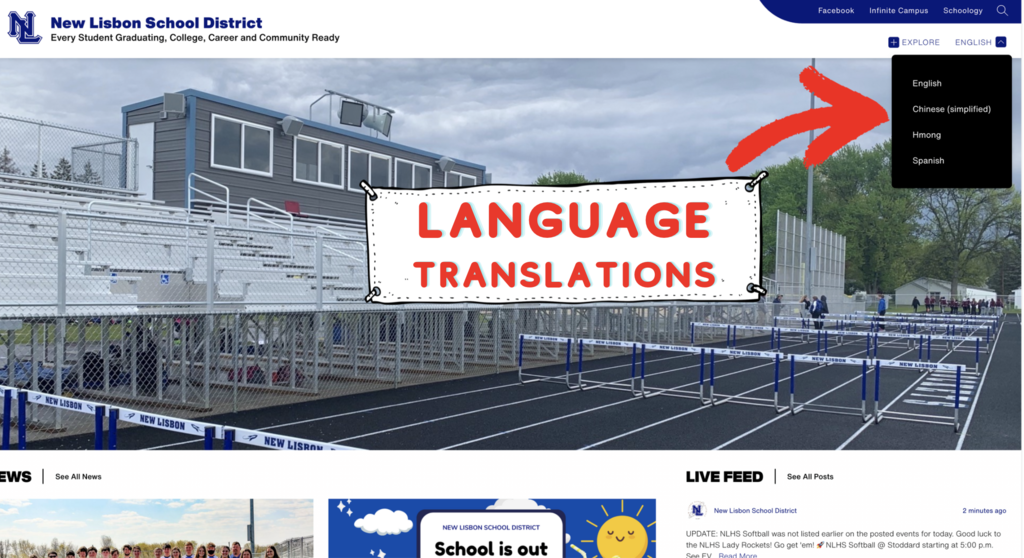 UPDATE: NLHS Softball was not listed earlier on the posted events for today. Good luck to the NLHS Lady Rockets! Go get 'em! 🚀NLHS Softball @ Stoddard starting at 5:00 p.m. See EVENTS for directions to the game.

ACT prep class with Mrs. Pedersen, we will be meeting in Mrs. Robson's room on Tuesday, June 15th at 6:00 for our first class.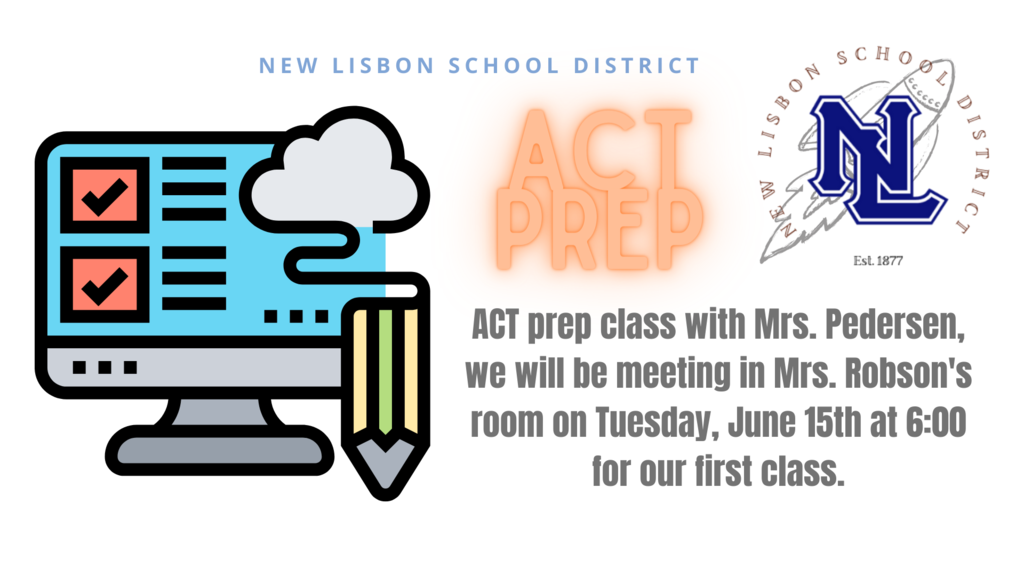 It's Flag Day!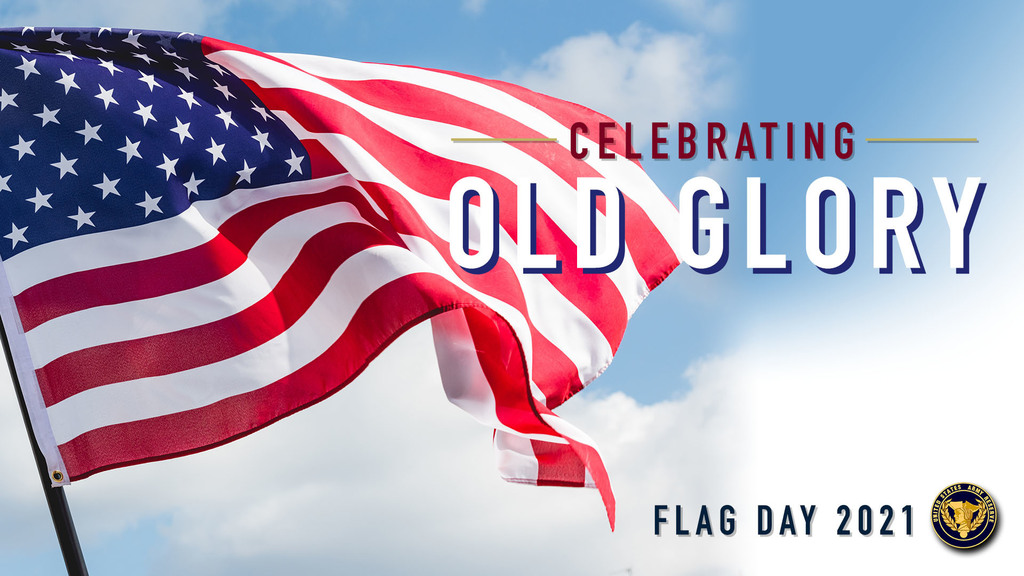 Good luck to the NLHS Track team competing at the WIAA Track Regionals today.

Monthly School Board meets Monday, June 14 at 7:00 in the school media center. All are welcome. Agenda:
https://5il.co/tvhx

[drum roll 🥁....] Congratulations to the New Lisbon School District students making the Honor Roll [3.0-3.59], High Honor Roll [3.60-3.99], and the Highest Honor Roll [PERFECT 4.0]. Well done. 🚀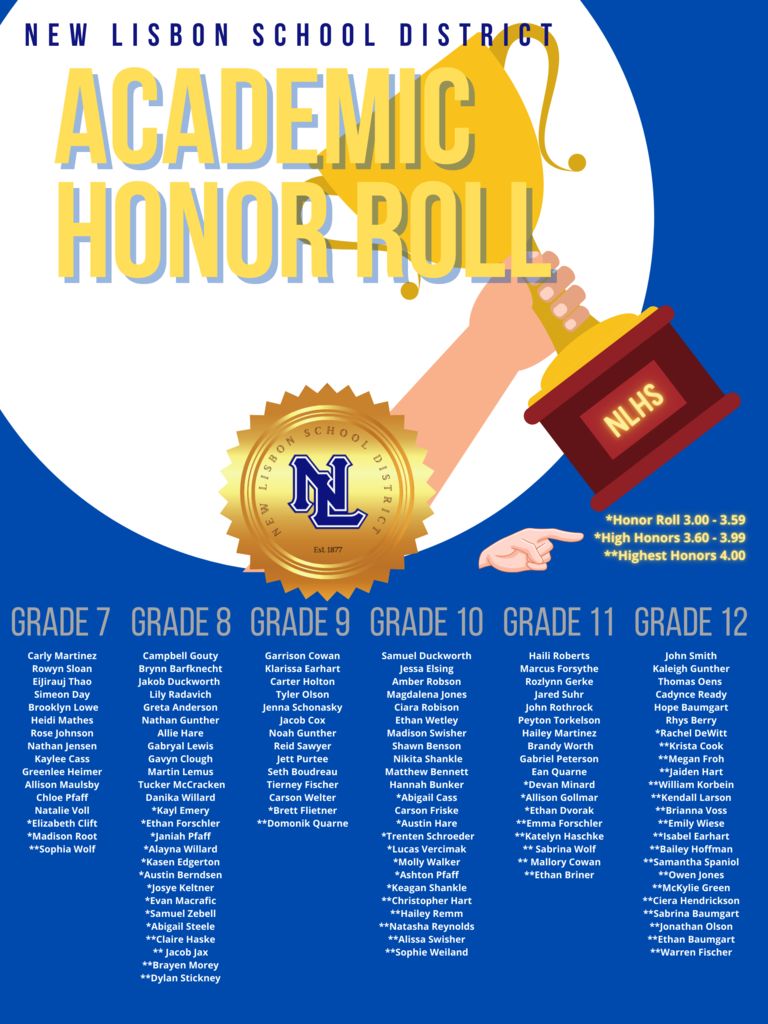 We have some pretty big news! Our website has been updated and refreshed. We have been working hard behind the scenes for several months preparing our new format for you. We always strive to improve our user experience and we hope you love the changes as much as we do! Our new webpage has new several new features: 1. Why NL? - Learn some important stats about your school 2. Programs - What sets our programs apart from other districts 3. Spotlight - Highlighting exceptional student accomplishments We are the mighty, mighty Rockets! Join us.
https://www.newlisbon.k12.wi.us/

NLHS Baseball ⚾️ lost their WIAA Regional game tonight against Hillsboro.



Good luck to our mighty Rocket Track athletes as they compete at the WIAA Conference Meet today in Cashton!

Summer School starts Monday, June 7! It's not too late to register for a class! Questions? Contact the elementary office at 562-3700. Classes available
https://5il.co/shrj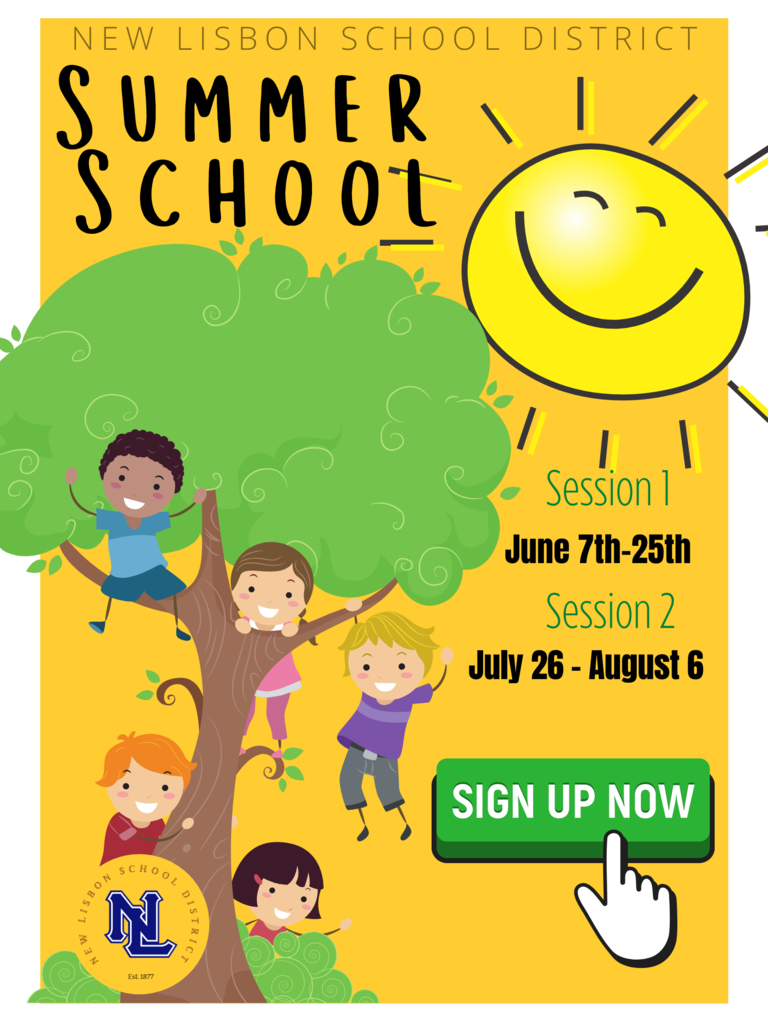 Last day of school! Dismissal at 12:30 p.m.

Kindergarten Graduation TODAY! We are going LIVE on Facebook at 12:30! Tune in!