👉ATTENTION SOFTBALL FANS! REGARDING TUESDAY'S WIAA REGIONAL ACTION Westfield is pleased to host New Lisbon High School for the WIAA Softball Regional game for Division 4, Sectional 3. The game is scheduled for Tuesday, May 24, at 5:00 p.m. at Westfield High School. Admission: Tickets will be $6 per person. We will be charging as they enter the parking lot. If they have the exact amount that will help us get cars in faster. There is bleacher seating available; however lawn chairs are also welcome where they will fit.

Today we are highlighting our staff that have reached their 30 year milestone: Brad Bever, Dave Buchholz, Teresa Fish, and Jayne Turner. Thank you for all you do for the New Lisbon School District over the past 30 years! We would also like to recognize the milestones of Kristen Wolf (25 years), Lisa Dummer (15 years), and Lesyle Keltner (10 years)! Thank you for your dedication to our district!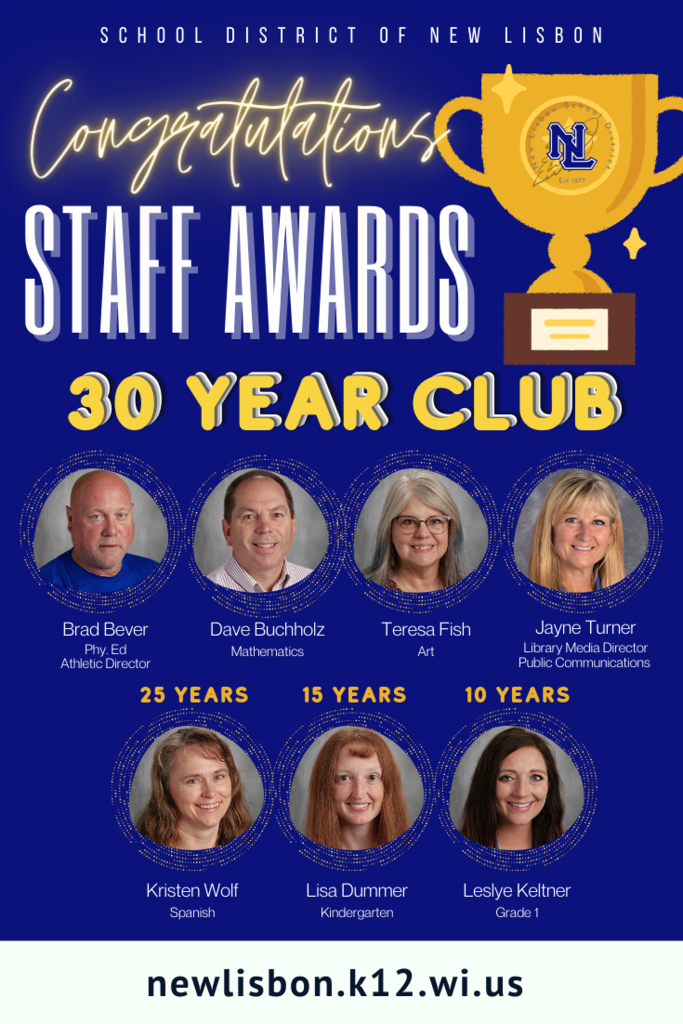 It's Service Learning Day today! Our students will be out helping our community members this afternoon. Please be extra vigilant watching for students crossing streets. Thank you!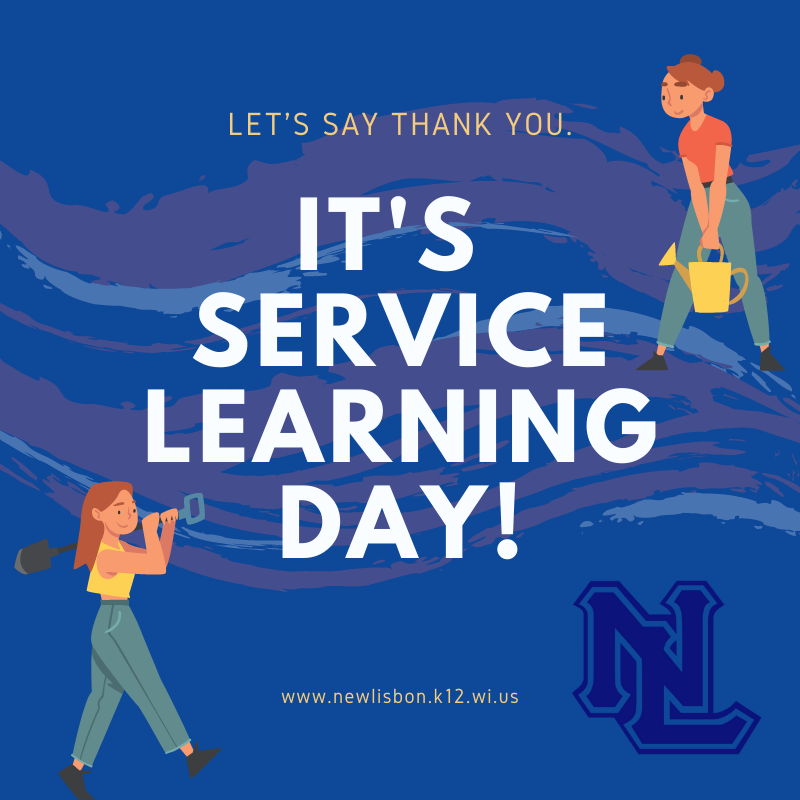 JOB OPPORTUNITY: Food Service Aide. Contact Lisa Klinker if interested.

JH Track at Royall tonight - Field events begin at 4:15, Running events 4:30

Summer job opportunity!

A Message From Mrs. Preuss, School Nurse If your child is 5-11 years old and you are interested in a COVID vaccination (first or second) for your child, please contact me at 562-3700 or email
s.preuss@nlsd.k12.wi.us
. If your child is 12+ they can get a COVID vaccine or booster. Juneau County Health Department Mrs. Preuss, RN

The agenda for Monday night's Board of Education meeting has been posted:
https://5il.co/19z8c
Meeting begins at 7:00 p.m. All are welcome to attend.

#HappyNationalNursesDay2022 Happy National Nurses Day to our incredible Mrs. Preuss! What would we do without you? Thank you for everything you have done to take care of us! You are the most selfless, caring, and fantastic nurse. 💙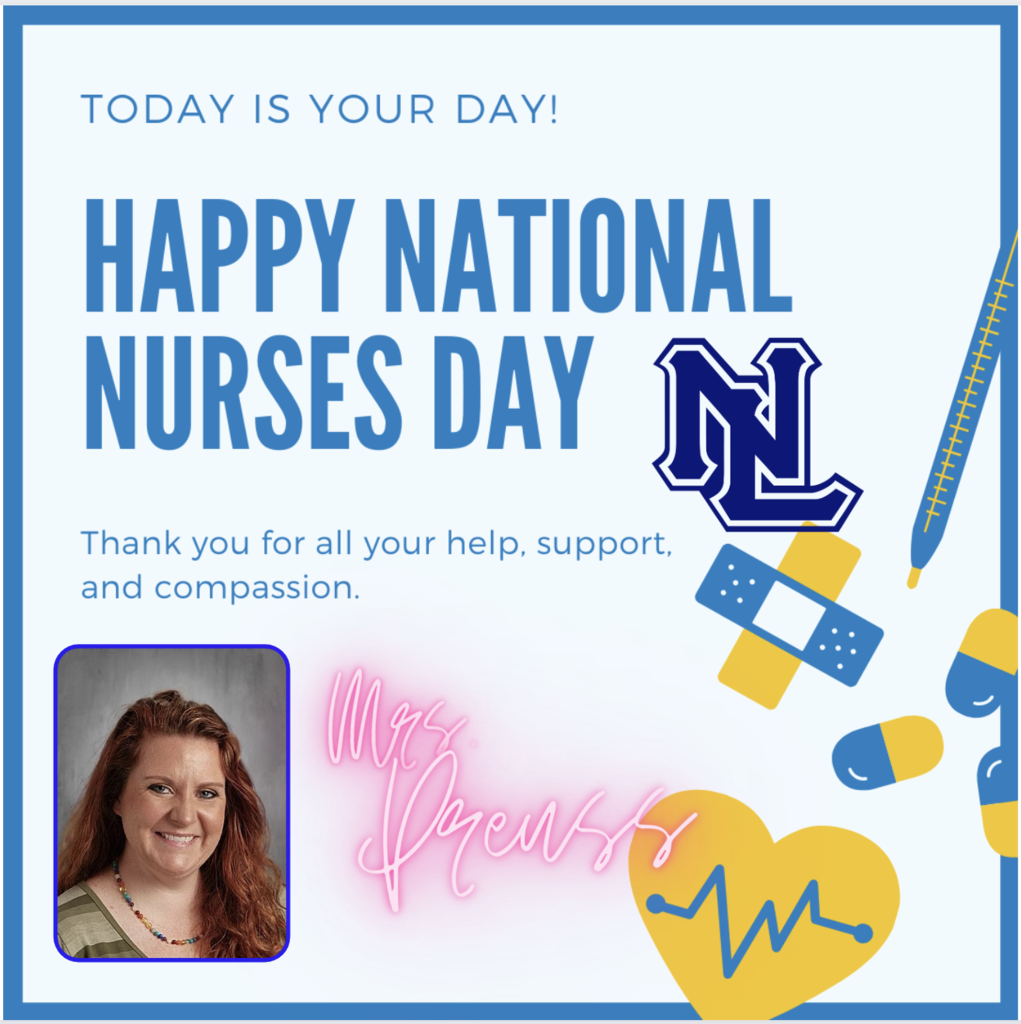 REMINDER: NLHS students will be involved in the Spring Fling Bonfire tonight from 7-9. There will be yard game tournaments and music. The NL Fire Department will be on site.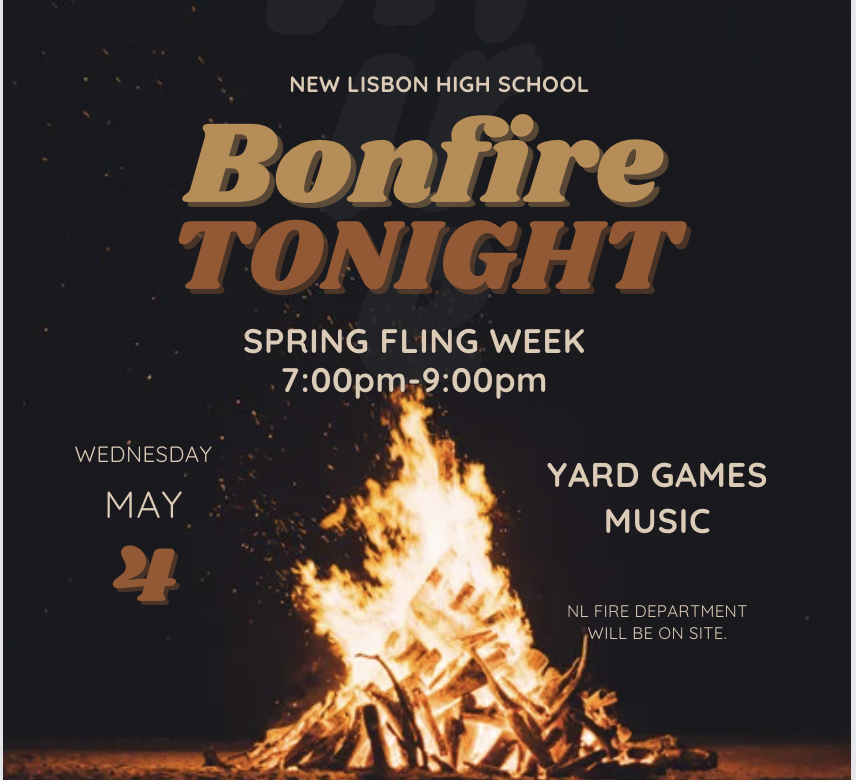 NLHS Students of the Month have been announced. Congratulations to all!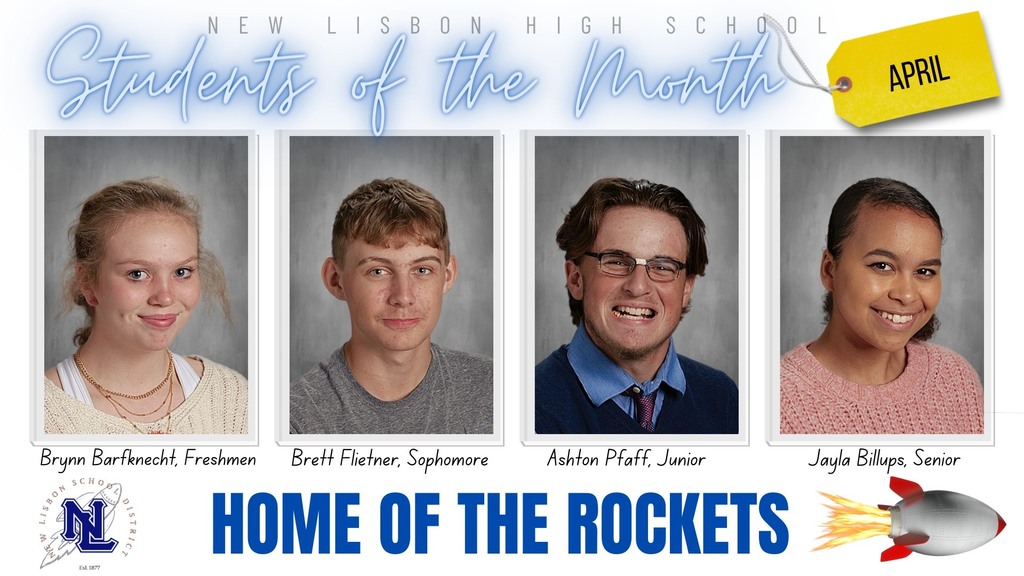 Elementary Rockets of the Month have been announced! Congratulations to all!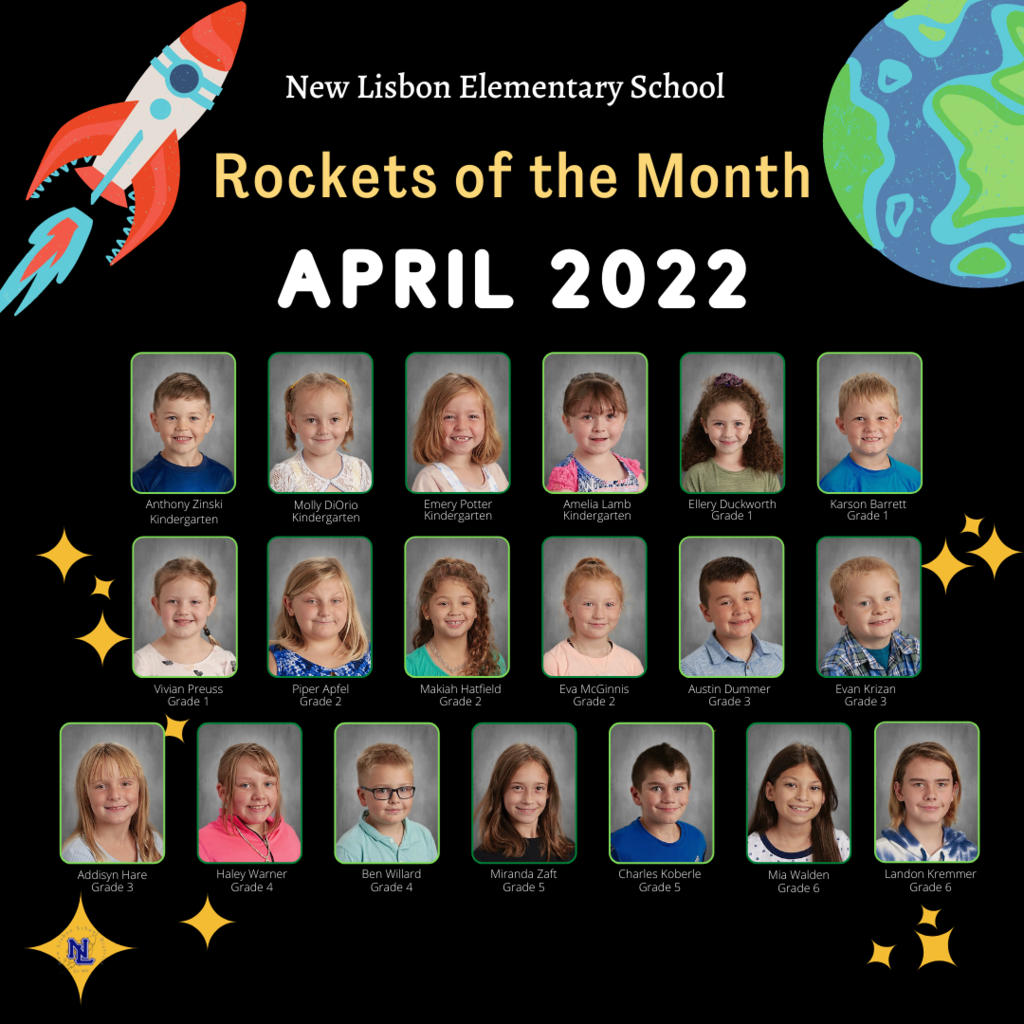 Elementary Students of the Month have been announced! Congratulations to all!

Congratulations to the Athletes of the Month! Track & Field - Claire Haske, Ean Quarne Softball - Liberty Rogers Baseball - Brett Flietner


Mark your calendars for this Friday, May 6! The New Lisbon High School and Junior High Music Department will be performing their spring concert, "Broadway". Show time is 7:00 p.m.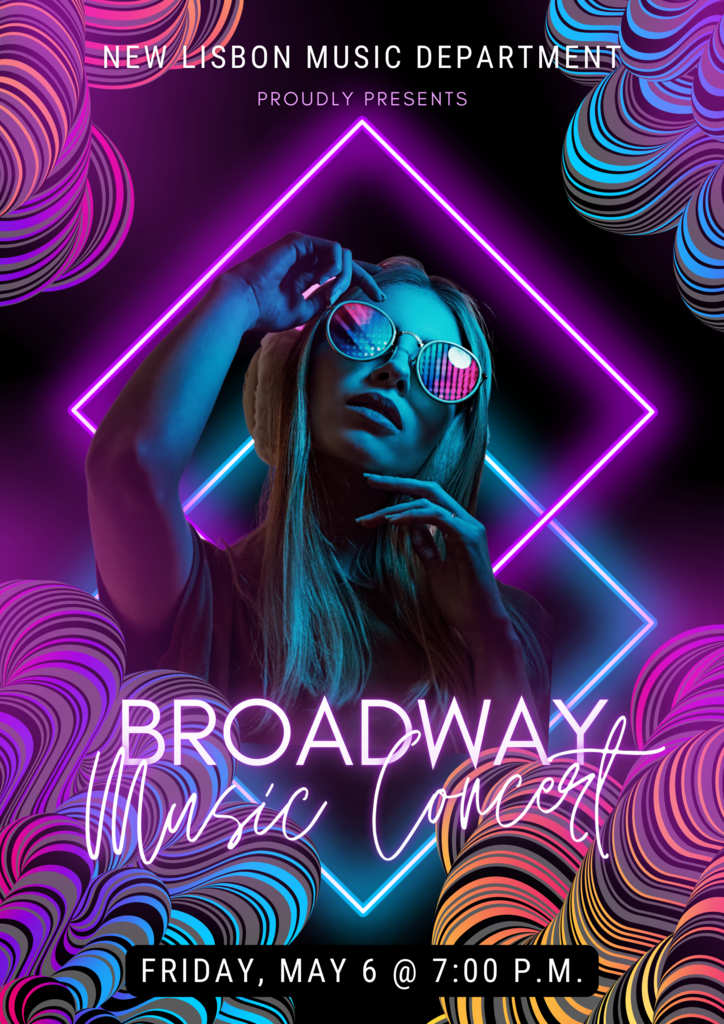 GOLLMAR, LOBENSTEIN, REYNOLDS, AND NLHS LARGE ENSEMBLE BRING HOME FIRST PLACE AT STATE MUSIC FESTIVAL 🥇 "Congratulations to all of the students that participated in the State Solo and Ensemble event at Viterbo this last Saturday. You all did an excellent job representing your school and music program. Here are the results of the day. Allison Gollmar - 1 Rating - Classical Solo Allison Gollmar - 1 Rating - Musical Theater Solo Brie Lobenstein - 1 Rating - Musical Theater Solo Tasha Reynolds - 1 Rating - Musical Theater Solo Tasha Reynolds - 1 Rating - Classical Solo Allison Gollmar and Brie Lobenstein - 2 Rating - SA Duet Allison Gollmar, Sabrina Wolf, Brie Lobenstein and Matthew Bennett - 2 Rating - SATB Quartet Large Ensemble - 1 Rating The large ensemble consisted of: Geta Anderson, Brynn Barfknecht, Matthew Bennett, Klarissa Earhart, Kayl Emery, Brooklynn Haun, Janiah Pfaff, Tasha Reynolds, Maddie Rogers, Natasha Scharnow, Abby Steele, Alayna Willard, Sabrina Wolf and Sam Zebell

Liberty Rogers has been selected for the Wisconsin Fastpitch Softball Coaches Association's Senior All-Star Game this summer! Liberty will be on the D4/D5 All-Star Team and will be playing at Woodside Sports Complex in Wisconsin Dells June 14th. Libby absolutely deserves this and has earned the honor to finish her high school career among the best in the state. To partake in this event she will be asked to fundraise for the Special Olympics and we will share more information on how to contribute later.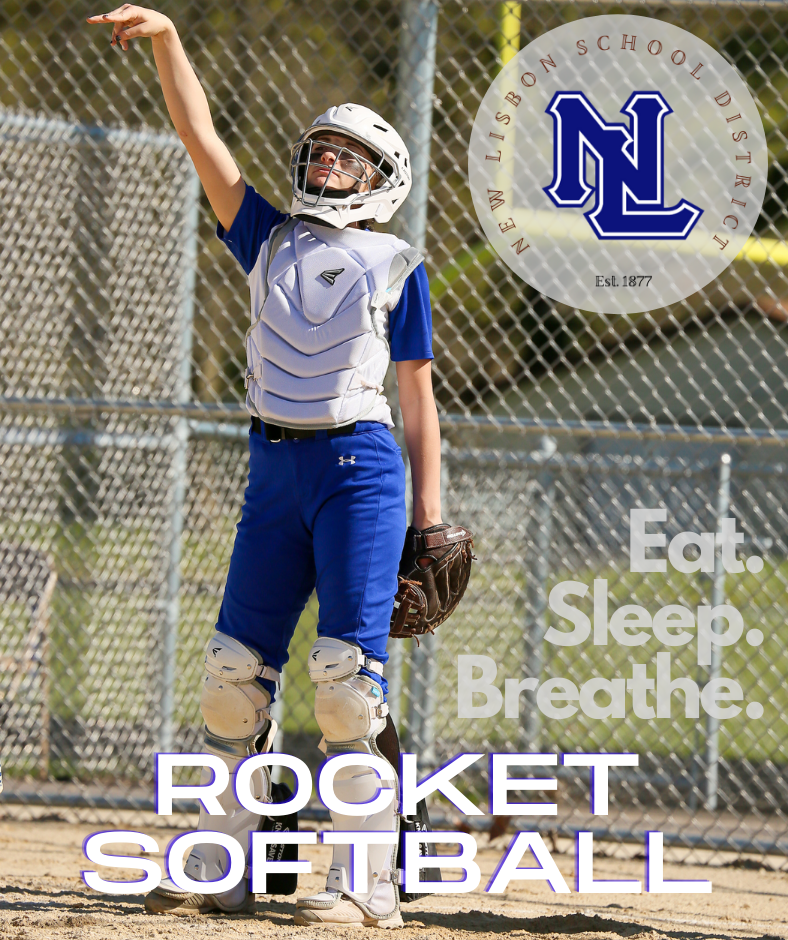 ALL sport photo packages for NLHS Baseball and NLJH Track have been delivered. Please check with your athlete. Thank you.

The Summer Rec Booklet has been updated:
https://5il.co/19ia6
Questions? Please contact Mrs. Kaitlin Walker.