#tbthursday "One kind word can warm 3 winter months." 🚀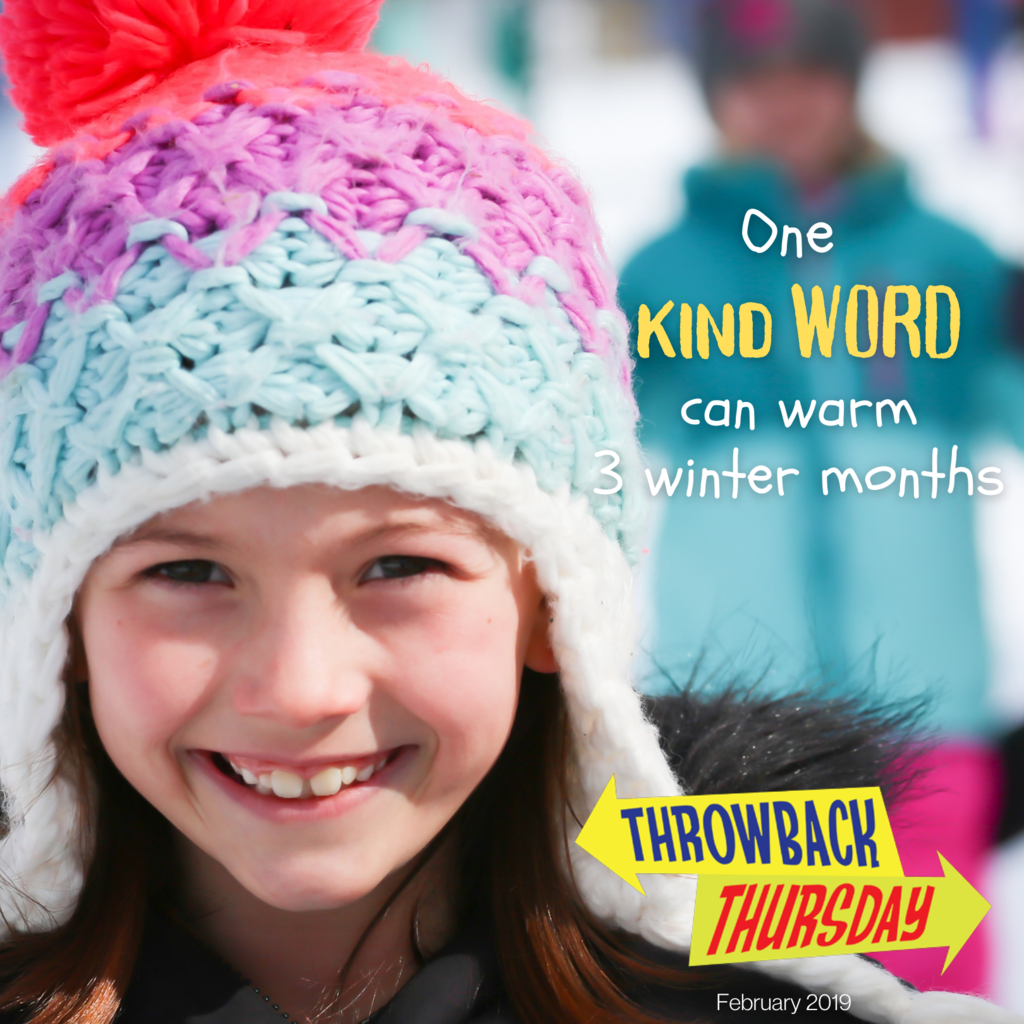 More delicious choices on Saturday! Support the NL Athletic Booster Club!

ATTENTION JUNIOR HIGH GIRLS BASKETBALL PLAYERS AND PARENTS - Photo packages have been prepared and will be delivered tomorrow morning to your athlete. Thank you! 🚀

April 5 referendum informational meetings will be held in our community during the next several months. Please attend a meeting of your choice to be informed about the upcoming referendum.
https://5il.co/14srr

REMINDER: NO SCHOOL TODAY

There will be NO SCHOOL TOMORROW - Wednesday, January 26 - due to the extreme cold temperatures expected for our area.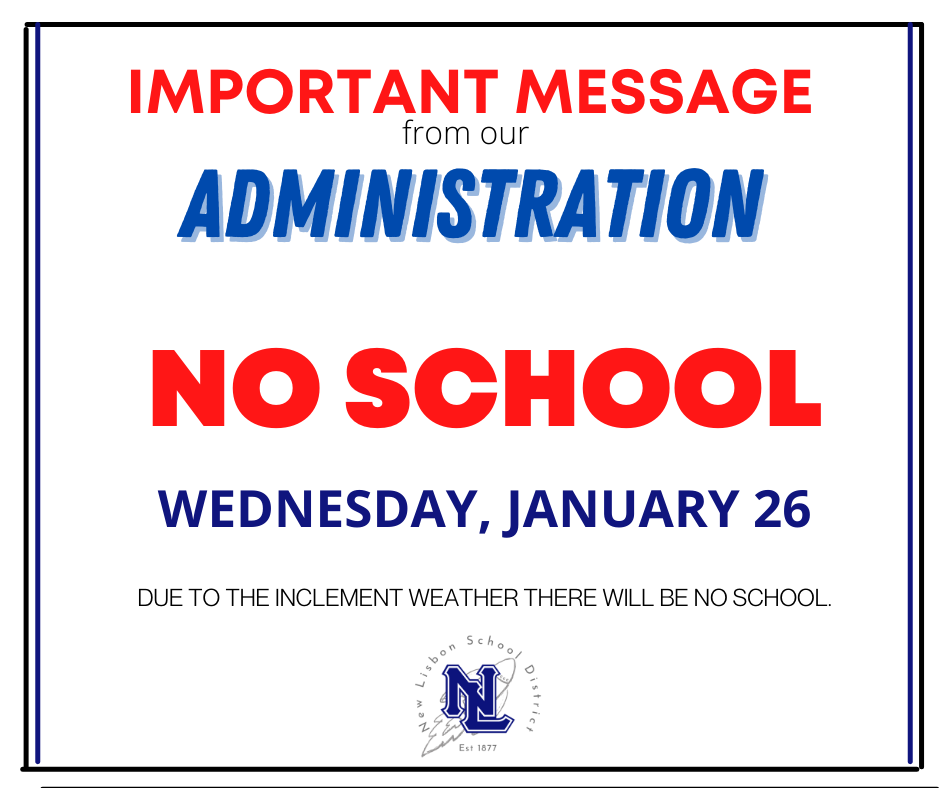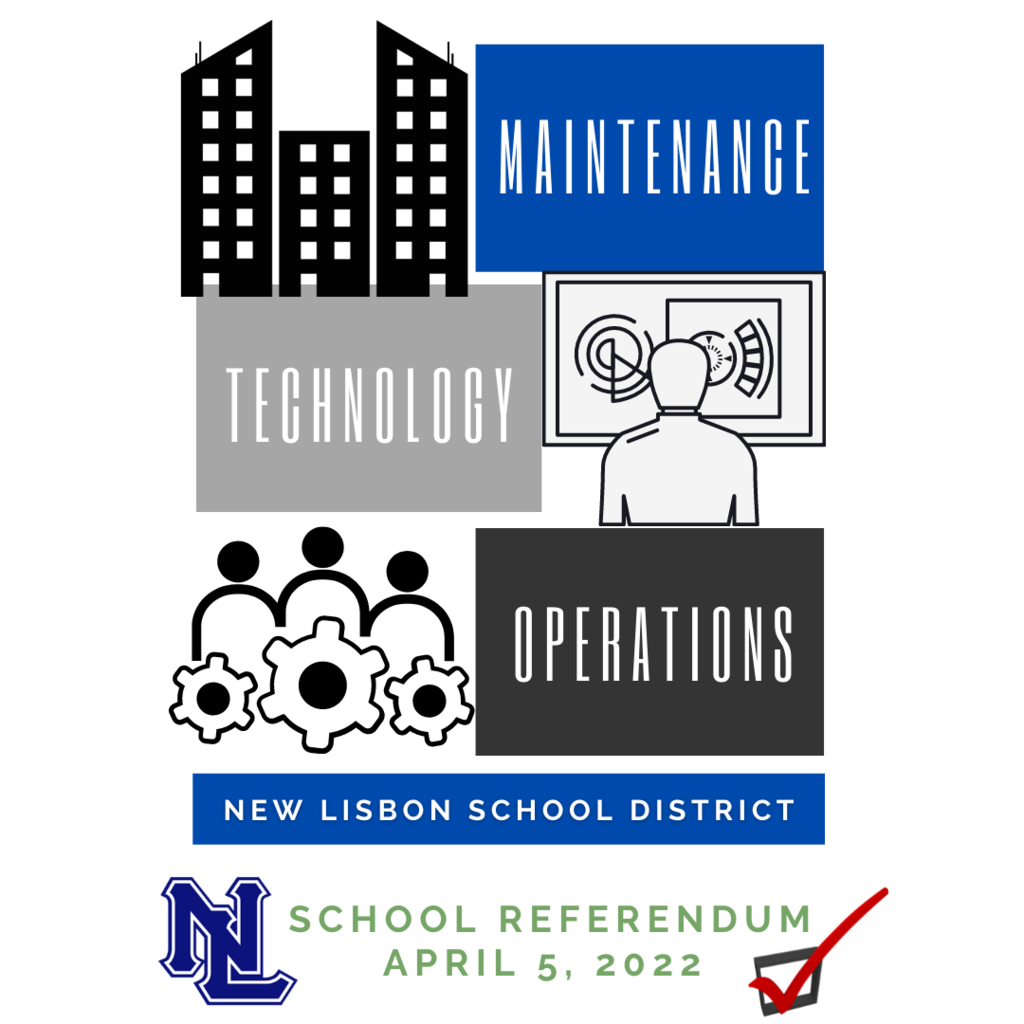 It's never too early to check out all the scholarships available for the Class of 2022! Our community has always been very generous helping our youth. Tap into this incredible opportunity and apply for one of many scholarships available. 🚀
https://www.newlisbon.k12.wi.us/page/nlhs-scholarships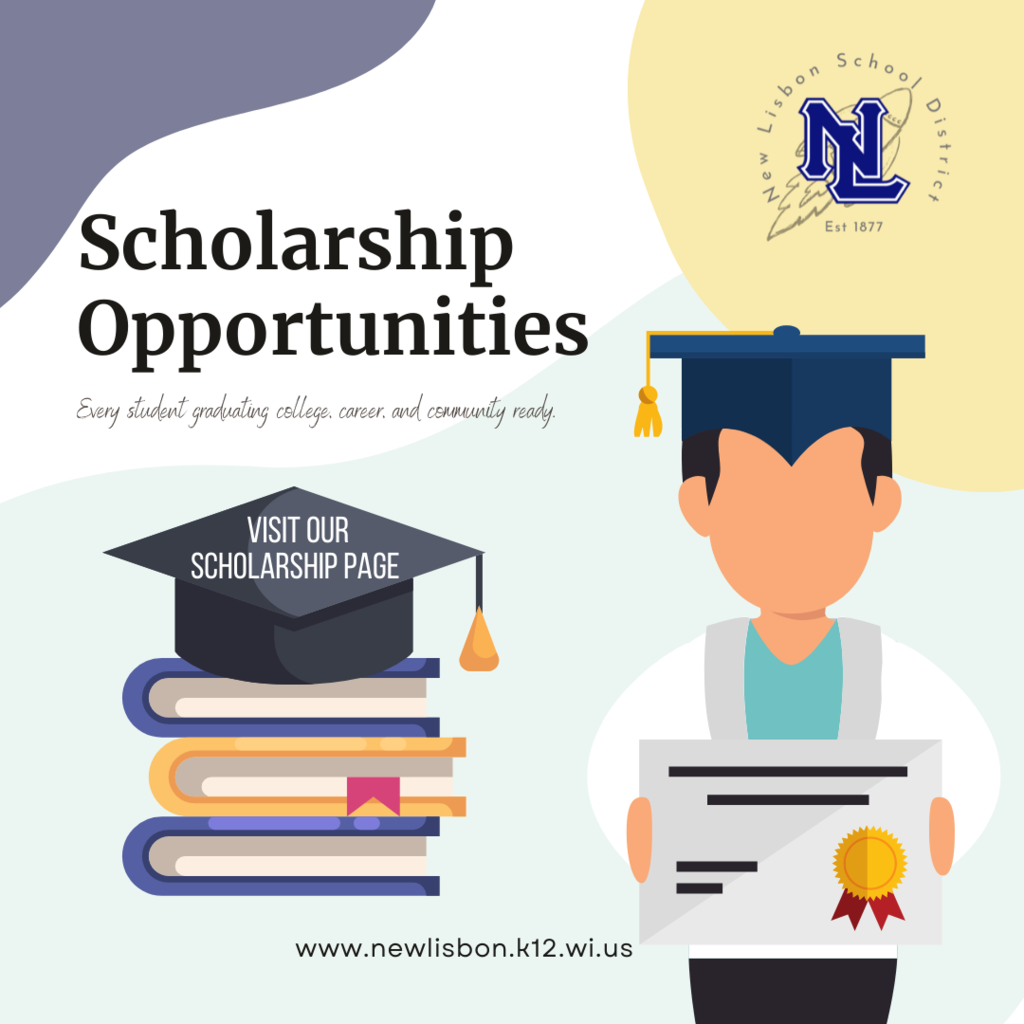 Seven Junior High students attended the Clearwater Middle Level Honors Choir yesterday at UW-Eau Claire where they rehearsed 5 pieces with students from 19 other schools! They finished with a fabulous concert to showcase their hard work. LtoR: Ben Thompson, Libby Clift, Maddy Weinshrott, Lucy Bell, Marlys Morey, Brooklyn Lowe, Greenlee Heimer Mrs. Walker, Vocal Music Teacher 🚀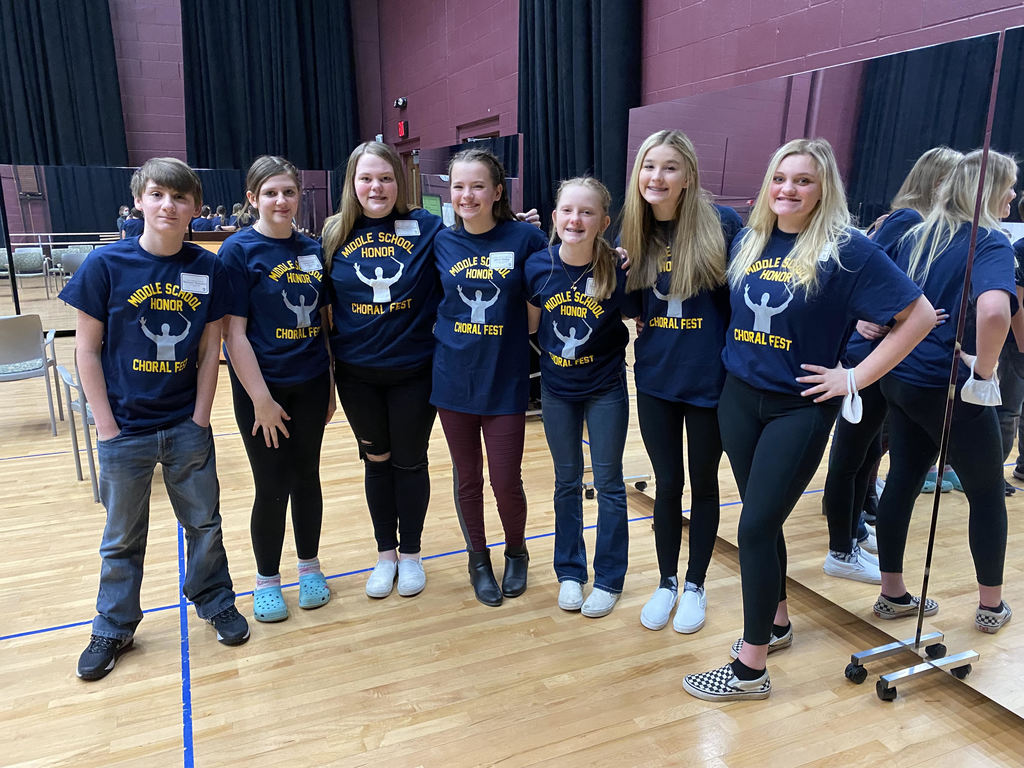 👉JH Wrestling Sport Photos have now been rescheduled to Tuesday, January 25. Please remember your singlet, order form, and payment. 🚀 Order form:
https://5il.co/wiqg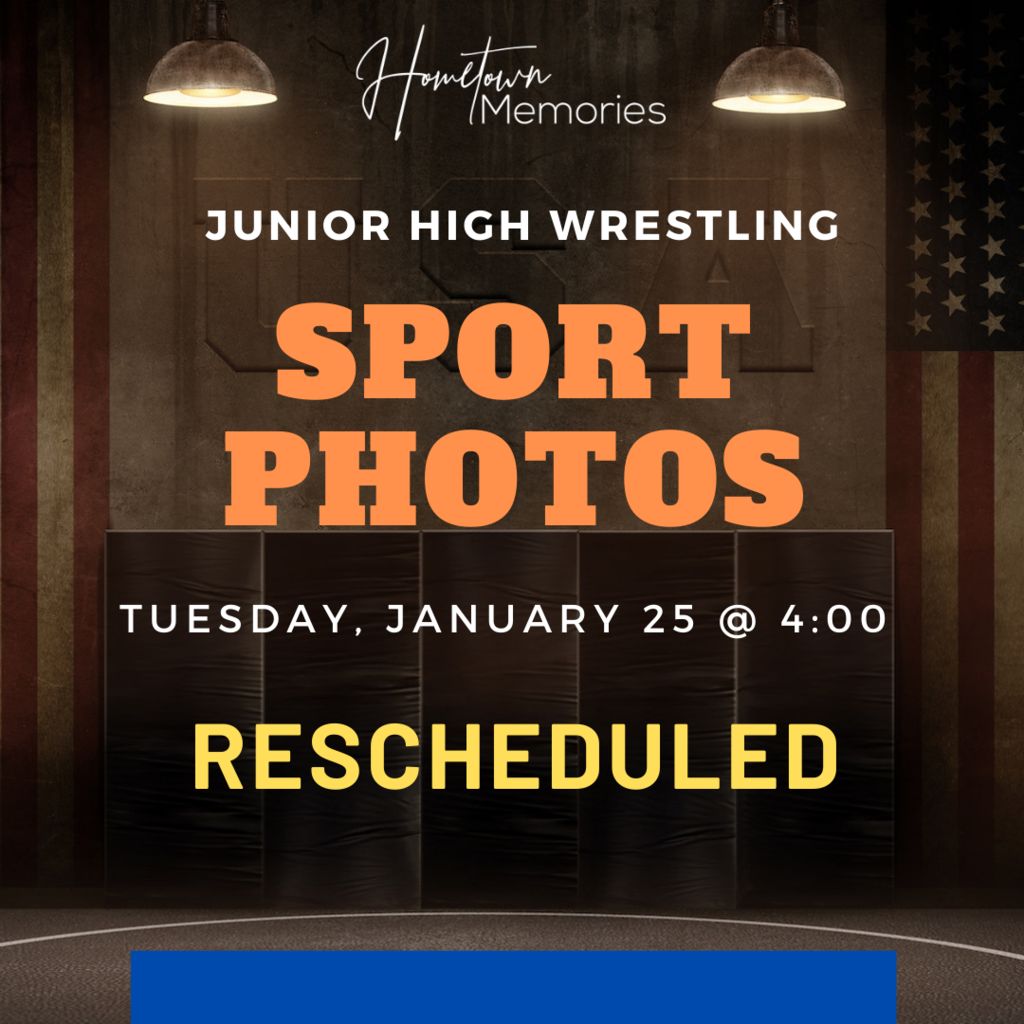 🤩 New Lisbon 6th Grade Safety Patrol Members 🤩 are NOW TAKING ORDERS FOR VALENTINE'S DAY GIFTS! Only 3 weeks away! The New Lisbon 6th Grade Safety Patrol Members are offering cute 😍 Valentine's Day gifts 😍 which will be delivered the afternoon of ❤️ February 14th. Students can send fun messages and treats to their friends or staff. Parents can surprise their child with a sweet treat delivered during the school day or show some appreciation to a favorite staff member. GIFT PACKAGES: ❤️(1) Crush Soda with the Valentine "I have a CRUSH on you" ❤️(2) Goldfish Crackers with the Valentine "O-Fish-ally Yours" ❤️(3)A snack bag of chips with the Valentine "You're All that and a Bag of Chips" ❤️(4)"Hugs and Kisses" a bag of Hershey's Hugs and Kisses ❤️(5)"You're so Sweet" Mrs. York's Frosted Sugar Cookie ❤️(6) "You're so Sweet" Mrs. York's Chocolate Chip Cookie. 👉Order forms and payment are due Wednesday, February 9th!

Today we continue our referendum information highlighting our roofing needs. If you have any questions regarding the April 5th referendum, please contact Dr. Englebretson at 562-3700.
https://www.youtube.com/watch?v=2SNu1E_93yc

#tbt Oh my....look what we uncovered in the archives! Seniors Mitchell, Jeremiah, and Franklin back in the day on their recognition night. 🚀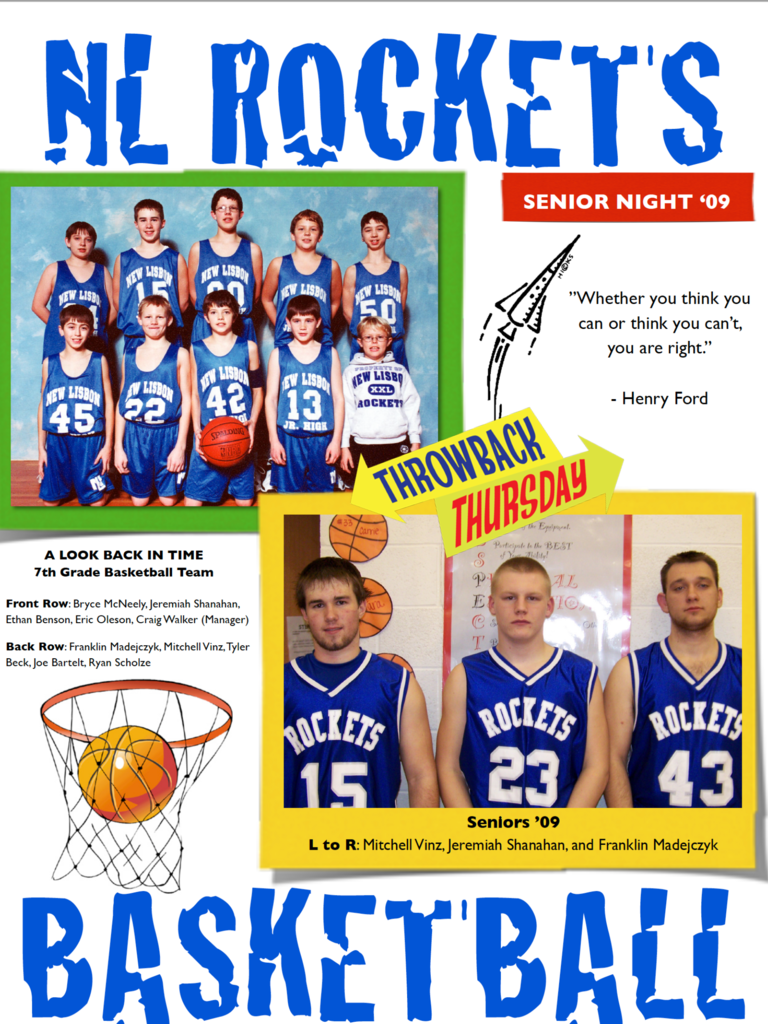 GREAT NEWS! Coach Ragan has scheduled Youth Girls Basketball Sport Photos with Hometown Memories. Remember your uniform, order form, and payment at the time of photo shoot. Friday, January 28 (Grades 5-6) 5:45 pm Sunday, January 30 (Grades 1-4) 11:00 am Order Form:
https://5il.co/wiqg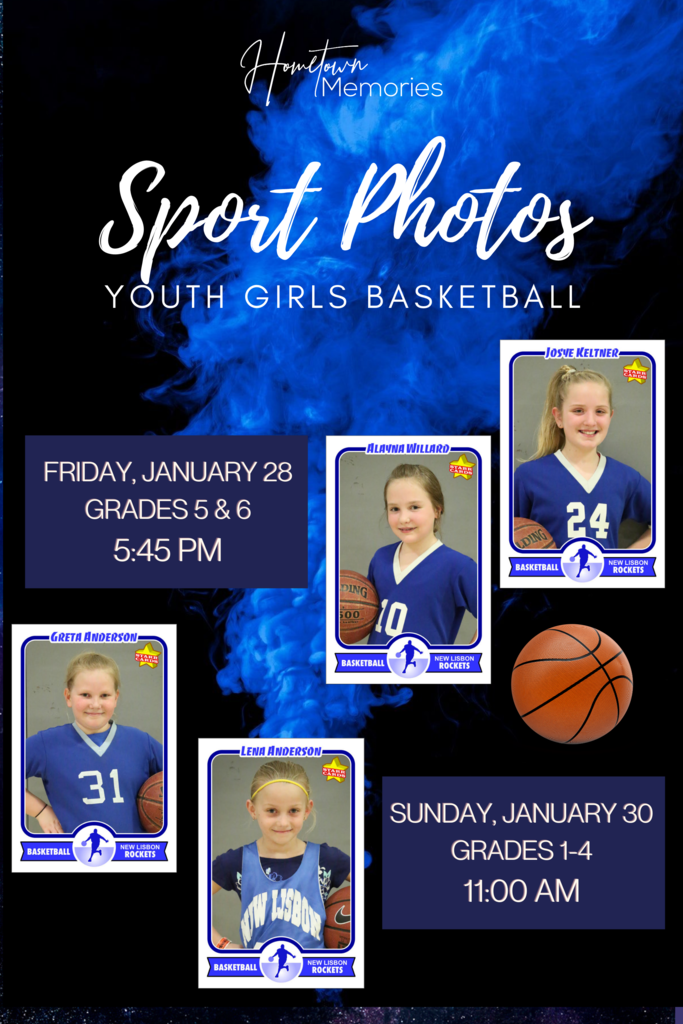 "Hey mom, what's for lunch today?" Do you ever get that question? We can answer that in several ways! Breakfast and lunch menus are posted to our website and app. You can also download a hard copy for posting on your refrigerator for curious minds. Our lunch ladies are the best in the business and create delicious meals for your child every day! Thank you to this outstanding crew! 🚀 🥦 Food Service:
https://www.newlisbon.k12.wi.us/page/food-services
February Menus Quick Links 🍊Classroom
https://5il.co/14get
🥙Grab-n-Go
https://5il.co/14geu
🥪Lunch
https://5il.co/14gev🍊
** Screenshot from our app of February 1 menus. It's awesome. Check it out.

Soon - very soon - New Lisbon HS is sponsoring in conjunction with Children and Youth with Special Health Care Needs at UW-Madison / Waisman Center Transition Talks Tuesdays. This will be a webinar series of eight sessions that will focus on all aspects of Transition. This is going to be very worthwhile - besides the fact I will be on these webinars - that will focus on these topics: Feb. 1 - What's After High School? Feb. 15 - Disability Work Benefits: Navigating Work and Support Mar. 1 - Ready to Work: Finding and Keeping Integrated Employment (DVR) Mar. 8 - Post-Secondary Transition Plan (PTP) Apr. 5 - Getting Help as an Adult: Aging and Disability Resource Center (ADRC) Apr. 19 - Health Care Changes Too! Bridging the Gap May 3 - Higher Education Options: What Do I Need to Know? May 10 - Support Decision-Making and Guardianship All times will run 6:00 - 7:00 pm which will include about 45 minutes of discussion and 10 minutes of questions. You will need to individually register for each session, and you do not have to attend all 8 sessions. Click on the clink below, and scroll through the sessions. There is a registration link for each session. I will be offering extra credit points to any of my HS students who attend a session AND complete a short questionnaire. Parents of students who are in elementary and junior high school are also encouraged to attend. Planning for life after high school can never start too early. If you have questions, please contact Julie Mecikalski (Ms. M.), HS Instructional Support and Transition Specialist, at 608-562-3700, ext. 1371 Link:
https://cyshcn.waisman.wisc.edu/transition-talks-tuesdays-juneau-adams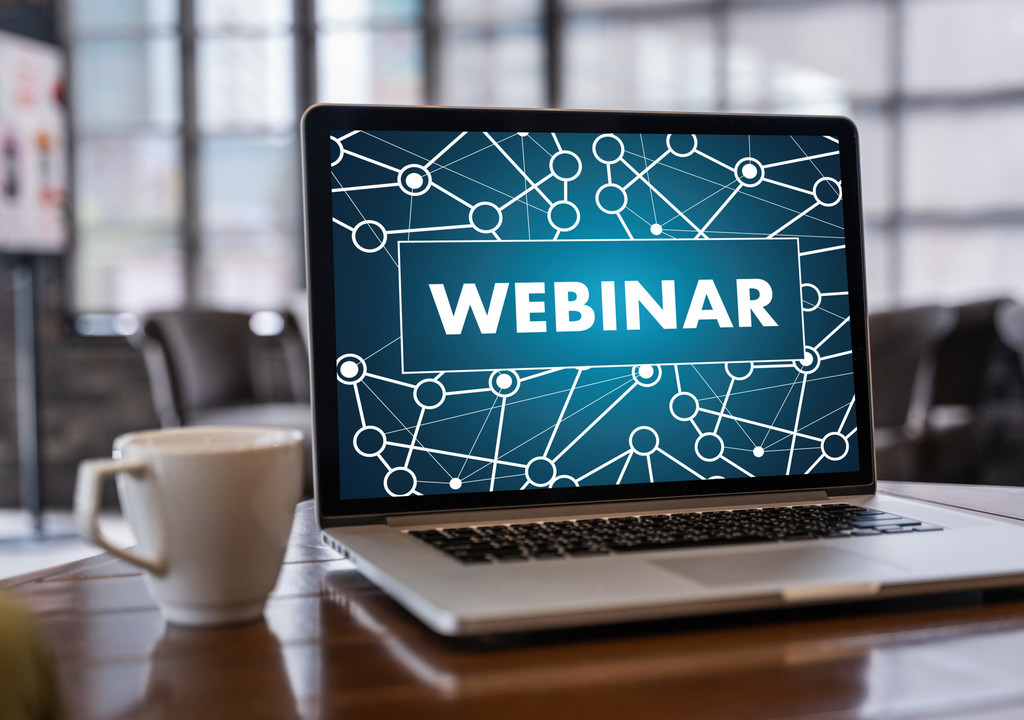 Congratulations to the New Lisbon Junior High Students of the Quarter! These great young leaders have met the requirements: 👉Responsible, 👉Hard Working, 👉Dependable, 👉Positive Attitude, and 👉Helpful Junior High Staff 🚀

👉BACK BY POPULAR DEMAND! The New Lisbon Booster 🚀 Club is bringing back their "Souper Saturdays"! Two dates are confirmed: January 29 & February 5. Sales will start at 10:30 a.m. at the Lions Booth by the dam. Come early as they sell out quickly. ONLY $4/bowl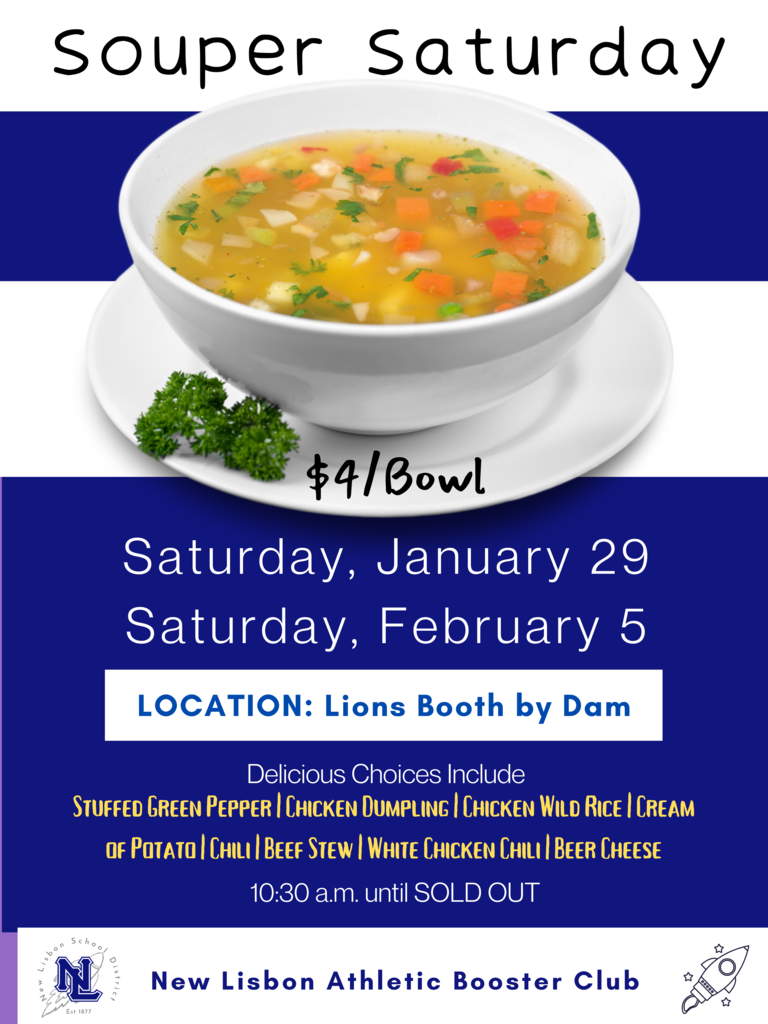 We are so-o-o excited that New Lisbon High School is starting a 🐟 FISHING CLUB 🐟 which will be open to all high school students. No experience or fishing gear is required (although it is OK if you do have it and want to bring it). The club will work with KAMO who has graciously offered mentorship, training, equipment use, and other support to this organization. There will be no specific rules - other than following the fishing rules and regulations and showing respect to authority, peers, and to yourself. Attendance to meetings and all fishing events will not be required; however, those who chose to participate in the competitions will have to follow all procedures and attend meetings. Fishing is an awesome life-long sport, and it offers fun, socialization, building friendships, increasing self-esteem stress-relief, etc. There are no minimum grade requirements to participate in the group, but we do hope that you see the value in a good education when it comes to other skills involved with the sport. We just want to offer something that students can have fun. There will be an informational meeting during ELT on Thursday, January 20, in the HS Commons. Please bring a pen or pencil to complete a short survey. Students aged 16 and older will need a fishing license. You can apply for one at
https://dnr.wisconsin.gov/.../outreach/FishingLicenses
(the link may not work so you can Google wi fishing licenses) Our first event will be the Kids Fishery on Feb. 5 outside of Mauston. If you are interested in participating, please let Ms. Mecikalski (Ms. M.) know AND register by calling Northside Mobil - Mauston - at 608-847-6189. No fee for participating and no license is required since this event is at a fish farm. There will be mentors from KAMO on hand to assist and the first 100 kids (ages 16 and under) registered will receive a fishing pole and tackle box - great for those who do not own those items!! Looking forward to connecting with many awesome students, staff, and new friends!! Watch out for some amazing future photos on this Facebook page because we have some amazing students here!! On a separate note . . . we are also hoping to get the junior high students involved in the fishing club in the future - watch out for more info about that!! Keep a tight line, Ms. M.🐟