Congratulations to the NLHS November Students of the Month! Freshman Claire Haske is dedicated to anything she is involved in from academics to sports to the musical. She is upbeat and friendly. She was an awesome crocodile in the musical! She is kind, patient, and ready with a smile. Sophomore Malakai Dunham is a very polite and kind-hearted individual. He works hard at school and in the sports he participates. Malakai is dedicated to all activities and never gives up. He is always willing to help others and provides words of encouragement. He is a great student because of the choices he makes. He chooses to be creative and think outside the box, he chooses to have a positive attitude when completing his schoolwork, and he chooses to always be kind to his classmates. Junior Matthew Bennett is an awesome guy who has a lot of spirit and personality. He is friendly, kind-hearted, and hard-working and it can be seen at school and at his job at McDonald's. He is dedicated to activities he participates in such as the school musical. This student is taking a very difficult course load this semester while staying involved in activities outside of school. He is very intelligent and has a drive to be successful. Students in class often turn to him for extra guidance when they are struggling and he never hesitates to help. Senior Haili Roberts is such a hard worker and is taking very difficult classes this semester and is doing wonderful! She is kind and sweet and is definitely going places after high school. Such a treat to have in class. Mr. Stamper, NLHS Principal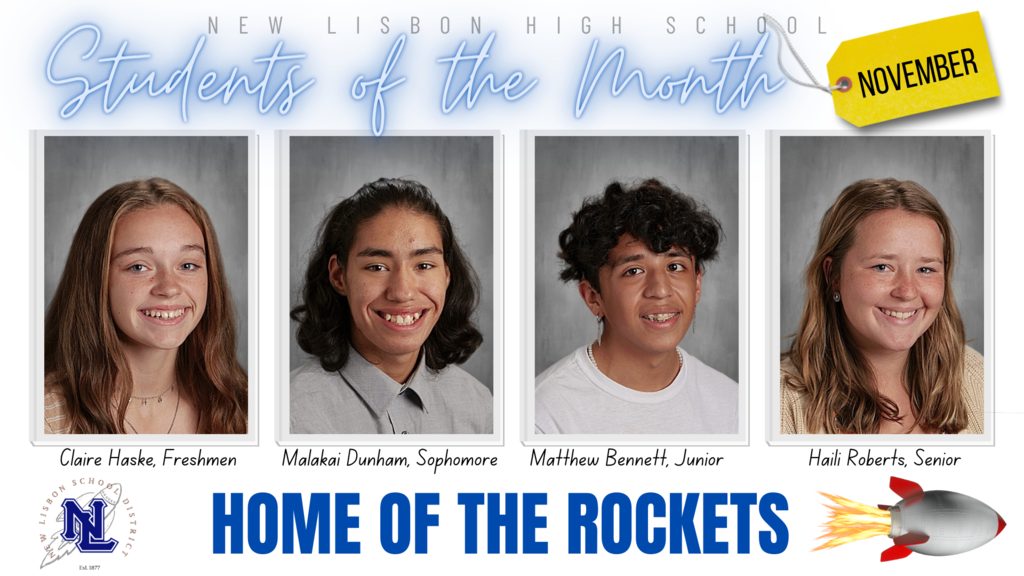 Great job for our first matches of the season! We saw a lot for good things out of everyone today. Alex was tournament champion at 106, Reid was tournament champion at 113, Marcus placed 4th at 126, and Dylan went 3-0 in the JV tournament. Thanks to all our fans for your support today. Our next match is Thursday at Weston. We will have 2 dual meets vs. Pecatonica/ Argyle and Ithaca/ Weston. Wrestling starts at 5:30 and we wrestle the 2nd and 3rd Dual meets of the night. #rocketpride

It's that time of year again! Order your tree ornaments from our Tech Ed Department! $6 each/2 for $10 1. Pick up order form from Tech Ed Classroom, HS Office, or download here:
https://5il.co/12mhj
2. Choose an ornament:
https://5il.co/12mhk
, customize, fill out order form 3. Pay for order. Make checks out to New Lisbon Schools or pay cash. 4. Order can be placed until 12/17/21 and will be delivered 12/22/21. Questions? Contact Mr. Morey @ 562-3700 ext. 1328 or
b.morey@nlsd.k12.wi.us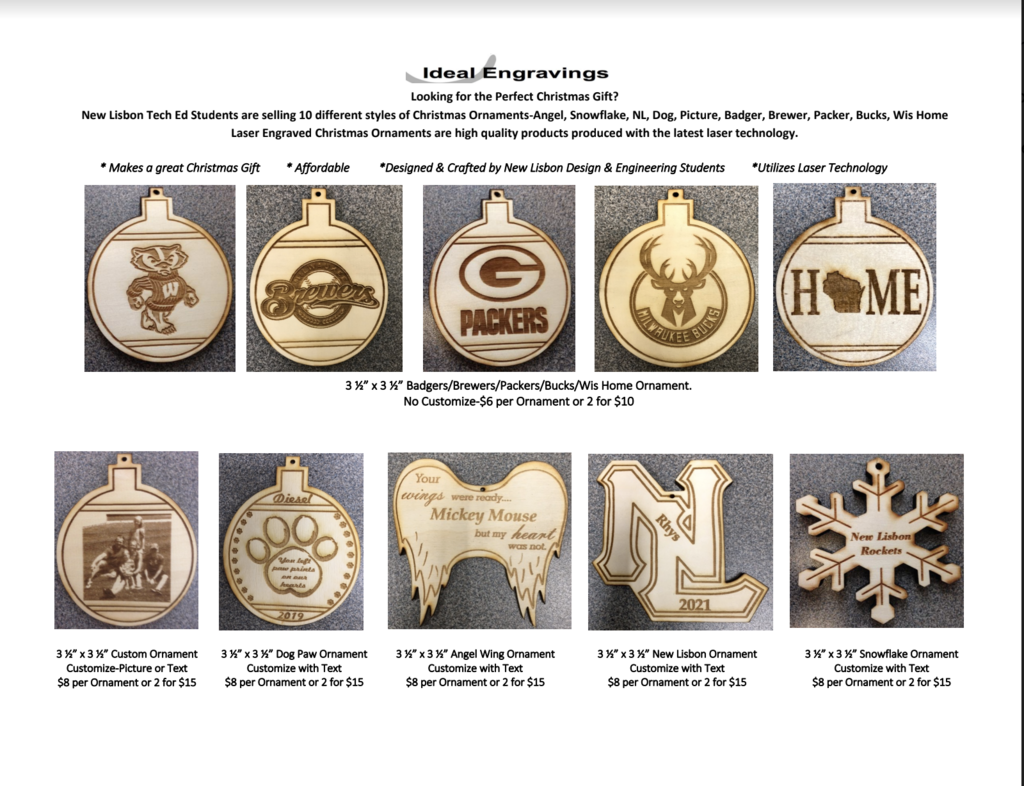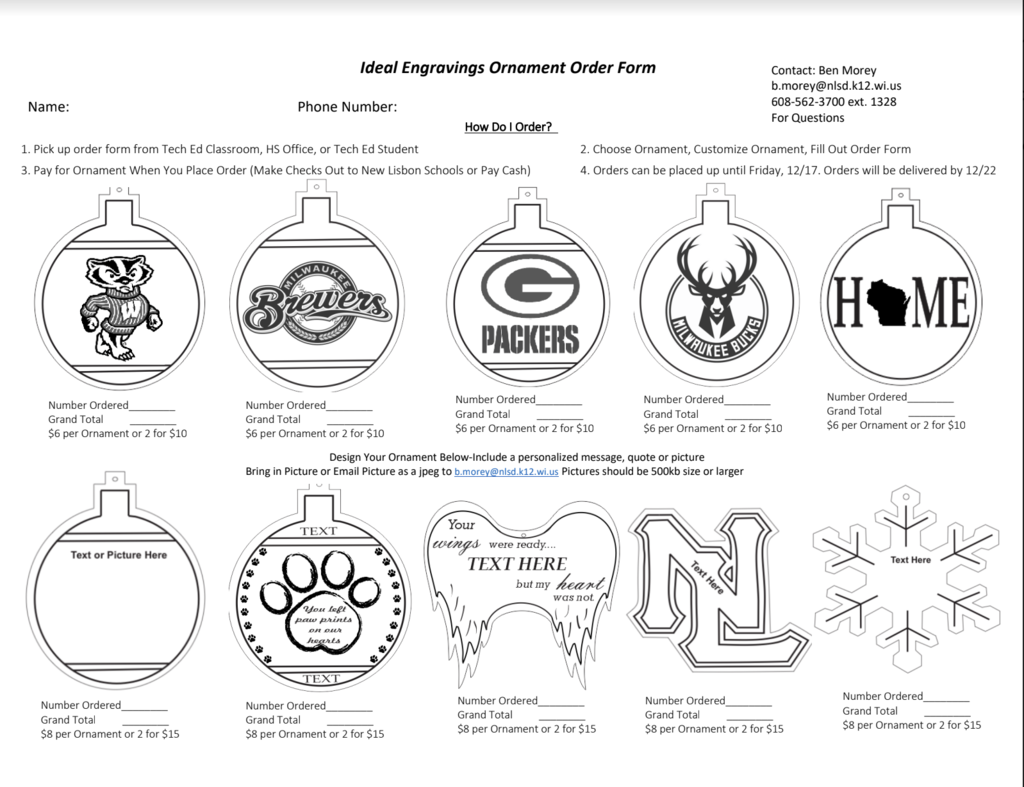 BECOME A LICENSED REFEREE Just a Game Fieldhouse in the Dells is organizing a 2-person entry level basketball officiating clinic (in Wisconsin Dells) over the holiday break. The JAG 2-Person Officiating Clinic is for beginner to intermediate basketball officials. This clinic is designed to teach newer officials the expectations of the program as well as the game management skills necessary to have a successful officiating experience. This session will also focus on the practical side of how to officiate the game of basketball (i.e. positioning, areas of responsibility, signals, working with your partner, etc.). DATE - Wednesday, December 29th 7:30 AM - Arrival/Check-In Registration 8:00 AM - Introductions and Rules Overview 9:00 AM - Mechanics of 2-Person Officiating 10:00 AM - Working in Games with Experienced Officials END TIME: The clinic end time is not really determined it's dependent on the number of games needed to gain proficiency and very dependent on progress. When leaving or finishing your games, you have the opportunity to become WIAA registered and entered to our list of basketball officials that we use for our tournaments. COST - $ 50.00 Includes lunch, whistle and lanyard and referee shirt. Please wear black shorts as well when you arrive. INCLUDES: Reffing Shirt, Whistle, Lanyard Sessions from 8-10 a.m. with officials clinic attendees officiating games with veteran officials. LINK:
https://justagamefieldhouse.com/event.php?EventForm&e=661&s=494992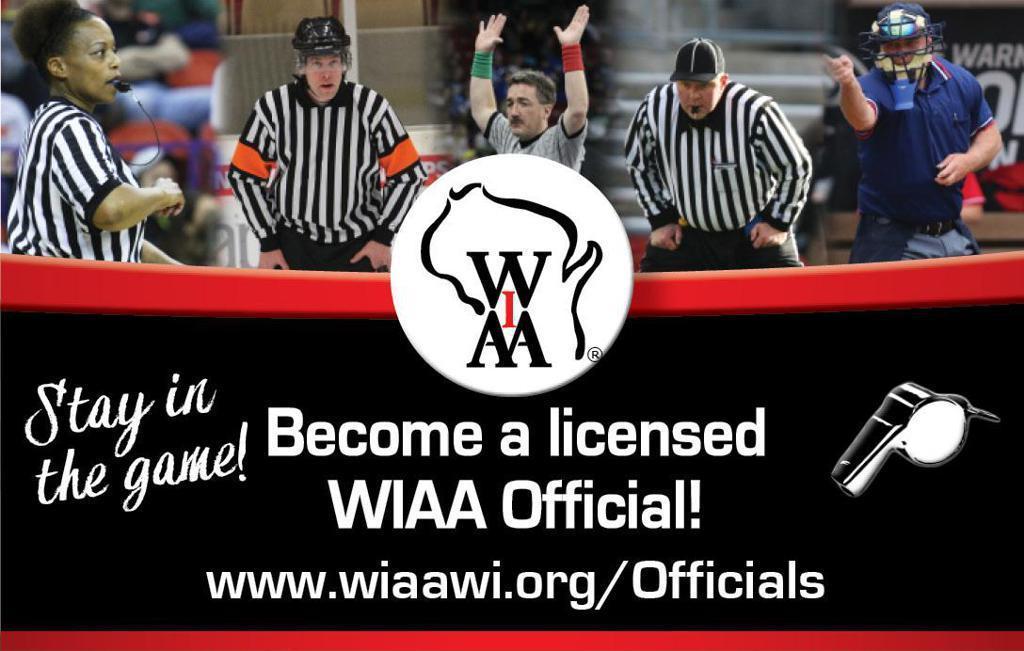 Are you interested in being a member of our school board? Declaration of Candidacy papers must be filed for the spring school board election by January 4. Please submit to Jenny Dvorak in the district office. Forms:
https://5il.co/12lfe
If you have any questions, call Jenny at 562-3700 ext 1502.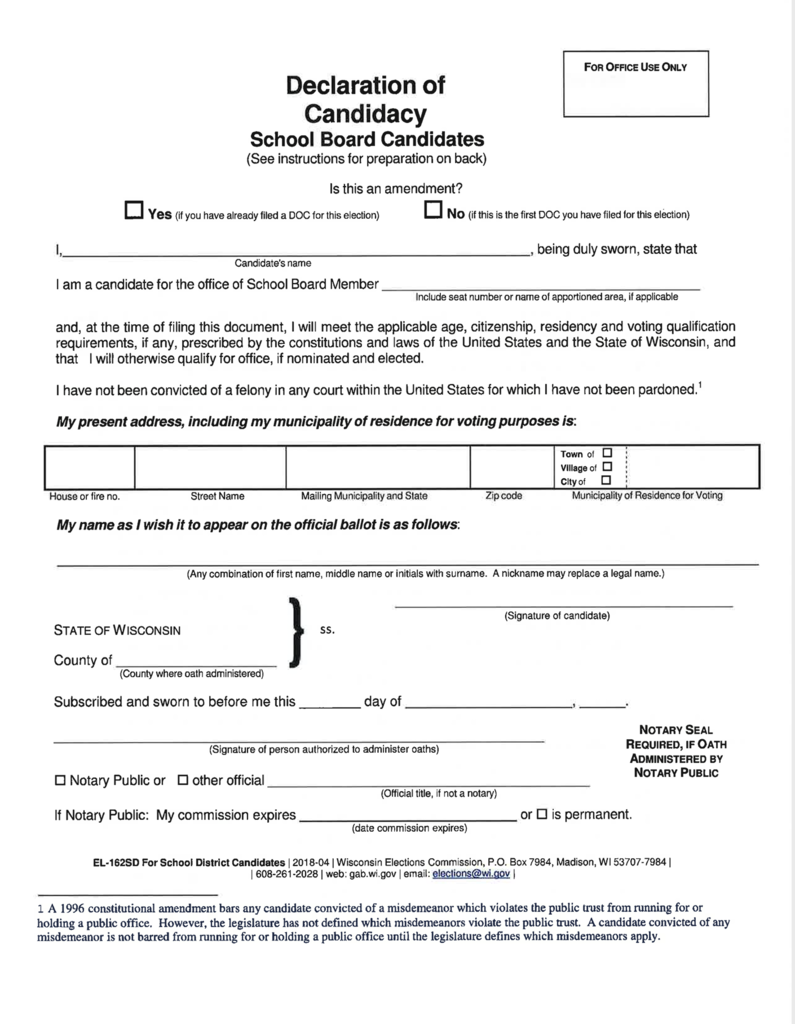 🎄December🎄 is here at last! Boost your child's reading skills with these monthly tips and tricks from Ms. Jellybean in our school media center. Tis the season to be reading...a lot. Feed those brains. #rocketsread Download:
https://5il.co/10md3

ATTENTION ROCKET NATION The New Lisbon Elementary Student Services Department will be collecting items for the Zaft family who lost their home and belongings in a house fire this week. 👉Money 👉Gift Cards New Holiday Gifts for children: Girl - Grade 2 Girl - Grade 5 Boy- Grade 4 An additional GoFundMe fundraiser can be found at
https://www.gofundme.com/.../help-the-zaft-family-rebuild
... DROP OFF LOCATION: Elementary Office/Student Services Offices QUESTIONS: Contact the Student Services Department at 608-562-3700. Ashley Baker ext 1121 or April Frelke ext 1129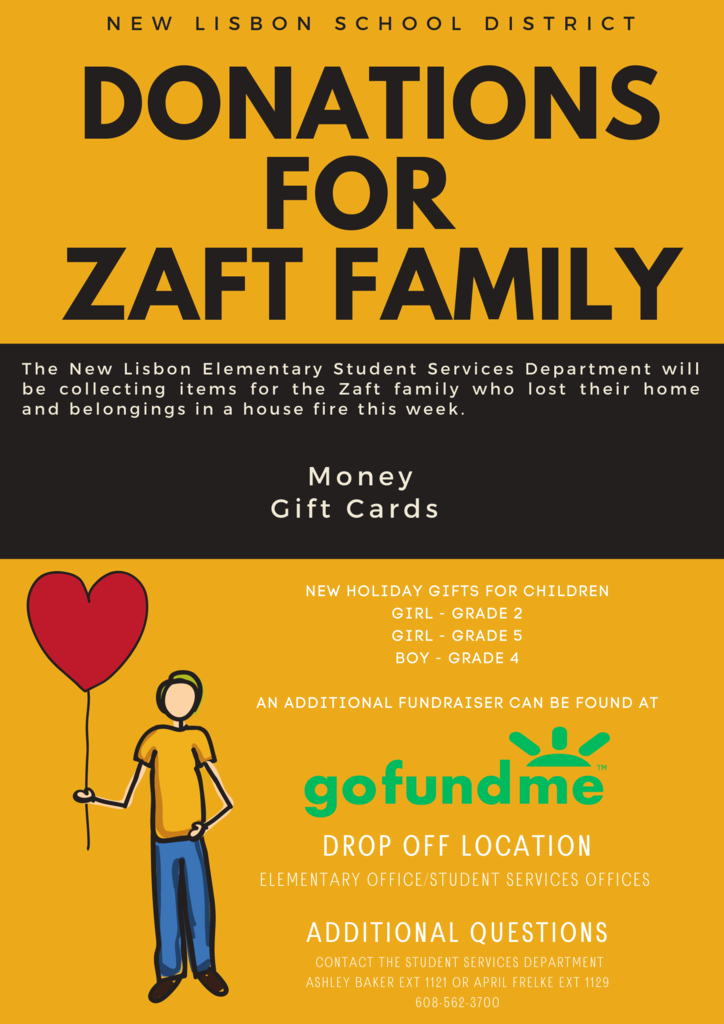 Do you know a distinguished alumni from New Lisbon High School? Submit their name to our Distinguished Alumni Award! We would love to recognize past alumni for their great accomplishments. 👉Eligibility and Timeline All graduates from New Lisbon High School are eligible for consideration of the award. Honorees are selected by committee comprised of administrators, teachers, and students, during a meeting in January. The Distinguished Alumni Award recipient will be notified and invited to speak at the graduation ceremony at the end of the year. 👉Nominations Alumni, faculty, staff, students, community members, and friends, may submit nominations for the award beginning in October until January 1st. Completed forms should be submitted electronically using the form link above. 👉Form:
https://docs.google.com/.../1FAIpQLSddtMXNEDCKjD.../viewform
👉Contact Please direct any questions about the award or candidate nominations to: Mr. Adam Englebretson, District Administrator (608) 562-3700
a.englebretson@nlsd.k12.wi.us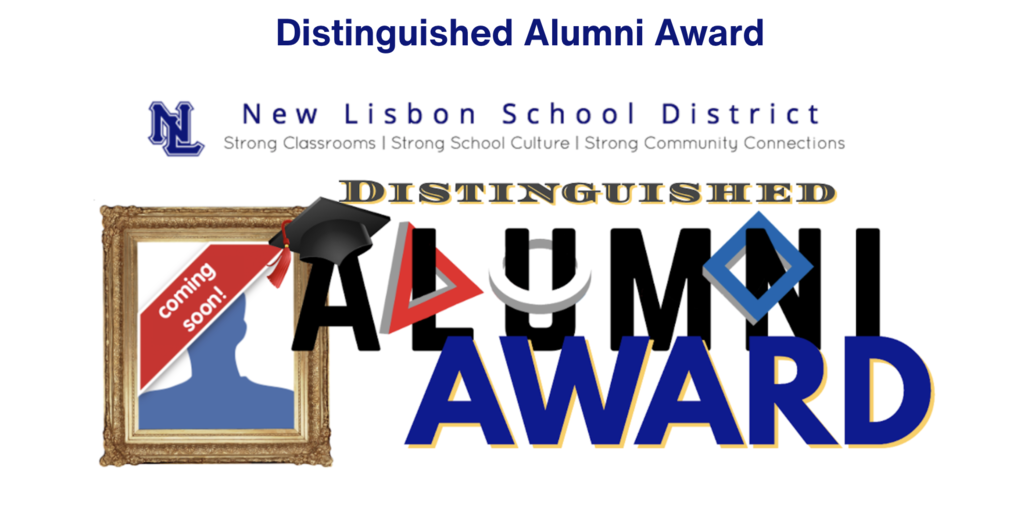 ATTENTION JUNIOR HIGH BOYS BASKETBALL: Due to low numbers all 7-8 grade boys will be playing tonight in the 8th grade game. There will be NO 7th grade game. The game will take place at the Bangor elementary school. Brad Bever, Athletic Director


#MondayMotivation It's a great day to tell your child all the wonderful things you see in them. "You are an amazing reader." "You are so kind to your sister." "I am so proud of how hard you work." Fill their cup today. 🚀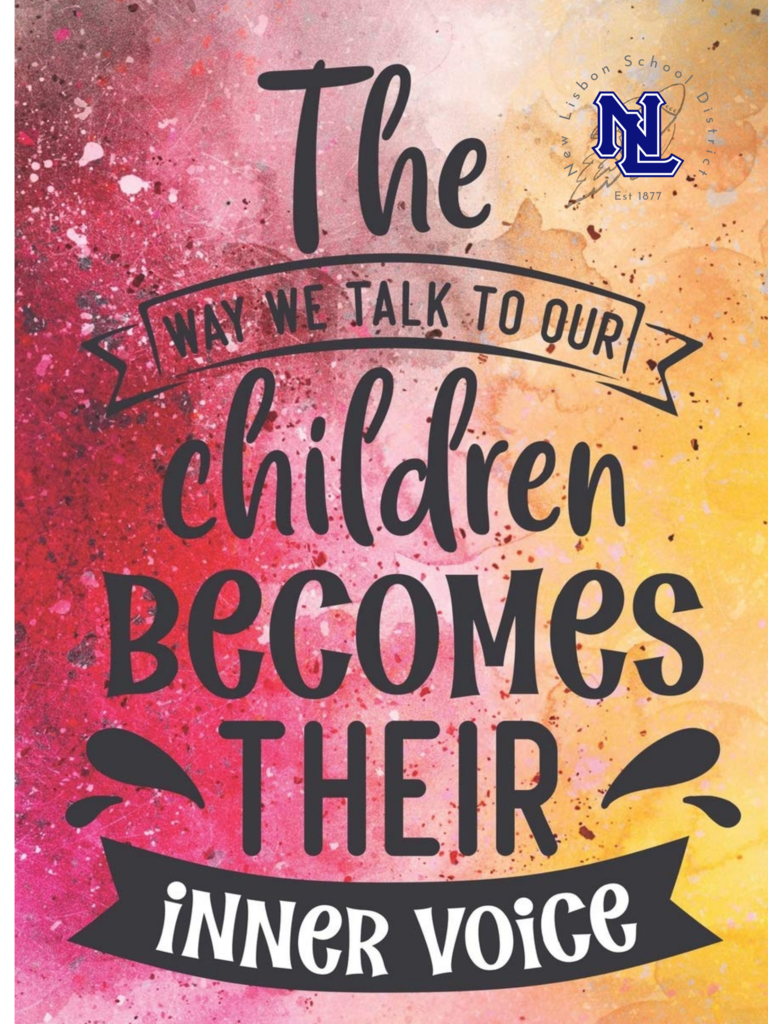 NLHS Boys Basketball will have their individual/team photos taken on Thursday, December 2 @ 3:30. All orders due the night of photo shoot with payment. Orders are processed within 24 hours for a quick turn around. Perfect gift idea for your friends and family. Photo Form:
https://5il.co/wiqg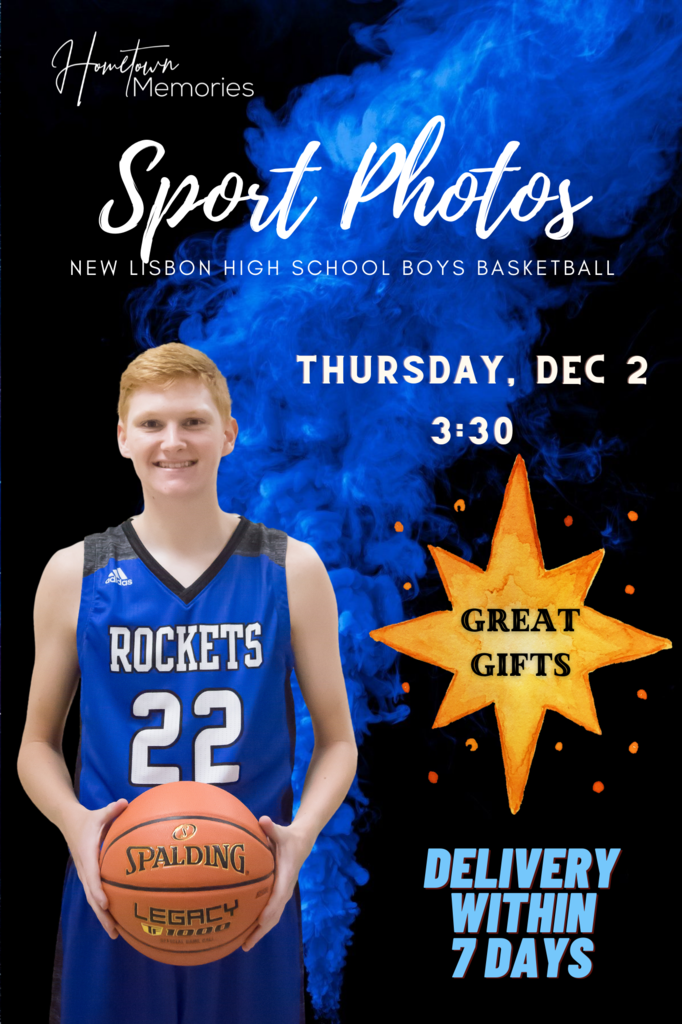 Heads up! The NLHS Girls Basketball game is in Alma Center tonight. 124 South School Street, Alma Center, WI #GoRockets!

Reminder of Iceland Trip Informational Meeting on December 1 in Mrs. Jones' room.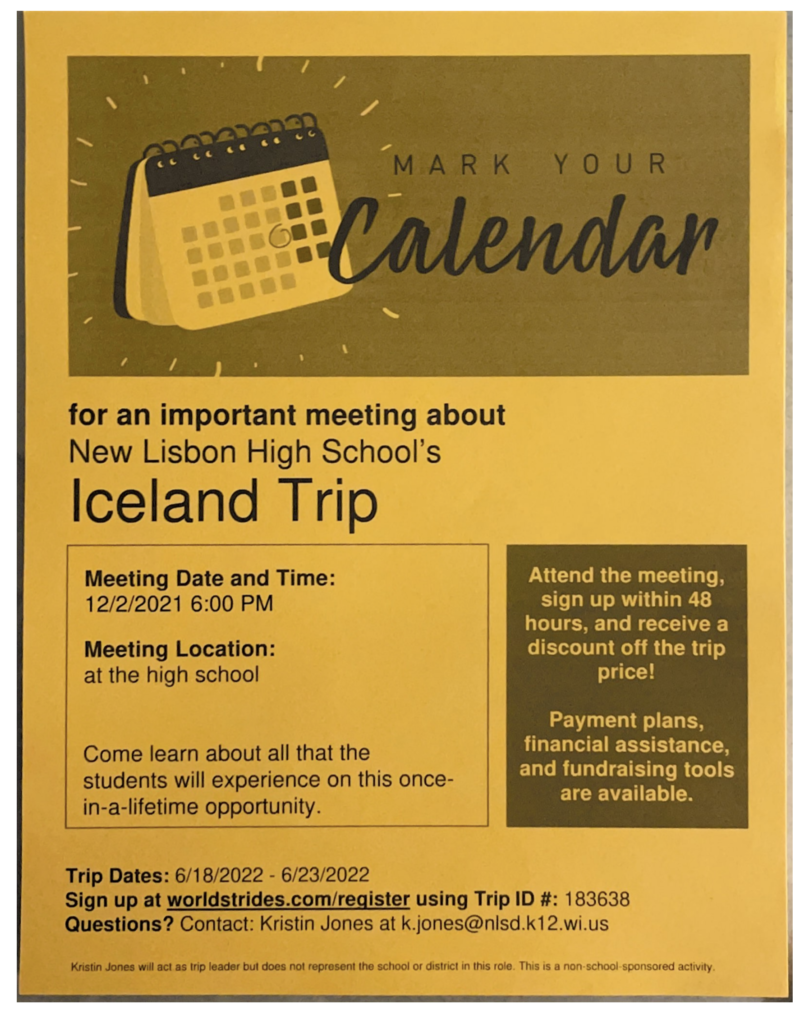 👉ATTENTION👈 The New Lisbon Lions Club Holiday Craft Fair has been cancelled. Due to rising COVID -19 cases in Juneau County. We have decided that in the best interest of our community to cancel it. We hope you understand. Refunds will be issued to the vendors. Sorry for the inconvenience. We hope to see you next year.

MARK YOUR CALENDARS! Coach Schultz has set the date! NLHS wrestlers will have their individual/team photos taken on Tuesday, November 23 @ 3:30. Please remember order form, payment, uniform, and great attitude. All orders due at time of photo shoot. Order Form:
https://5il.co/wiqg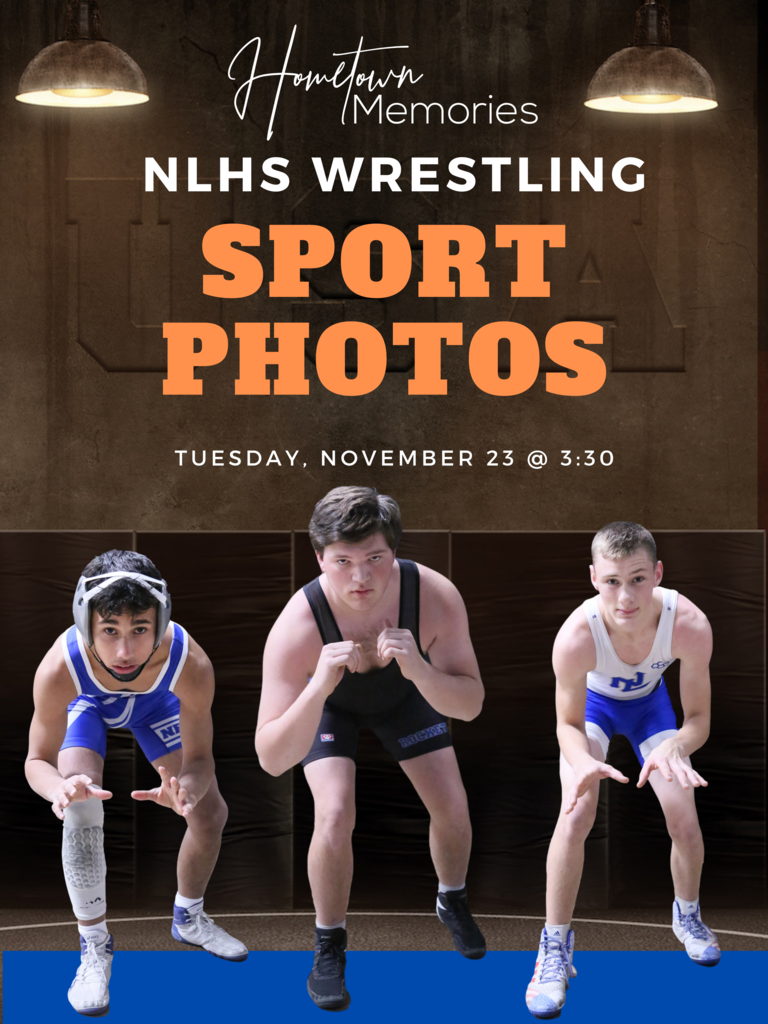 Support the Lady Rockets by purchasing one of their team posters. 18x24 for only $10! Limited quantities available. Contact Coach Ragan, Coach Cook or message the girls Basketball Facebook page. 🚀

NLHS Boys Basketball and Wrestling begins today! Go Rockets!

The School District of New Lisbon would like to thank The Bank of Mauston, BTU Management, and Kudick Chevrolet-Buick for their kind donation of 2000 New Lisbon branded bottles of water to be sold in our concession stand at home events. Thank you for your continued support, and providing the strong community connections necessary to help our students succeed. 🚀 #strongcommunityconnections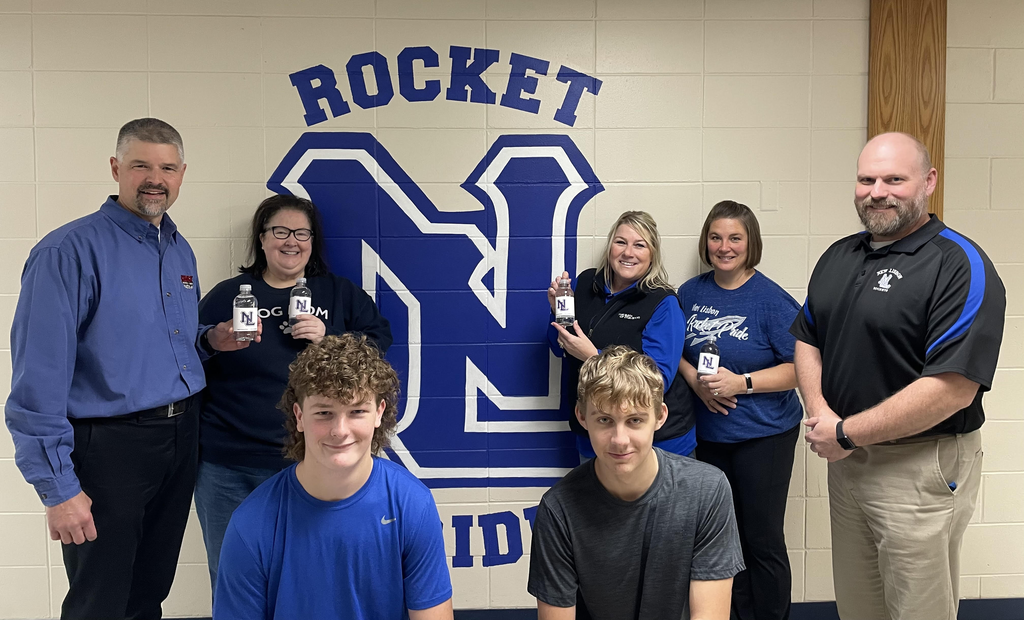 New Lisbon HS Class of 2024 & Parents: Jostens will be providing the opportunity to order your class rings/jewelry online this fall. Click on the link below to check out the Jostens RING DESIGNER. Design & order your ring by Dec. 15, 2021 and receive $20 off your ring using Promo Code RING20. (Basic Collection, P11, P12, P30, P31 not included). Ring packets w/ sizers will be available in the High School office on Wed., Nov. 10th. Rings will ship directly home in approximately 6-8 weeks with payment programs available.
https://www.jostens.com/apps/store/customer/1116560/New-Lisbon-High-School/
QUESTIONS? 1-800-854-7464 or 608-526-2100 or EMAIL:
dale.komro@jostens.com
Thank you- Dale Komro -Jostens