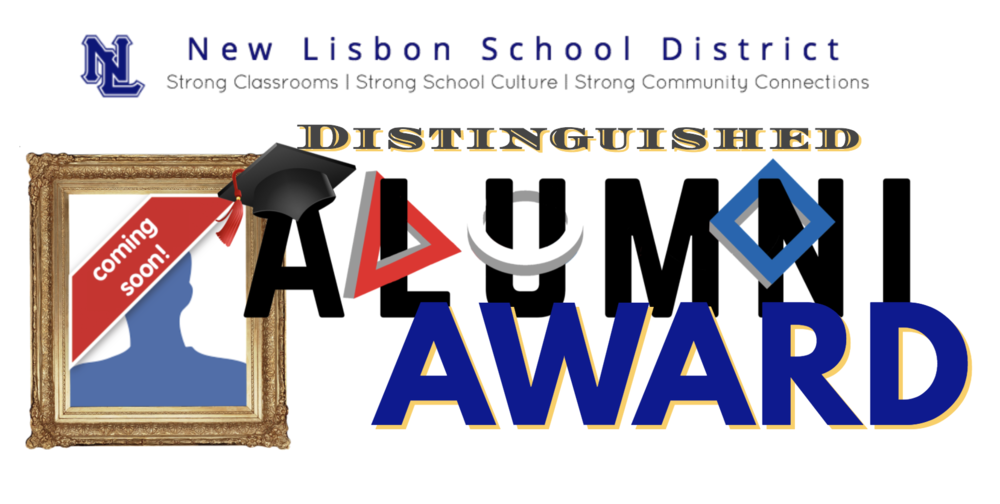 Distinguished Alumni Award
New Lisbon School District
Wednesday, October 21, 2020
NEW DISTINGUISHED ALUMNI AWARD
The Distinguished Alumni Award has been established to honor the accomplishments of New Lisbon High School graduates who have distinguished themselves as role models, individuals who have excelled in their professions, or who have made significant contributions to their communities on a local, regional, national, or international level.
Nominees must meet the following criteria:
• A graduate of New Lisbon High School • At least 10 years have passed since the nominee graduated from New Lisbon High School. • Made a significant achievement in her or his career, and/ or noteworthy contributions to society on a local, regional, national, or international level.
Nomination Process: Nominations of candidates will take place over a three-month period beginning in October. Applications will be accepted through December 31st. The selection committee will review the nominations in January and select the award recipient. Nominations will be kept on-file and reviewed each year.
The committee will include current and former educators, administrators, teachers and students.
The recipient will be notified and asked to speak at the graduation ceremony. The recipient's accomplishments will be permanently displayed on a plaque hanging in the school will receive an award to proudly display in her/ his home.
Award information is also available on our school website under EXPLORE > ABOUT US > DISTINGUISHED ALUMNI AWARD.
Nomination Form: https://docs.google.com/…/1FAIpQLSddtMXNEDCKjDu0V9…/viewform