EDIT MAIN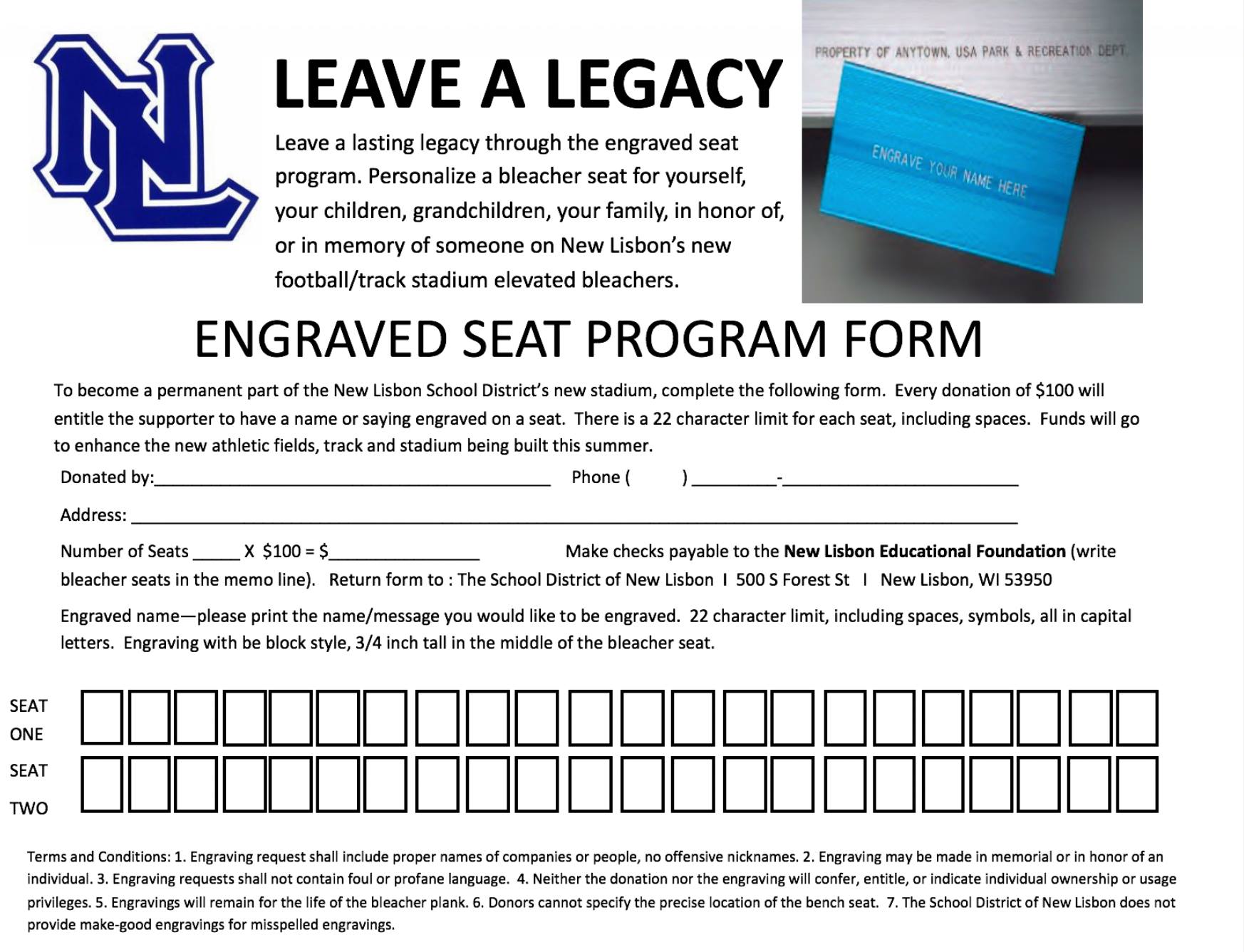 FILL OUT THE FORM AND RETURN TO
MR. BIRR IN THE DISTRICT OFFICE
---
The New Lisbon Educational Foundation was created to support the School District of New Lisbon and the overall New Lisbon Community.
Our primary goal is to raise funds necessary to update the school district outdoor athletic facilities. When funds are received, we will help to facilitate construction to update the facilities and donate the completed project to the school district without the use of tax dollars.
Once our primary goal is met, the foundation will continue to support other school facilities and community youth activities.
Why we are a Non-Profit 501(c) 3: This allows donations to be tax deductible under the current IRS standards. All funds will be deposited in Bank of Mauston.
Foundation Board
| | |
| --- | --- |
| Brian Slater | President |
| Mark Kopplin | Vice-President |
| Bobbi Southworth | Secretary |
| Dennis Birr | Treasurer |
Why Update Our Facilities
We do have the oldest facilities in the conference and the area.
We have an expanding need for quality, safe, outdoor facilities.
We do have a tradition of support for our students and community.
The track is round and unusable.
We do not have a track that allows for home meets and a safe practice area.
We do not have the ability to put a permanent fence around our baseball or softball fields due to sharing the space with the football field.
We need to upgrade and expand restroom facilities.
The current facilities do not meet safety standards and are not ADA (Americans with Disabilities Act) compliant.
The Plan
Use the two renderings that we have from MSA Professional Services.
Donate
Click on the Donation Form to download.
Print out a copy and send your check made out to: New Lisbon Educational Foundation
Send form and check to:
New Lisbon Educational Foundation
500 South Forest St.
New Lisbon, WI 53950
A receipt for your taxes will be mailed to you.
Additional Donation forms are available at all school district offices.

---
Sponsorship Levels
| | |
| --- | --- |
| Infinity and Beyond | $25,000 and over |
| Solar System | $10,000 - 24,999 |
| Mars Rover | $5,000 - 9,999 |
| Moon Landing | $1,000 - 4,999 |
| Supersonic | $500 - 999 |
| Blastoff | $300 - 499 |
| All Systems Go | $100 - 299 |
| Launchpad | Under $100 |
Individual sponsors of $100 or more will be recognized on our website and on a permanent display at the newly remodeled New Lisbon outdoor athletic fields.
Children 12 and under can become part of our Jr. Rocket Crew at the Astronaut sponsorship level. For a donation of $25 these adventurous explorers will receive a certificate acknowledging their support of the New Lisbon Educational Foundation and the upgrading of our outdoor athletic facilities.

---
Contact Us
Mail:
New Lisbon Educational Foundation
500 South Forest St. New Lisbon, WI 53950
Email: birr@newlisbon.k12.wi.us Phone: 608-562-3700 ext. 1522
---
---
Lange Plumbing Donates Labor for Athletic Project
Thank you to Lange Plumbing Inc for their donation of work they are doing for free! The donation saves the New Lisbon Educational Foundation over $2000 on the cost of building our new facility. Thanks Lange Plumbing for being a great partner to our foundation and our school district. Our community and students greatly appreciate you.
---
In The News
News about our athletic facility.
---
Education foundation Raffle WINNERS
The following donations were made to the New Lisbon Educational Foundation to help raise money for the new athletic fields and here are the winners.
1st prize - Half a Hog Donated By Bradley Farms - Deb Buchholz
2nd prize - Half a Hog Donated By Bradley Farms - Roger Burbach
3rd prize - Five $10 Car Washes at Rudig Jensen - Jennifer Stark